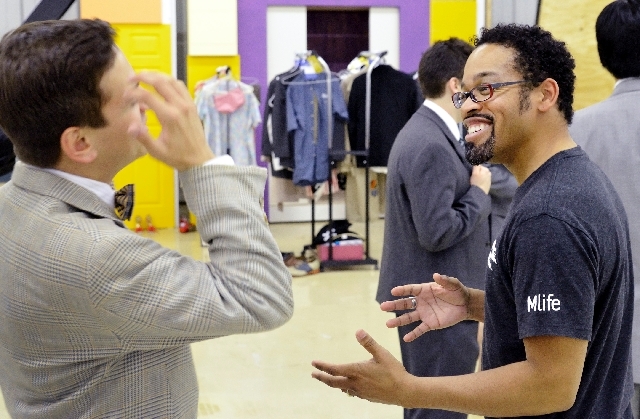 The more things change, the more they stay the same.
Consider this lyric from "How to Succeed in Business Without Really Trying," Super Summer Theatre's current production, which opens tonight at Spring Mountain Ranch and runs through July 27:
"If I can't take my coffee break … something within me dies."
Sorry, Starbucks fans, but that song was not inspired by your passion for Mocha Frappucinos.
And for you "Mad Men" maniacs who can't get enough of your favorite show's distinctive 1960s New York vibe, welcome to the original claw-your-way-to-the-top saga, musical comedy division.
When "How to Succeed" opened on Broadway in 1961, during the first year of John F. Kennedy presidency, the satirical book that inspired the musical — subtitled "The Dastard's Guide to Fame and Fortune" — had already been around for almost a decade. (It was written by real-life advertising man Shepherd Mead, who gave the initials of his old ad agency — BBDO — to one of the show's supporting characters, the prospective head of advertising.)
Little wonder, then, that audiences of the time were primed for sly social commentary — to say nothing of snappy songs and dances — from, among others, "Guys and Dolls" composer Frank Loesser , who shared the Pulitzer Prize for drama with librettist and director Abe Burrows for "How to Succeed."
The original production also captured seven Tony Awards, but by the time "How to Succeed" hit the big screen (with original cast members Robert Morse and Rudy Vallee re-creating their roles), it was 1967 — and, in the "Easy Rider" era, an ambitious go-getter climbing the business ladder, however irreverent, seemed hopelessly unhip.
Yet, as the 1995 and 2011 Broadway revivals (starring Matthew Broderick and "Harry Potter's" Daniel Radcliffe, respectively) have demonstrated, "How to Succeed" remains as timely as ever.
At least in its portrait of protagonist J. Pierrepont Finch (played at Super Summer Theatre by Nick King), a lowly window-washer who, following the title guidebook's step-by-step advice, rises through the ranks at the World Wide Wicket Co.
In the process, our hero must survive everything from coffee breaks and office parties to too-close encounters with such co-workers as Bud Frump (Scott Gibson-Uebele ), the smug nephew of big boss J.B. Biggley (Michael Brown).
Then there's mailroom supervisor Twimble (Steve Rink), a corporate yes-man who advises Finch to do things "The Company Way."
Twimble may be stuck in a corporate rut, but as he reasons in song, "whoever the company fires, I will still be here, year after year after fiscal, never-take-a-risk-al year."
This being musical comedy, romance also plays a role in "How to Succeed."
As Finch's supervisors sternly advise him, "A Secretary Is Not a Toy," especially not "to fondle and dandle and playfully handle in search of some puerile joy," they sing, tongues firmly in cheek.
So when Finch meets winsome secretary Rosemary Pilkington (Brenna Folger), their relationship proceeds at a decorous pace, despite Rosemary's instantly-in-love dreams of life as a suburban wife who's "Happy To Keep His Dinner Warm" while Finch "goes onward and upward" in business combat downtown.
"Oh, to be loved by a man I respect," she sings. "To bask in the glow of his perfectly understandable neglect."
Sure, it's satire, but the "dated" attitude it reflects keeps "How To Succeed" firmly in period-piece territory, according to Keith Dotson of First Step Productions, who's directing and choreographing the Super Summer staging.
Because "I don't think a lot of women want to see themselves in subservient roles" these days, he says, such musical numbers (and the prevailing beliefs behind them) keep the show rooted in the past.
Despite "How to Succeed's" retro setting, however, Spring Mountain Ranch audiences are hearing updated arrangements of the songs.
Rather than using the 1961 versions, William Wingfield developed orchestrations, inspired by the sound of the 2011 Broadway production, for the show's instrumental tracks, Dotson says.
The result: a brighter, more contemporary sound that showcases such Loesser classics as "I Believe In You" — in which Finch gives himself an upbeat pep talk while his desperate co-workers grumble, "Gotta stop that man" — and the climactic "Brotherhood of Man," as Finch argues for we're-all-in-this-together solidarity by reminding fellow executives that "mediocrity is not a mortal sin."
A satire of cutthroat corporate culture "still is very relevant" in these challenging economic times, Dotson says.
To say nothing of the chance to introduce Super Summer Theatre audiences to a musical that, despite its "wonderful music" and "great storyline," isn't as well-known as it should be, Dotson says.
"It will be fresh for them," he reasons. "I like that."
Contact reporter Carol Cling at ccling@
reviewjournal.com or 702-383-0272.
Preview
What: "How To Succeed in Business Without Really Trying"
When: 8:05 p.m. Wednesdays through Saturdays, through July 27
Where: Spring Mountain Ranch State Park, 10 miles west of Charleston Boulevard and I-215
Tickets: $12-$20 (702-594-7529; www.ShowTix4u.com, www.UNLVtickets.com)