Las Vegas Contemporary Dance Theater marking anniversary, Smith Center debut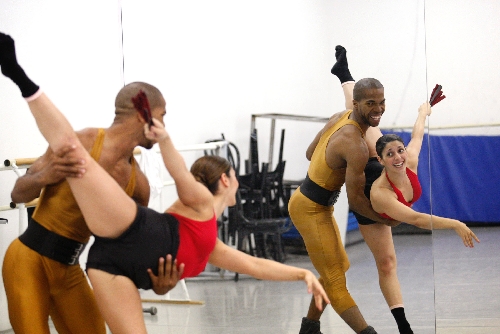 Here's how Bernard Gaddis , Las Vegas Contemporary Dance Theater's founder and artistic director, describes "Metamorphosis II," one of the dances featured in Tuesday's concert:
"It's about looking at yourself in the past and in the future," he explains. "Being able to connect" with "the same person – but different beings," as seen from different perspectives, at different stages of life.
Gaddis may be discussing his own choreographed work, but the comments also apply to LVCDT itself.
Tuesday's concert marks the 14-member troupe's Smith Center debut – and its fifth anniversary.
Both milestones are equal cause for celebration, in Gaddis' view.
"We're celebrating five years," he notes, "and pushing to make (CDT) not only nationally but internationally known."
First, however, Gaddis and his colleagues hope the troupe will become better known to Southern Nevadans.
And Tuesday's Smith Center debut represents a major step in that process.
"People in Las Vegas are not used to having a theater where you can go and see everything," says Gaddis, who danced at some of the world's most notable theaters, from Carnegie Hall to Moscow's Bolshoi Theater, with the Alvin Ailey American Dance Theater. (These days, Gaddis' "day job" is dancing in Cirque du Soleil's "Mystere" at The Mirage.)
LVCDT's move to The Smith Center, following past seasons at the University of Nevada, Las Vegas' Judy Bayley Theatre, will "give us a new audience," predicts dancer Roman Pantoja , one of the company's rehearsal directors, who calls The Smith Center "a megaphone for the arts."
In addition, "our company has the ability to unify this city and represent the city in a new light," says associate director Marie-Joe Tabet .
In a town that's often about tourists and the Strip, she says, "we want to bring culture to this city. We want to make something about Vegas."
Gaddis hopes the company's Smith Center debut will be "something special" for both dancers and audience. "That makes it special for me."
He's grateful that Smith Center officials see the company's promise, he adds; Gaddis began meeting with Smith Center President Myron Martin to discuss the possibilities "when I first started the company, before we did our first performance."
In keeping with the company's dual celebrations, Tuesday's program features the proverbial something old, something new.
In the "something new" category: the aforementioned "Metamorphosis II," choreographed by Gaddis; "Variations," by Milton Myers; and "Lifted," from choreographer Rennie Harris.
The "something old" works, chosen from LVCDT's 47-ballet repertoire, include the stark "Vespers," choreographed by the late Ulysses Dove; Gaddis' "Opulence," set in the court of Britain's King Henry VIII and three of his eight wives; and Krislyn World-Hiel's "Read Matthew 11:28," set to the music of Bobby McFerrin, which will be danced by the company's six apprentices.
"I used to do it at the Ailey," Gaddis says of "Read Matthew," describing it as "a good opportunity for the community to see" LVCDT's up-and-coming dancers.
The Ailey connection extends to Dove, a former Ailey dancer whose "Episodes" was performed by the Ailey troupe at The Smith Center in March.
"His work has always been very important to me," Gaddis acknowledges, stressing his hope "to keep (Dove's) legacy alive."
To that end, Dawn Carter – one of "Vespers' " original cast members from Ohio's Dayton Contemporary Dance Company – taught the dance to LVCDT members before the Las Vegas company presented it last season.
Choreographer Rennie Harris (whose "Home" also was performed by Ailey dancers at The Smith Center) visited Las Vegas a few months ago to set "Lifted" on the company.
"We had two weeks to learn a 20-minute ballet," Tabet notes.
Gaddis describes that ballet as "traditional hip-hop," but one that "brings the hip-hop aesthetic to the concert stage."
As for Myers' "Variations," it's choreographed by another Ailey veteran – whom Gaddis has known since he was 15.
"I've always loved his work," Gaddis says of Myers, another Ailey alumnus who's resident choreographer of Philadelphia's Philadanco , which Gaddis joined at 15. "It's the second work he's set on us."
But despite the connections between various choreographers and his own dance history, Gaddis says he's "not trying to re-create the past" – or his work with Ailey and Ailey's equally legendary successor, Judith Jamison.
"We're also bringing something new, fresh and innovative" to Las Vegas, Gaddis maintains.
And while he values lessons he's learned working for "some of the top organizations in the world" – from "The Lion King" to current employer Cirque du Soleil – Gaddis says "the energy is different."
Tabet attributes that energy, in part, to the fact that "we're a multicultural company," she says, "so everyone in the audience can see themselves onstage. But we still work as one."
Contact reporter Carol Cling at ccling@reviewjournal.com or 702-383-0272.
Preview
Las Vegas Contemporary Dance Theater
7:30 p.m. Tuesday
Reynolds Hall, The Smith Center for the Performing Arts, 361 Symphony Park Ave.
$27-$65 (749-2000)