Many Utah Shakespeare Fest themes ripped from the headlines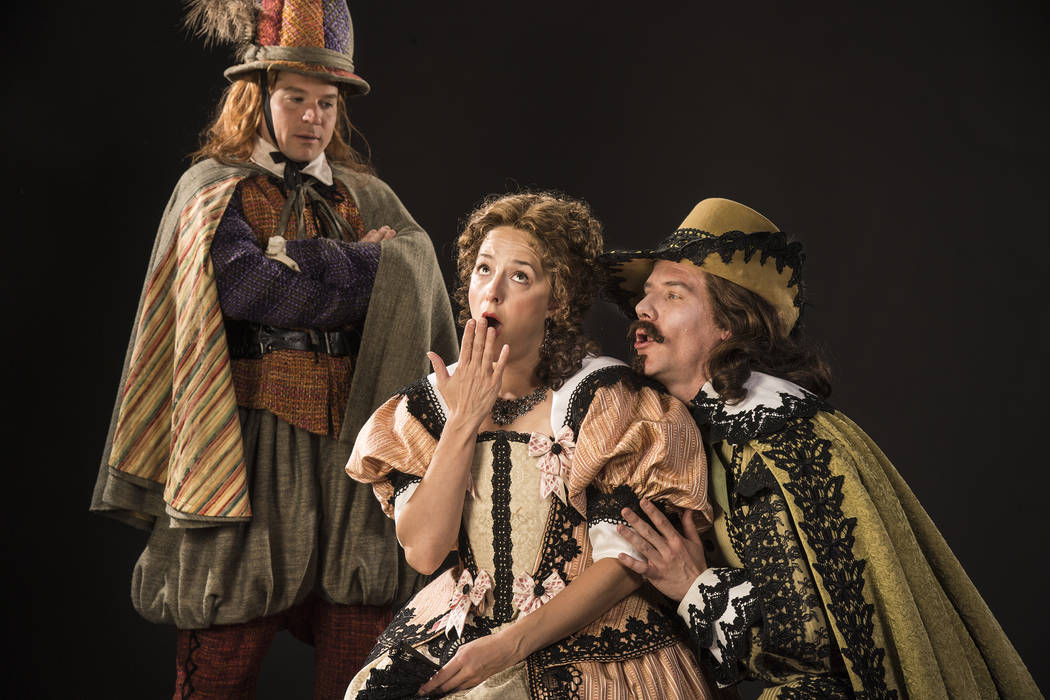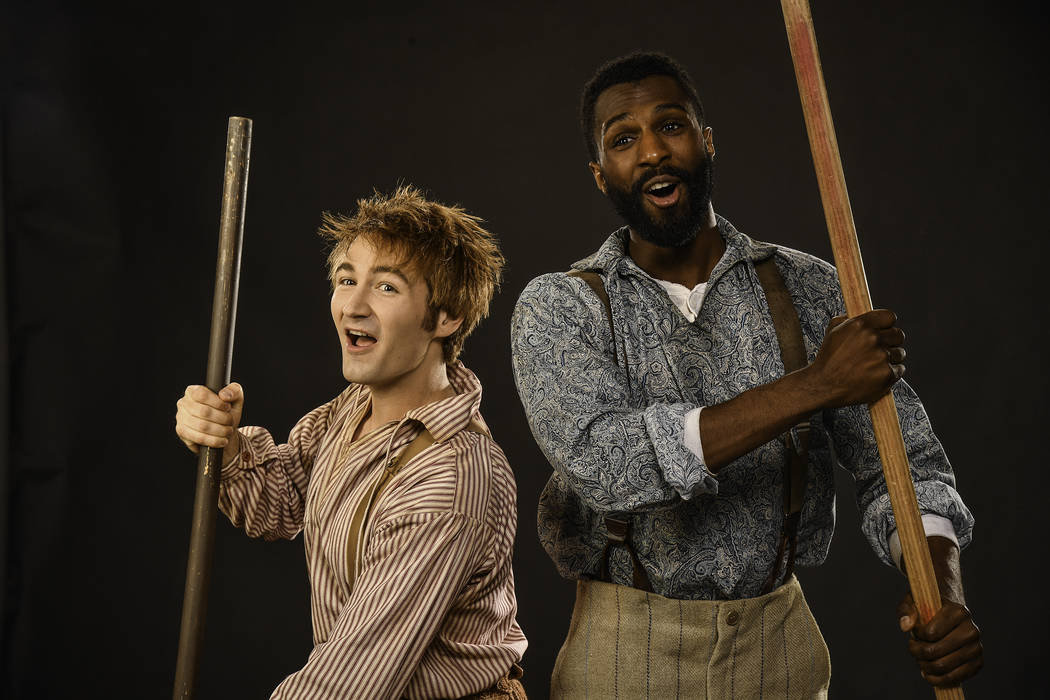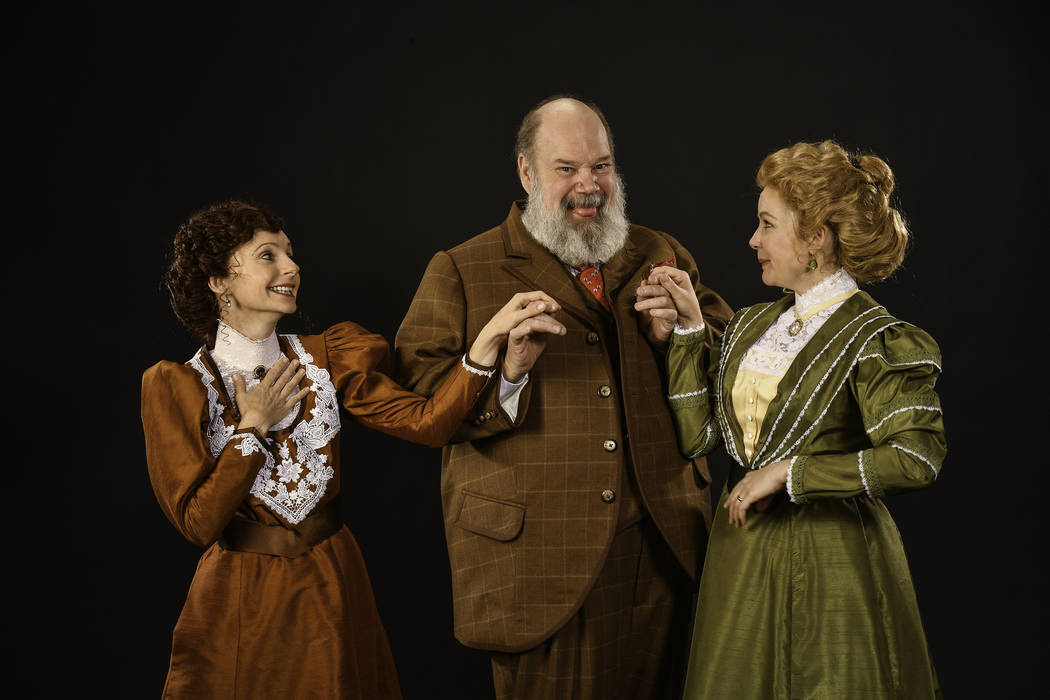 Racial prejudice. Religious persecution. Gender equality.
Those ripped-from-the-headlines topics may be timely, but they're also timeless — as the 57th annual Utah Shakespeare Festival, launching this weekend in Cedar City, demonstrates.
William Shakespeare may have written "The Merchant of Venice" and "Othello" between the end of the 16th century and the beginning of the 17th, but the themes that the plays explore "are very, very present in our current society," says Brian Vaughn, the festival's artistic director — who's also playing "Othello's" villainous Iago. "It's great for audiences to see these things woven into (the productions)" and "how they relate to today."
Those sobering themes aren't confined to the festival's more dramatic productions. They also surface in the Tony-winning musical "Big River" — based on Mark Twain's "Adventures of Huckleberry Finn" — and such comedies as "The Foreigner," which beneath the surface silliness contrasts closed-mindedness and open-heartedness.
Even the Bard's lighthearted "Merry Wives of Windsor" gets a dash of #MeToo relevance by moving the setting to the Edwardian era, the height of the women's suffrage crusade. And having two central characters in "The Merchant of Venice" (including the despised Jewish moneylender Shylock) played by women "elevates the conversation" in the play to include "marginalized voices," Vaughn says.
Conversation, he adds, is an essential part of the USF experience.
"What you get at this festival is access as a patron of the arts," says Vaughn, who's been associated with USF since 1991 — first as an actor, then as a frequent director and artistic director. "You see a play — and you have a voice" during morning-after literary seminars where audience members discuss (and sometimes debate) what they've seen. "You get more out of it than just seeing a play."
Yet the opportunity to see certain plays also distinguishes this USF season, which features the fest's first staging of the rarely seen "Henry VI Part One."
"Henry VI Part One" signals the return of the festival's Complete the Canon Project (all 38 of Shakespeare's plays between 2012 and 2022) and the History Cycle, featuring all 10 of Shakespeare's history plays in chronological order.
Changes behind the scenes
Offstage, the 2018 season ranks as a transitional one for the festival.
After seven years as co-artistic director with fellow festival veteran David Ivers, Vaughn became USF's sole artistic director when Ivers left last year to lead the Arizona Theatre Company.
"It completely changed how the organization operates," according to executive producer Frank Mack, who joined the festival last year — and immediately began a budget overhaul to counteract operating losses the previous two years.
Ticket sales have also dropped over the past two years, he says — from 101,255 in 2016, when USF debuted its new Engelstad Shakespeare and Anes Studio theaters, to last year's 94,986.
This season's budget is $6.8 million, down from last year's $7.4 million.
"We spent months developing the 2018 budget, literally line by line," Mack says, citing "everything from paper clips to how we pay for maintaining the big buildings." (The festival's third stage, the Randall L. Jones Theatre, opened in 1989.)
Despite the budget cuts, USF officials have "really made a concerted effort not to diminish the product," Vaughn says. "We have a very challenging model — we're one of the only companies presenting a true, rotating repertory." (Two more productions join the current six-play lineup in July and October, respectively.)
With that level of theatrical activity, "you'd think you were in a major urban center — and it's happening in Cedar City," Mack says. "It blows my mind — and it's why I wanted to work here."
It's also why audiences keep returning, he adds.
"It's impossible to count how many people have told me they've been coming to the festival their whole life — from a 12-year-old to a 90-year old," he says. "I've never seen that anywhere else."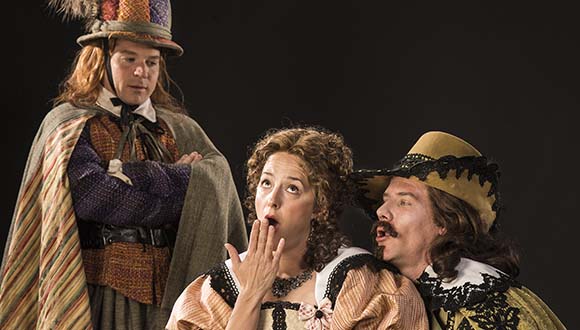 Brandon Burk (left) as Cliton, Betsy Mugavero as Clarice and Jeb Burris as Dorante in the Utah Shakespeare Festival's 2018 production of "The Liar," which opens Sept. 14. Karl Hugh/Utah Shakespeare Festival
Coming attractions
Two more plays and the annual Words Cubed new play project join this year's festival lineup in the coming weeks — and months.
The remainder of USF's 2018 lineup:
■"An Iliad" (July 12-Oct. 9, Randall L. Jones Theatre): A modern, one-man retelling of Homer's epic poem, with USF artistic director Brian Vaughn as the poet recounting tales from the Trojan War — and humanity's seemingly endless attachment to violence and chaos.
■"The Liar" (Sept. 14-Oct. 13, Randall L. Jones Theatre): The master can't tell the truth; his servant can't tell a lie. Pierre Corneille's 17th-century French farce comes to life in David Ives' sprightly adaptation, which blends classic elements and contemporary allusions.
■Words Cubed: The festival's long-running new plays project returns to the Anes Studio Theatre with staged readings (and subsequent discussions) of two new Shakespeare-centric scripts: the "Hamlet" prequel "Gertrude and Claudius" (Aug. 24-25, Aug. 30-Sept. 1); and "Shakespeare's Worst! A Play on a Play," about an unhappy actor trapped in a small-town production of "Two Gentlemen of Verona" (Aug. 29-31).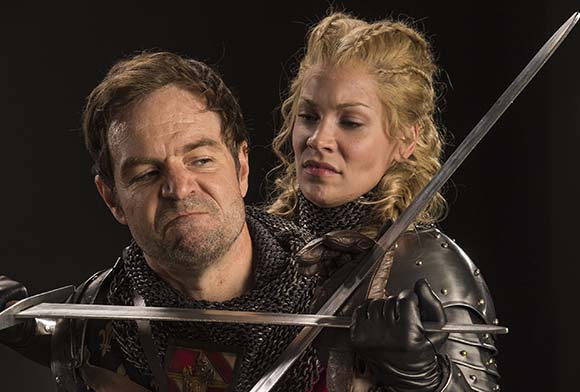 Geoffrey Kent, left, as Lord Talbot and Tracie Lane as Joan de Pucelle in the Utah Shakespeare Festival's production of "Henry VI Part One." Karl Hugh/Utah Shakespeare Festival
Now playing
It's a Utah Shakespeare Festival tradition: six plays in three days. And the 2018 season is no different; by Saturday, six of USF's eight scheduled productions will be up and running in three festival theaters. Here's a guide to the six works opening this weekend in Cedar City.
In the Engelstad Shakespeare Theatre:
■"Henry VI Part One" (Friday-Sept. 6): With the death of Henry V, his young son becomes king at a most tumultuous time. War's raging in France — with Joan of Arc leading the charge. And at home, various factions claim the right to the throne, setting the stage for the Wars of the Roses. The first part of Shakespeare's seldom-produced "Henry" trilogy resumes USF's "History Cycle," which left off in 2015 with "Henry V."
■"The Merchant of Venice" (Saturday-Sept. 7): Shylock, the Jewish moneylender who demands a literal "pound of flesh" from a debtor, isn't the title character of Shakespeare's unsettling tragicomedy. But he dominates the play, an outsider pushed to savagery by the savagery he encounters. In this production, Shylock and "Merchant's" title character, Antonio, are played by women, adding a new layer to an already complex portrait of humankind's capacity for hate — and love.
■"The Merry Wives of Windsor" (through Sept. 8): That irresistibly rumbustious (and undeniably besotted) knight Sir John Falstaff, whom last we saw in "Henry IV Part Two," has his lusty eye on a pair of housewives — who decide to teach the old rogue a lesson in this comedy transported to the Edwardian "votes for women" era.
In the Randall L. Jones Theatre:
■"Big River" (Saturday-Sept. 1): Mark Twain's "Adventures of Huckleberry Finn" gets a rousing, Tony-winning musical treatment — with a score by the late country star Roger Miller — as runaway Huck helps his friend Jim, a runaway slave, escape to freedom via the mighty Mississippi River.
■"The Foreigner" (Friday-Oct. 13): A shy, solitude-seeking Brit vacationing at a Georgia hunting lodge pretends he's a native of an exotic country who doesn't understand a word of English, setting the stage for farcical doings in Larry Shue's award-winning comedy.
In the Anes Studio Theatre:
■"Othello" (through Oct. 13): One of Shakespeare's most haunting tragedies explores (among other things) racism, jealousy, revenge and betrayal as celebrated Moorish general Othello finds his marriage to the devoted Desdemona poisoned because of the vengeful lies of his smilingly duplicitous ensign, Iago.
No home for 'Pearl's in the House'
Last year, when the Utah Shakespeare Festival announced its 2018 season, it included the world premiere of "Pearl's in the House," a musical — workshopped last year during the festival's "Words Cubed" project — about the legendary Pearl Bailey, who responds in song when a 1987 talk-show host questions her record as a performer, writer and United Nations delegate in racially charged 20th-century America.
But festival officials announced last week they had canceled the production, citing "culturally insensitive communications" about casting from "the guest director/creator of 'Pearl's in the House,' " Art Manke, who was not mentioned by name in the announcement.
"Our 2018 season is thematically based on ideas of the adverse effects of intolerance in our culture," USF's executive producer, Frank Mack, said in a news release. "The offensive communications that led us to cancel this production are completely contrary to these values and the artistic objectives we are pursuing this season."
Festival officials were alerted to the "culturally insensitive communications" after the fact and the decision to cancel the show was "incredibly difficult," according to USF artistic director Brian Vaughn, "because of the impact this would have on so many parties," including "all the artists who have put so much work into the process."
But "our organizational culture and values take precedence always," he added, noting that "continuing the production would not add to our mission and our values but would detract from them."
In the wake of "Pearl's" cancellation, USF will add performances of "An Iliad" — with Vaughn in a modern retelling of the classic tale — in the Anes Studio Theatre, where "Pearl" was to be staged starting in late August.
Contact Carol Cling at ccling@reviewjournal.com or 702-383-0272. Follow @CarolSCling on Twitter.