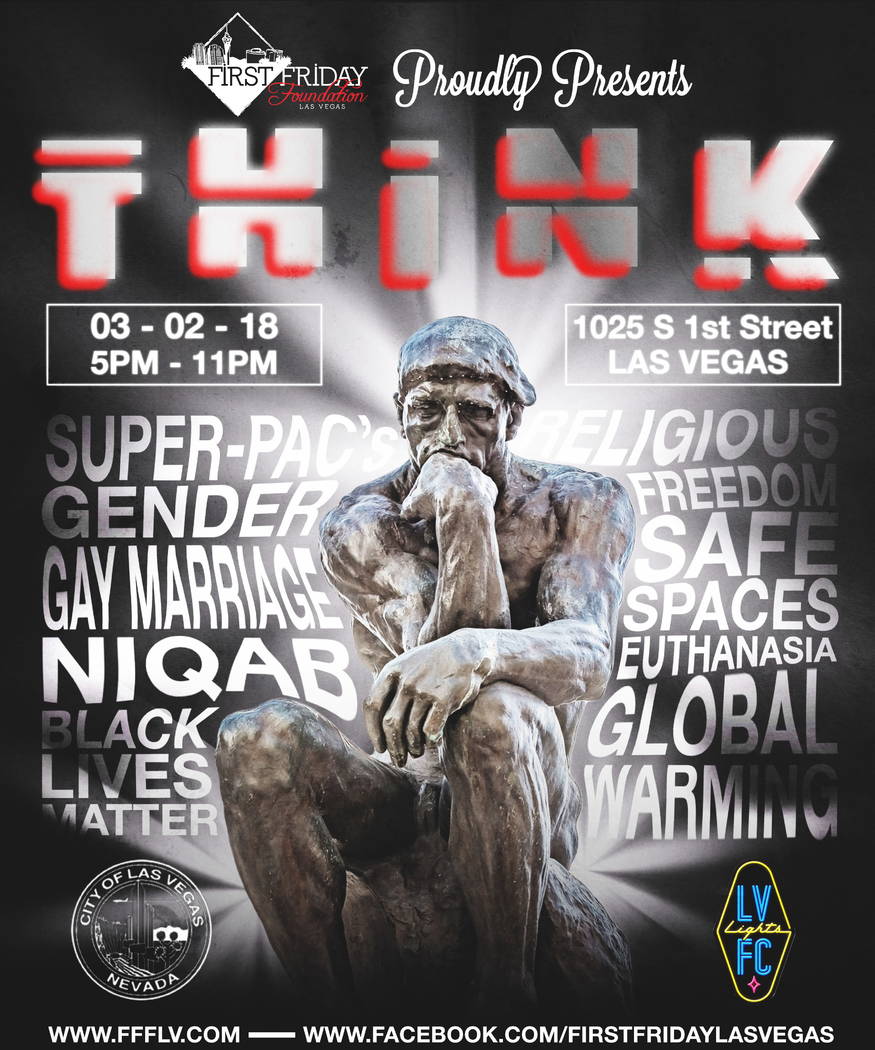 From global warming to safe spaces, contemporary life offers plenty of issues to ponder. Which explains First Friday's theme for March: "Think."
The downtown arts district event, which runs from 5 to 11 p.m. Friday, presents a variety of programs designed to spark ideas and dialogue.
March's featured artist — Lucas Rome, alias Mr. MK Ultra — does exactly that, using spray cans and acrylic paint to create graffiti-style artworks populated by phantasmagorical figures and bedecked with telling labels, from "Blind Sheep" to "Stay Asleep."
Leading Friday's musical lineup: the Wild Sparrows, a local indie Americana/folk-rock band, perform at 8:45 p.m. Rounding out the scheduled musical entertainment: DeBlanc Music at 5 p.m., Rising Stars at 6:15 p.m., Half Step at 7:30 p.m. and Teej at 10 p.m.
The main stage moves to the south end of the Art Way parking lot, while most First Friday artists and vendors shift to First Street, extending to Hoover Avenue.
Other First Friday attractions:
■ In the KidZone, the Girl Scouts of America lead construction of a marshmallow tower, along with other activities focused on Science, Technology, Engineering, Arts and Math, otherwise known as STEAM.
■ Whimsical cartoonist @prettydone creates artworks at Coolidge Avenue and First Street.
■ Art Style features emerging and established artists and artisans, plus interactive painting for those who want to explore their own creativity. Jasmine Farro and Friends also return for paint-by-numbers.
■ ArtWalk showcases work by emerging Las Vegas artists in the main festival area, with more galleries and studios open in the Arts Factory and Art Square.
■ Community Productions Drum Circle throughout the evening.
■ More than 30 gourmet food trucks and artisan food vendors, plus bars in the First Friday event area and surrounding arts district.
For more details on First Friday, visit www.firstfridaylasvegas.com, www.facebook.com/firstfridaylasvegas or @FirstFridayLV on Twitter.