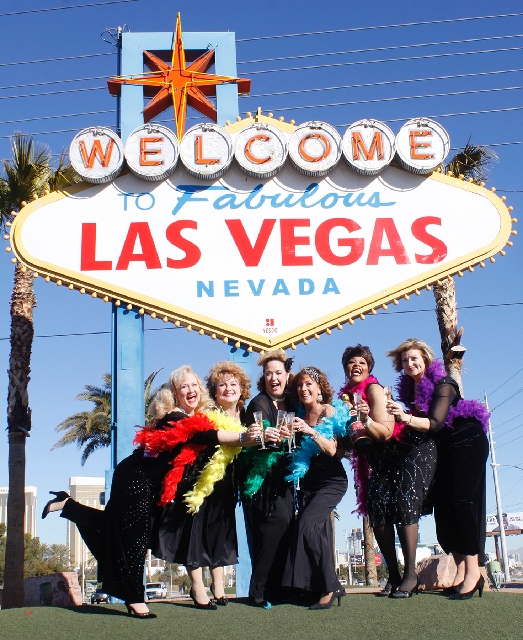 It's been wowing audiences for years at the Luxor, 3900 Las Vegas Blvd. South, and on April 16 it zoomed past its 3,000th performance in Las Vegas. "Menopause The Musical" presents a comical look at women on the brink of, in the middle of and having survived "the change."
Since 2001, the laugh-out-loud antics have caught the attention of people across the country, making it a perfect fit for the Strip. "Menopause" originally opened at the Las Vegas Hilton on Feb. 3, 2006, before settling in at the Luxor on May 26, 2009.
The show stars Kittra Coomer, Lisa Mack, Laura Lee O'Connell and Paige O'Hara, with Lori Legacy Hunt and Richel Kompst spelling them on their off days so the show can run seven days a week.
"Just don't ask me which one I am tonight, because if I think about it, I'll get confused," Kompst said.
She said that each role appeals to her because she gets to use different acting talents to portray each woman.
O'Hara joked she was going through menopause herself and could relate to her character more than she'd like. O'Hara is best known as the voice of Belle in Disney's animated movie "Beauty and the Beast."
"I've always done theater, since I was a little girl," she said. "I went to New York when I was 17. Theater's my first love."
Hunt's acting credits include "Honky Tonk Angels" for seven years and "Legends in Concert" for another seven. O'Connell has been with the show the longest and toured with it nationally.
"The men come in, looking like this," she said, making a sour face, "expecting not to like it. But they follow the (dialogue) and end up falling in love with the characters, and they see how it relates to their sisters or mothers or wives, and we see them start to laugh and crack up. We like to say, 'There are four of us and our fifth girlfriend is the audience.' It's not like a play that you do 'to' the audience, we do it 'with' the audience."
How do they keep the show fresh? Coomer said it's by giving her best for anyone new to "Menopause."
"Maybe 99 percent of the audience saw it somewhere else before, but there's that one person where it's their first night," Coomer said. "You may be able to do the whole show in your sleep, but it's someone's first time seeing it. So, I just remember that."
There are only three nights a week when the cast is made up of the main four actors.
"Being six of us, everybody portrays things a little bit different, so there are different groupings," said Legacy Hunt. "That makes it different every time. You're playing off each other's energy."
"Every woman who watches this show is going to go through menopause," Mack said. "And so everybody will see something of themselves … one night you might get a laugh in one place, and the next night it might be a huge laugh right there, if more people can relate to us. It's like, 'Whoo-hoo, I got a laugh.' So it makes it fun for us."
The women said it was notable to have a show in Las Vegas that is seen as an iconic city for a gig, especially in a show that was long-running. "Menopause" has been in Las Vegas eight years, so they've come to know each other well. That bonding translates to working together on stage.
"We've been through so much together," O'Hara said, "with our kids and sisters and our families."
"And our divorces," O'Connell quipped.
They said they see their audience as everyday folks from all over the country who may never have had a chance to see a Broadway play. All the more reason to give it their all.
Linda Germany, company manager, said the fun part of her job was "just working with the girls, because of their personalities. … It's our own little family. This job, who gets to go to work and laugh every single night?"
This night, the 350-seat Atrium Showroom was nearly full.
When the curtain went up, the out-there characters grabbed the audience's attention immediately. The first scene had the cast launching into Aretha Franklin's "Chain of Fools." Only the words they sang were "change of life."
The premise follows four women — a busy professional, a hippie still living in the '60s, an aging soap opera star and a suburban housewife from Iowa — who meet by chance at Bloomingdale's department store, with seemingly nothing in common until they engage in a tug-of-war over a black lace bra.
The transitional dialogue was clipped and witty, eliciting spontaneous laughter from the audience. Hoots and hollers erupted as the zingers flew.
Quick scene transitions darkened the stage while peppy, honky tonk music kept the vibe alive. There were minimal set props, but few were needed, as the women carried the show with the characters' personalities and perfectly executed comedic reactions.
Each time the four met again, in the powder room, on the housewares floor, the women's interplay shifted a little as they got to know one another better until they were having lunch together, as if they were old friends.
Elements from earlier scenes cropped up throughout the show for cohesive writing.
Musicals are known for their original songs. Not "Menopause." Its lineup included hits by the Beatles, Bee Gees, Beach Boys and Marvin Gaye and had people tapping their toes, nodding to the beat as the new lyrics they sang spoke of everything from night sweats to weight gain to diminishing eyesight.
A couple of scenes brought the cast into the audience. Kompst's soap opera star character zeroed in on an unsuspecting man for a lap dance. Back on stage, she pointed to the red-faced man, pretended she was answering the phone and mouthed, "Call me."
But it was O'Connell, as the impressionable Iowa housewife, who stole the show when she spotted thong lingerie on a department store rack.
When the show let out, audience members had nothing but praise.
"We loved it," said Linda Pappas, from Boston, there with a girlfriend. "It hit home. You could tell everybody loved it. The ladies were just amazing."
"It was a wonderful show. I enjoyed it," said Jim Dodson of Pittsburgh.
What did he like best?
"The adaptation of the music," he said. "I tried to sing along, but I didn't know any of the words."
Tickets start at $49.95. Call 800-557-7428 or 702-262-4400 or visit luxor.com.
Contact Summerlin/Summerlin South View reporter Jan Hogan at jhogan@viewnews.com or 702-387-2949.