Musical takes unusual approach to breast cancer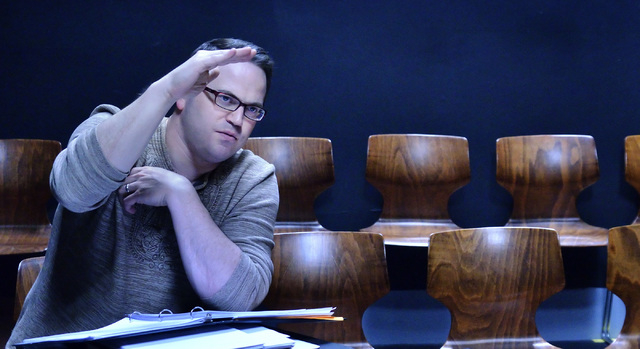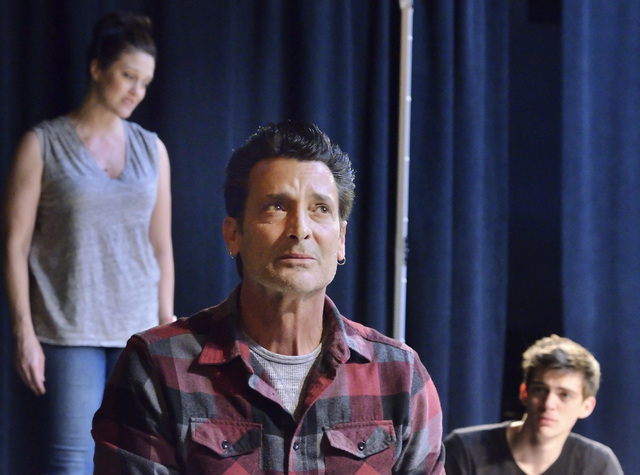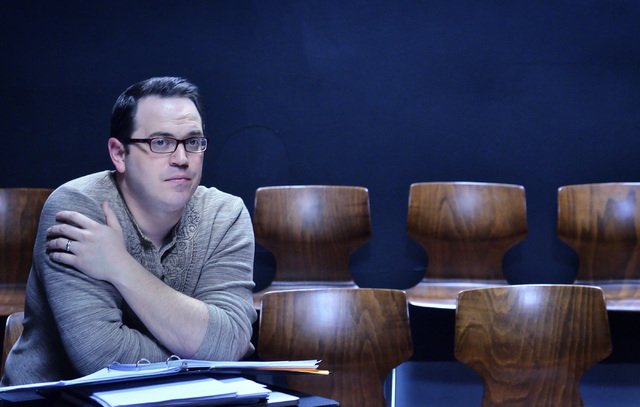 If you think musicals are all about raindrops and roses, "Bright Side" provides something completely different.
The new Cockroach Theatre musical — which begins its world-premiere run this weekend at downtown's Art Square Theatre — focuses on a Southern Nevada family facing, among other things, a parent's battle with breast cancer.
But it's not the mother who's the patient. It's the father.
"Men don't think we have breasts," notes playwright Ernie Curcio. And because "Bright Side's" central character is "so testosterone-fueled," he represents "men (who) hold it all in and kind of shake it off. A guy's going to shake this off, trying to keep it quiet."
The idea for "Bright Side's" male breast cancer theme came to Curcio when he read an article about North Carolina's Camp Lejeune Marine Corps base, where contaminated water caused residents — including men — to develop breast cancer "at an accelerated rate."
Curcio and Jolana Sampson — who wrote "Bright Side's" lyrics and composed the music with Martin Kaye (who plays "Million Dollar Quartet's" Jerry Lee Lewis) — "were very intrigued by that," he recalls, in part because "men get breast cancer — and it's not spoken of a lot."
Even before the male breast cancer storyline evolved, however, Curcio planned to address the challenges fathers and sons face "to be able to communicate openly," he says.
That led to the play's "sex-role reversal," in which Richard (played by "Rock of Ages' " Robert Torti), a macho Nellis Air Force Base airplane mechanic, tries to cope when his wife Shelly ("Million Dollar Quartet's" Victoria Matlock), an Air Force intelligence officer, is deployed.
Her absence leaves Richard at home with their teenage son Aiden (Maverick Hiu, a Las Vegas Academy senior recently seen in the Onyx Theatre's "Heathers the Musical"), who chafes under his father's command.
"Bright Side's" other character, a quirky doctor (played by "Le Reve" clown Marcus Weiss, an original Blue Man Group member), not only provides comic relief but serves as "our lens into this world of (male) breast cancer," according to director Will Adamson.
"Bright Side" — formerly titled "My Boys" — was "always going to be a musical," Curcio notes, but "we had a completely different vision" when he and Sampson began working on the project two years ago.
After a year and a half, however, the script was "180 pages — a mess, a nightmare, a catastrophe," Curcio admits.
"We had six different main stories in one," adds Sampson.
But a meeting with composer and "Ka" conductor Richard Oberacker — whose big-band musical "The Bandstand" heads to Broadway in the coming season — helped "Bright Side's" creative team determine the musical's primary focus.
Considering all the potential plot threads, they asked themselves, " 'What's the most compelling thread?' " Adamson remembers. The answer: male breast cancer.
Which meant serious rewrites were in order. (About 40 percent of the script and 20 percent of the music underwent revision, Curcio, Sampson and Kaye estimate.)
A public reading in March helped the team further refine "Bright Side," guiding them as they cut and rewrote songs — and asked themselves, " 'Why didn't we do this in the first place?' " Sampson acknowledges.
"I was really scared of the whole rewriting process," she admits, "and now, I absolutely love it. I'm completely addicted to it."
Kaye and Sampson have been writing songs together for a few years, but Kaye "was a bit tentative" about joining "Bright Side" because he had never written a musical before, where every song is a story.
And while "it's been kind of surreal hearing other people sing this music," it's also been "amazing to go through the arc of the play," he says.
"It's all been a learning process," adds Curcio, who says he worried "I would get in the way with all my words."
But those words were what convinced "Bright Side's" cast members — who already have "day jobs" performing in casino musicals — to join the premiere at the tiny Art Square Theatre. (Beyond their Las Vegas credits, Torti received a Tony nomination for his Broadway performance as Greaseball in "Starlight Express," while Matlock headlined a "Wicked's" national tour as Elphaba.)
"Bright Side" is "one of the first (Cockroach) shows where rehearsals happen in the day, because everyone's busy working at night," Adamson says.
And while "we certainly have aspirations for this show to go to Broadway," the director adds, getting "Bright Side" onstage at Art Square Theatre is enough of a challenge — for now.
The production's debut was "bumped back a week," he notes, "and even then, it felt like a pressure cooker."
But no more of a pressure cooker than "Bright Side's" characters face themselves.
Read more stories from Carol Cling at reviewjournal.com. Contact her at ccling@reviewjournal.com and follow @CarolSCling on Twitter.
Preview
What: "Bright Side"
Who: Cockroach Theatre
When: 8 p.m. Friday and Saturday, 2 p.m. Sunday; also 8 p.m. May 26-28 and June 2 and 4, 2 p.m. May 29 and June 5
Tickets: $16-$20; www.cockroachtheatre.com