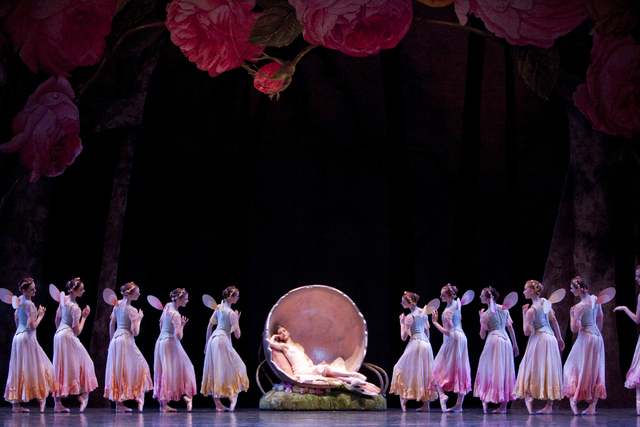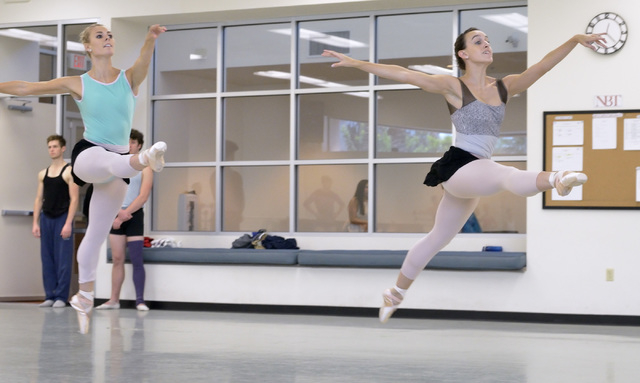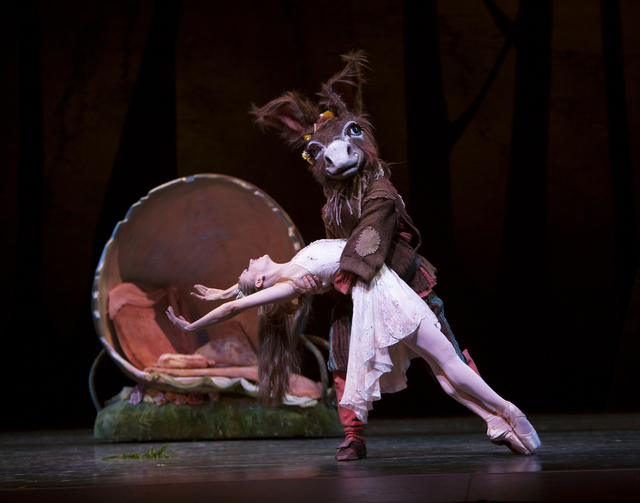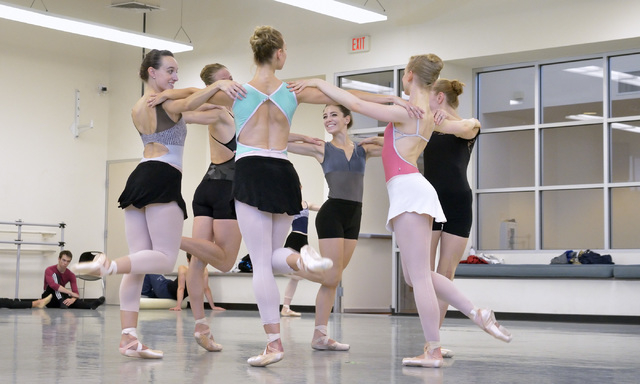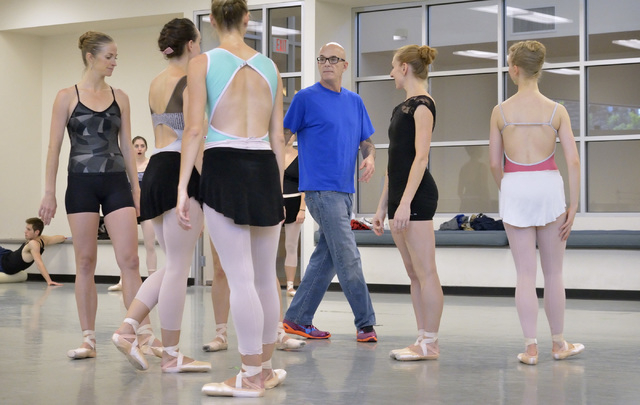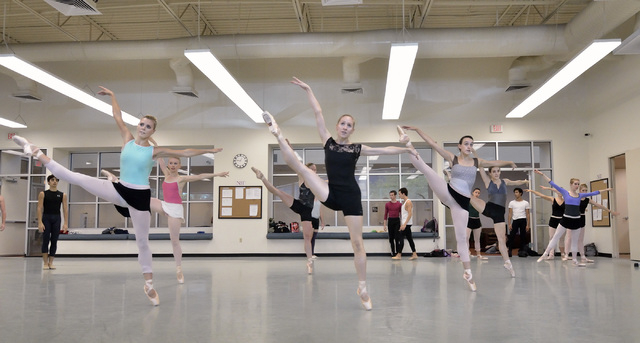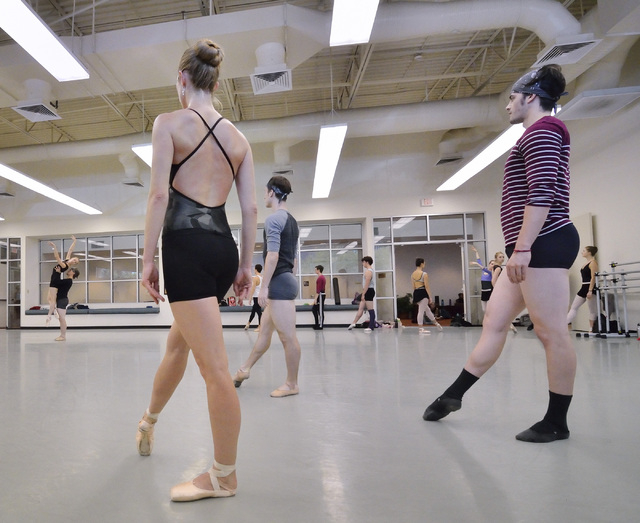 'Tis the season.
Make that seasons, as Nevada Ballet Theatre launches its 2014-15 season this weekend at The Smith Center.
Topping the bill: "A Midsummer Night's Dream," legendary choreographer George Balanchine's interpretation of William Shakespeare's classic comedy, danced to Felix Mendelssohn's equally classic melodies.
And, speaking of classic melodies, Antonio Vivaldi's "The Four Seasons" provides musical inspiration for "Seasons," choreographer Paul Vasterling's exploration of nature — and human nature.
Both ballets feature live orchestral accompaniment from members of the Las Vegas Philharmonic, conducted by Emil de Cou, who's one of several guest artists from Seattle's Pacific Northwest Ballet participating in NBT's season opener.
Principal dancers Lesley Rausch and Karel Cruz will join NBT dancers in "A Midsummer Night's Dream."
Las Vegas audiences also will see costumes and scenery created for the Seattle troupe. Behind the scenes, PNB's lighting designer and stage manager will be in Las Vegas to help stage the Balanchine ballet.
"What it really does, it saves a lot of theater time," explains James Canfield, NBT's artistic director. "They know the cues. Literally, why reinvent the wheel?"
Rausch — who's dancing the "Midsummer" role of fairy queen Titania — is eager to return to a favorite role, in a favorite ballet.
Balanchine's "choreography is so musical, it's really a pleasure to dance," she explains in a telephone interview. And "the Mendelssohn music is so gorgeous."
The Balanchine ballet also "holds a special place in my heart" because, when Rausch first came to Seattle as a student, "it was one of the first productions" in which she appeared. ("I was a hound and an epilogue fairy," she recalls.) In the process, "I got to go to Istanbul and Hong Kong and perform with the company," fulfilling a lifelong dream by getting the chance to dance with "the beautiful ballerinas" who became her colleagues.
This weekend, more than 20 members of NBT's Academy will have the same opportunity, performing as members of fairy king Oberon's "kingdom of creatures," Canfield notes.
"They're an integral" part of the ballet, "interfacing with the company," he explains, adding that Balanchine's choreography is "pretty sophisticated for kids," but "it helps spin the tale."
Although NBT will perform only the first act of "A Midsummer Night's Dream," audiences will still see all of Shakespeare's tale, which details the romantic adventures, and misadventures, of two pairs of young lovers — along with Titania and Oberon.
"The entire Shakespeare story is folded into one act," according to Canfield. "The second act doesn't have anything to do with the story." (The second act instead offers a series of divertissements, loosely connected dances that show off the dancers' skills without advancing the plot or developing characters.)
In this one-act "Midsummer," Rausch's Titania will dance one duet with Cruz, who's portraying a cavalier.
But another, more comical, duet finds the fairy queen sharing a romantic dance with a very different partner: the weaver Bottom, who's been transformed by the jealous Oberon into a long-eared donkey. (Good thing "love looks not with the eyes, but with the mind," as the Bard himself observed.)
"I'm curious to see how things go with Bottom," Rausch says. "We'll just make it work. Hopefully he's been practicing with his donkey head."
Unlike "Midsummer," Vasterling's "Seasons" has no specific story to tell.
"Obviously, ostensibly, it's about the seasons," notes the choreographer, artistic director of the Nashville Ballet. "The music of Vivaldi is very evocative of weather."
Beyond the title, however, "Seasons" explores "different kinds, different types of relationships," Vasterling explains, from "that feeling of friskiness that happens" in spring or the melancholy of fall, "when you're saying goodbye."
Canfield commissioned "Seasons" in 1995 for Portland's Oregon Ballet Theatre, where he was founding artistic director, "as part of an American choreographers' showcase."
Vasterling's choreography "is so brilliant and so smart," Canfield says, praising "the way the seasons interact" in Vasterling's work. "I love this ballet. It's showcasing the company really well."
Supervising a recent rehearsal at NBT's Summerlin studio, Canfield watches his dancers leap, glide and twirl to Vivaldi's evocative score, then helps to fine-tune their movements.
"Commit to the arabesque and then go," he coaches dancer Mary LaCroix. "It just needs to feel more free."
Working with another group of dancers, he advises, "go bigger and you'll feel better," encouraging them to "really go for it. It really feels better if you go for it. Your body will know what to do."
Coaching dancers Alissa Dale and Steven Goforth on a duet, Canfield hoists Dale, demonstrating a lift position before retreating to a chair and resuming the rehearsal.
"I'm 54 — I can't do that anymore," Canfield confesses with a grin.
Vasterling planned to review "Seasons" with NBT's dancers this week and intended to "definitely tweak it to whoever's performing," he says, noting the "collaborative effect when you're creating a work."
The collaboration extends to the costumes David Heuvel designed for "Seasons," Vasterling adds. "They have a sort of flowiness that's part of the choreography."
Also part of the choreography: the dancers themselves, "as long as they're approaching it from a place of truth," Vasterling observes. "It's not about the step itself; it's not an athletic feat. It comes from within. And you're pretty darn safe if you're working from a place of truth."
Contact reporter Carol Cling at ccling@reviewjournal.com or 702-383-0272.
Preview
Nevada Ballet Theatre
"A Midsummer Night's Dream," Act One/"Seasons"
7:30 p.m. Saturday, 2 p.m. Sunday
Reynolds Hall, The Smith Center for the Performing Arts, 361 Symphony Park Ave.
$29-$128 (702-749-2000, www.thesmithcenter.com)