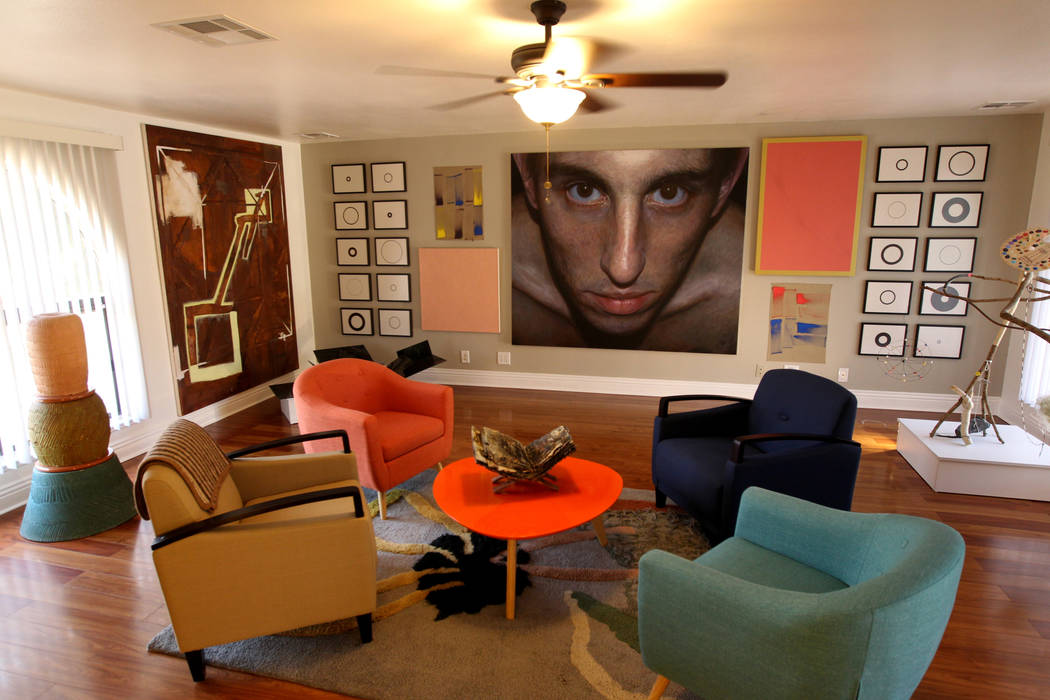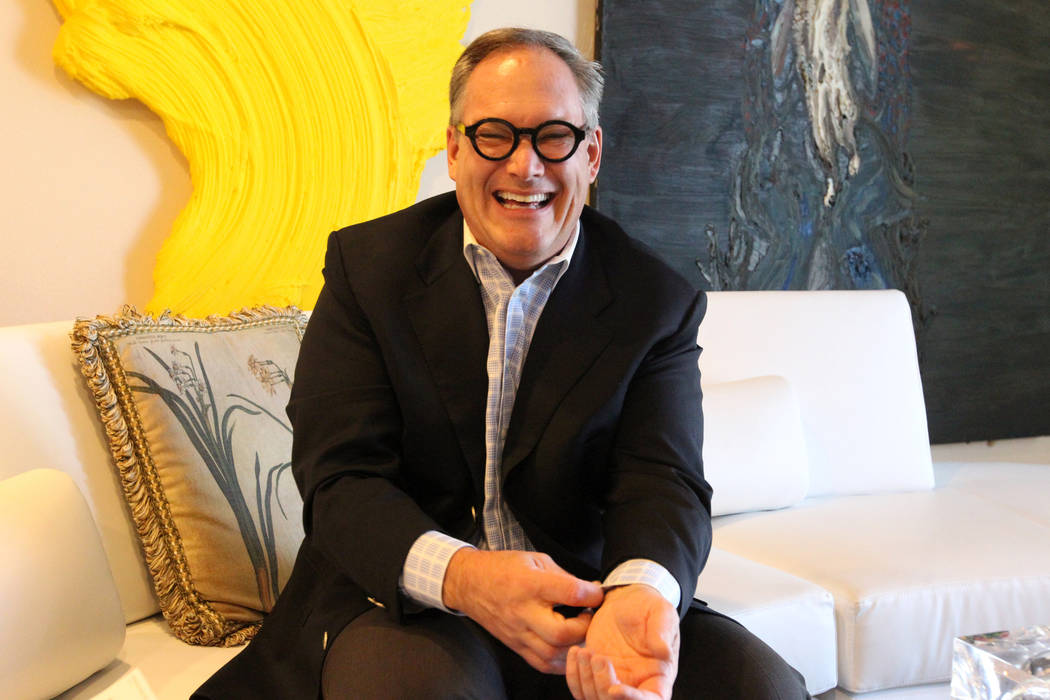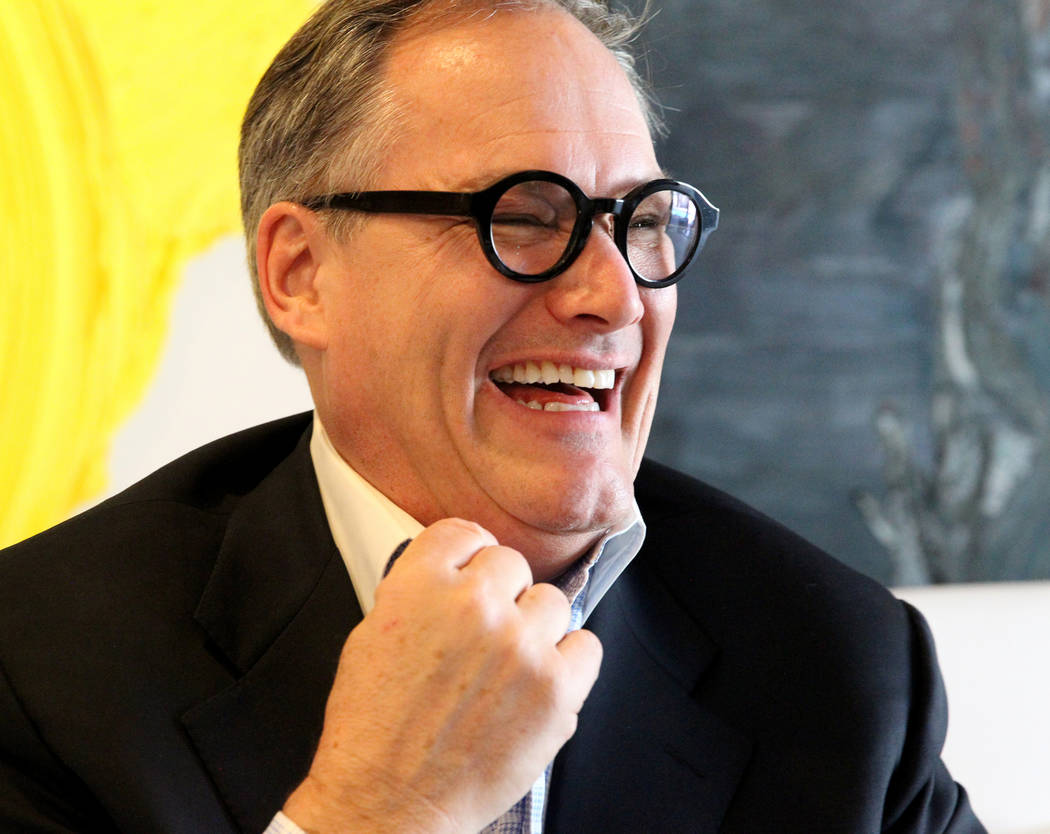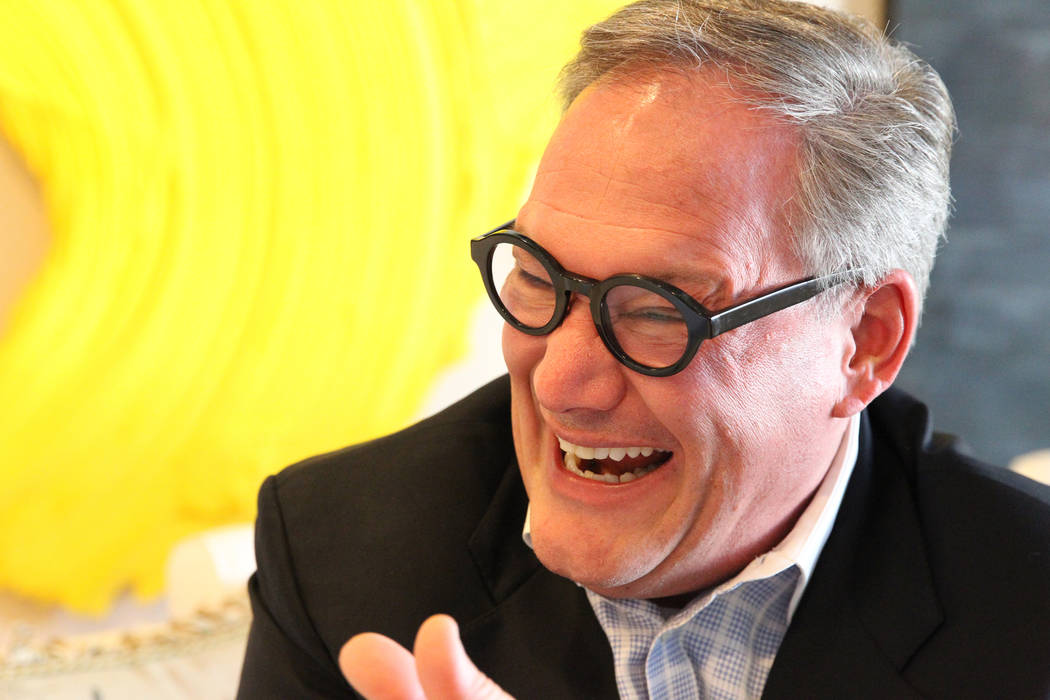 Vegas Voices is a weekly series featuring notable Las Vegans.
For the first 15 years of his life, Patrick Duffy wanted — and expected — to be a priest. "It was my world," he confesses.
Growing up on Chicago's southwest side, the son of a Jewish mother and a Catholic father (a Chicago Police Department commander), "my father's side kind of took over," he says. "In my family, my grandparents always hoped" there would be a priest in the family.
Duffy attended a preparatory seminary and was accepted at Villanova University, but his parents told him, " 'No, you're too young.' I was blown away."
Afterward, Duffy followed a different career path — into sales and marketing in the fine jewelry and hospitality fields.
Yet, along the way, Duffy has also been following his original impulse, leading a different kind of flock — and preaching a different gospel as an art collector and arts advocate.
Former president of the Las Vegas Art Museum, former chair of UNLV's galleries board and a former Smith Center board member, Duffy and his late partner of more than two decades, Wally Goodman (who died in 2008) built the Goodman Duffy Collection, featuring works by artists from around the world — and Las Vegas. (Many of those artworks are on display at such renowned museums as Chicago's Art Institute and the National Gallery of Art in Washington, D.C.; you can learn more at goodmanduffycollection.com.)
Now, Duffy brings his knowledge of the arts and business to the Nevada School of the Arts; the 40-year-old community arts school recently named him president and chief executive officer.
"I had 40 years developing profits for various businesses, and I thought, now it's time to take those 40 years and flip it to the nonprofit sector," he explains.
We caught up with Duffy, 58, at his central Las Vegas home, which he shares with his husband, respiratory therapist Luis Velazquez, their golden retriever puppies, Coco and Luna — and, not surprisingly, an extensive array of artworks.
Review-Journal: How long have you lived in Las Vegas and what brought you here?
Duffy: I've been here 17 years. I was brought here for work. I was in the fine jewelry industry for 35 years and I had the opportunity — I was the regional director, of sorts, for Neiman Marcus. … I gave (Goodman) a list of four cities as opportunities: Tampa, Scottsdale, Newport Beach and Las Vegas. I presented them to him in that order.
How did you become interested in the arts in general — and visual art in particular?
Because of my life with Wally Goodman. He was an art connoisseur, educated from opera to symphony to poetry to literature. One day, when we lived in Santa Fe, he was in the hospital and it was my birthday. He was upset, (saying) "I can't get out and get you anything," and I told him, "You can teach me everything you know about art and artistic disciplines."
Were you ever interested in being an artist yourself?
No. I have no talent. … I'm honest with myself. I appreciate and respect and admire those who have that talent. As long as it comes from the viscera, from people who need to pour out their insides.
Why did you decide to create a website showcasing the Goodman-Duffy Collection?
Only one reason: to hopefully teach and to share with collectors, museums and institutions. A lot of institutions don't know what private collectors have in their collections. And that curator might need (a painting) for a … retrospective. … Every artist that's in the collection, I have a personal responsibility to. … I always say yes, it's never a no, if it's of benefit to that artist.
What prompted you to take on your latest position at the Nevada School of the Arts?
There's still a lot of life in the organization, with all the disciplines: visual art, dance, theater, film. We're going to make the music program, as great as it is, even better. I thought to myself, this is an opportunity to take that business acumen and create an arts and culture buffet for the valley, so there's something for everyone. But you've got to reach out and find it.
You've been involved with multiple local arts institutions. What's your opinion of the state of the arts in Las Vegas?
The survival of the state of the arts in Las Vegas is absolutely contingent upon open collaboration with all the institutions (that need to get out of) their silo-like mentality. Arts and culture in Las Vegas, it's a hard sell. We are the greatest entertainment capital in the world — we put on opulent and beautiful (productions). For the community, we've got The Smith Center, fortunately … but that still doesn't mean it's an easy sell. It still thrives on donations. Same with the visual arts. The Las Vegas Art Museum, the last couple years, had incredible stewardship. But 2008 — that was the killer. It's going to be collaborative. If you don't collaborate and let your guard down and play well in the sandbox, your institution may not make it to 2020.
What do you think the local arts community needs to do to reach a higher level?
Just talk. Talk to each other. Find out all of our similarities. Let's create an incredible arts and cultural movement. (When new nonprofit organizations) are starting up, you look at their mission — and you know there are three or four organizations in town with very similar missions. Why? Pull it all together, a concerted force of arts and culture, not one here and one there. It's so easy. Check your ego at the door. … It's not your organization; it's the community's organization.
Contact Carol Cling at ccling@reviewjournal.com or 702-383-0272. Follow @CarolSCling on Twitter.