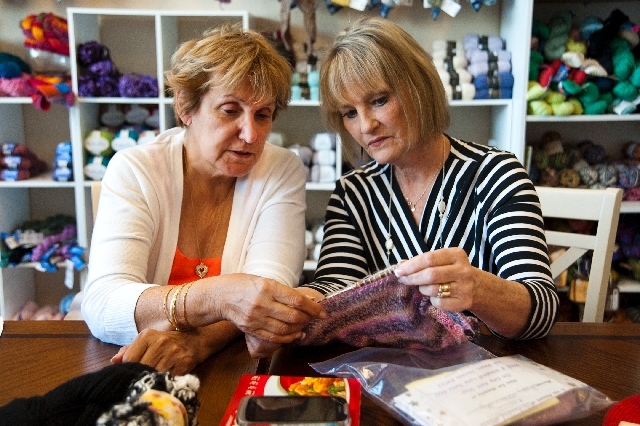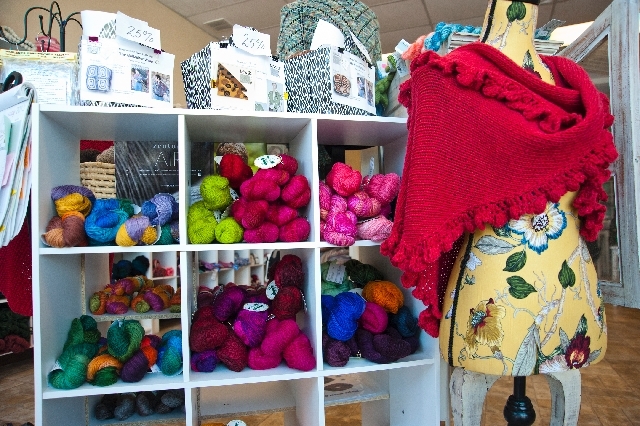 On the same day that people waited in long lines for the iPhone 5 to be released, women gathered outside Sin City Knit Shop waiting for the United States Postal Service to deliver the long-waited order of mukluk.
"They were lined up around the corner," said Debbi McCarty, the owner of Sin City Knit Shop, 2185 E. Windmill Lane.
The demand has been so high for certain materials that deliverymen have often been swarmed by patrons.
Aside from the hordes of eager knitters, McCarty recognizes the business more for its fellowship.
With a pair of needles in hand, women from their 20s to their 80s have used the space to gather, network, chat and share life experiences with one another.
The tight-knit community has crocheted countless scarves and sweaters and created Christmas and birthday gifts, all the while sharing life.
"It's therapy," said Marilyn Etcoff, who found the shop six months ago. "It's not the knitting. It's the camaraderie."
Sitting down has opened doors to find new clients for businesswomen in the social circle or even dog sitters.
"We have lots of networking," Etcoff said. "It's like 'Cheers.' The only thing missing is the booze."
McCarty moved to Las Vegas 25 years ago when her husband wanted to pursue an entertainment opportunity. She began working in retail part time while she raised her children.
About five years ago when the economic downturn hit, McCarty figured she would start making quilted handbags for clients to provide extra income.
It also resulted in working at a yarn supply store.
She saw firsthand the need for more knitting resources in the Las Vegas Valley.
"Our valley should have at least four shops," McCarty said adding that there are only three — one of which is supposed to be closing.
People didn't just need the resources, but they needed a space to carry out projects.
"I knew a lot of groups were meeting in coffee shops, Panera Bread, libraries," she said.
In January 2012, she left the store to pursue an opportunity to start her own business that would cater to the knitting needs of Las Vegas, whether it be supplies such as yarn and needles or how-to classes.
Sin City Knit Shop opened July 15, 2012, in the Henderson area.
"It was a perfect location," she said.
The location was accessible to communities such as Anthem, Boulder City and Centennial Hills — its biggest clientele.
The business is open from 10 a.m. to 5 p.m. to offer open space to individuals and groups who need space.
But McCarty said people who don't know how to knit shouldn't be hesitant.
"Just get a pair of needles and some yarn and we will teach you," she said.
Because it's a community, if McCarty doesn't get around to new people, someone in the room will help out.
There are also scheduled knitting and crochet classes for those who want to learn specialized techniques.
For the more skilled, McCarty has set up five or six classes each month to teach the latest trends or most desired patterns.
Among the most popular are the mitered squares and the crocodile stitch.
"They are the hottest workshops," McCarty said.
Classes usually last about two hours.
"But we will go as long as you need," she said. "We sometimes run over. We joke that the only thing we haven't put in are showers and cots."
McCarty said Sin City Knit Shop is home to several MeetUp groups, such as the Sin City Hookers.
Groups not only make items for themselves, but McCarty said they also work together on several charity projects, such as making blankets for cancer patients or items for extended care patients.
The business continues to grow. McCarty even took on a business partner, Deanna Werner, who is helping McCarty scout a new building to expand the business.
While the business grows, McCarty celebrates the successes it has had along the way.
For its anniversary, McCarty is making plans to celebrate her first year in business. From noon to 5 p.m. July 14, the shop is scheduled to have refreshments, classes, giveaways and speakers.
Contact Henderson/Anthem View reporter Michael Lyle at mlyle@viewnews.com or 702-387-5201.