Postmodern Jukebox special at Smith Center to air on PBS
December 2, 2017 - 1:47 pm
Updated December 2, 2017 - 7:50 pm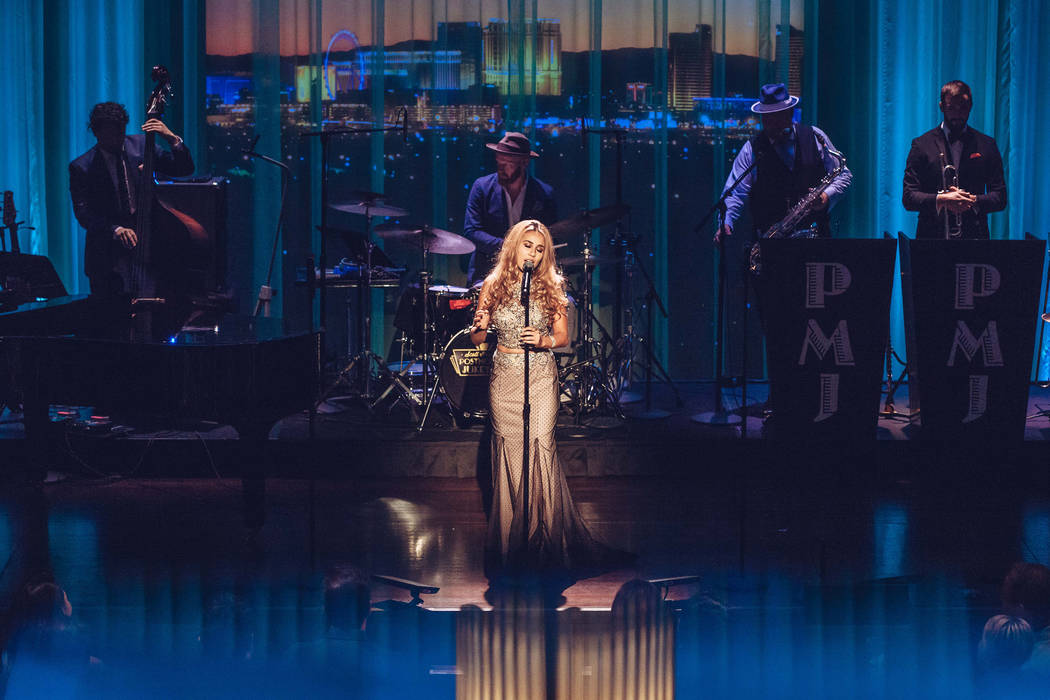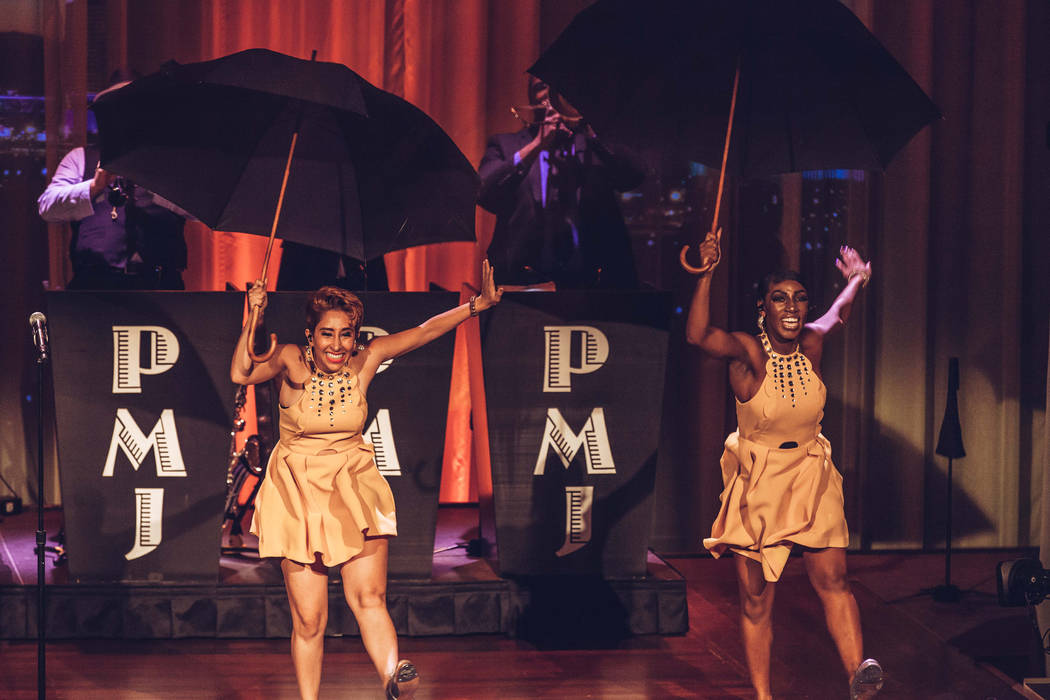 Las Vegas returns to the PBS spotlight this season with three concert showcases.
Two of them — "Hitman: David Foster and Friends" and "Human Nature: Jukebox in Concert" — were recorded exactly where most viewers would expect, on the Strip. (Mandalay Bay and The Venetian, respectively.)
But a third special reminds audiences that there's more to Las Vegas entertainment than the Strip.
"Postmodern Jukebox — The New Classics" (8:30 p.m. Sunday on Vegas PBS, with a repeat 6:30 p.m. Dec. 10) showcases the irreverent title group, which serves up "gramophone music for a smartphone world" by reimagining modern pop hits in retro styles. (Think a doo-wop rendition of Celine Dion's "My Heart Will Go On" or a bluesy version of Soundgarden's "Black Hole Sun.")
It's the fourth PBS special recorded at The Smith Center — and one that Smith Center and Vegas PBS officials hope will lead to even more.
The Smith Center's PBS history stretches back to its 2012 debut special, "From Dust to Dreams: Opening Night at The Smith Center for the Performing Arts," recorded live at 2,050-seat Reynolds Hall.
Since then, the action has shifted to the intimate Myron's Cabaret Jazz, with "Frank Wildhorn and Friends" (produced in-house at The Smith Center), which aired as a local special, followed by the nationally televised "Alan Cumming Sings Sappy Songs" (part of PBS' 2016 Fall Arts Festival) and "Postmodern Jukebox."
All three exemplify what Smith Center president (and Cabaret Jazz namesake) Myron Martin hopes will be "a version of 'Austin City Limits' " — PBS' long-running concert series — "celebrating the Great American Songbook, Broadway music and jazz."
The "Postmodern Jukebox" special represents "a win-win-win," according to Martin.
For Vegas PBS, it's a national program and for The Smith Center, "it's a little exposure," he says, which gives "Las Vegas a national format to show something more than the Strip." Finally, "it gives artists a chance to be on PBS" who haven't previously appeared on public television.
"From Dust to Dreams" put The Smith Center "on the national production map," says Tom Axtell, Vegas PBS general manager, by showcasing "a spectacular venue" that places Las Vegas' performing arts complex "in the same group with Lincoln Center and Carnegie Hall" for PBS' purposes.
The "Postmodern Jukebox" special's production company is Los Angeles-based Bounce — a subsidiary of AEG, the same company behind the concert/live events promoter AEG Live, which books multiple Strip venues, and Concord Music Group. (Among Bounce's PBS credits: numerous "In Performance at the White House" specials.)
"They love Cabaret Jazz as a venue for TV," Martin notes.
"We know we can go in there and have good audio, good sight lines," Axtell explains, adding that production officials "want to hear how the instruments are picked up and how does that translate to TV."
Well enough that both Martin and Axtell hope "Postmodern Jukebox" will lead to more — on a regular basis — for nationwide telecast on PBS.
"We're already working on the next one" and "strategizing about what the next thing should be," Martin says.
In the meantime, "I think that people across the country will get to see another side of Las Vegas while seeing great performances like this one," he says.
Postmodern Jukebox: In tune at Smith Center's Cabaret Jazz
"Postmodern Jukebox — The New Classics" may be part of PBS' holiday season lineup. (The show airs at 8:30 p.m. Sunday on Vegas PBS, with a repeat at 6:30 p.m. Dec. 10.)
But the cool vibes reflect a different season: the air-conditioned, beat-the-heat indoor atmosphere of Myron's Cabaret Jazz at The Smith Center, where PMJ's Smith Center debut was recorded Aug. 14.
That night, Myron's namesake — Smith Center president Myron Martin — welcomed audiences to "another taping for another national PBS" special, warning them to visit the restroom, and to be prepared for starts and stops, before the show began.
An executive producer of the special, Martin also introduced "one of the great TV directors," Leon Knoles — alias the "voice of God." (His credits feature myriad music programs, among them PBS "In Performance at the White House" specials and MusiCares tributes to, among others, Bruce Springsteen and Barbra Streisand.)
Knoles spent most of the evening in a mobile production truck parked outside the Discovery Children's Museum, observing the work of nine camera operators roaming the floor.
"You're going to be on television tonight," Martin told the crowd. "We're going to ask you to spit out your gum. It's the first day of school. When you see a camera looking at you, look like you're enjoying this."
No problem, as a jazzy rendition of the old "Flintstones" theme — punctuated, but of course, by a hearty "Yabba dabba do!" — kicked the PMJ way-back machine into high gear, with vintage-style revamps (from doo-wop to Dixieland jazz) of modern songs by the likes of Radiohead and Soundgarden.
PMJ founder (not to mention pianist and arranger) Scott Bradlee welcomed a rotating lineup of lead singers, including "American Idol" alumni Casey Abrams and Haley Reinhart. At times, he rewelcomed them, whenever director Knoles' sonorous voice issued a call for a retake.
"Let's hold — Scott, I'm so sorry," Knoles intoned, just as Bradlee had concluded a heartfelt account of PMJ's transition from "a studio apartment in Astoria, New York" to "worldwide phenomenon" with more than 70 singers, dancers and musicians collaborating on YouTube covers.
Bradlee replied, "I thought I did pretty good."
Knoles' voice assured him, "You did fantastic," before requesting another take.
Bradlee was philosophical, reasoning, "This is what happens when we make videos too."
Contact Carol Cling at ccling@reviewjournal.com or 702-383-0272. Follow @CarolSCling on Twitter.