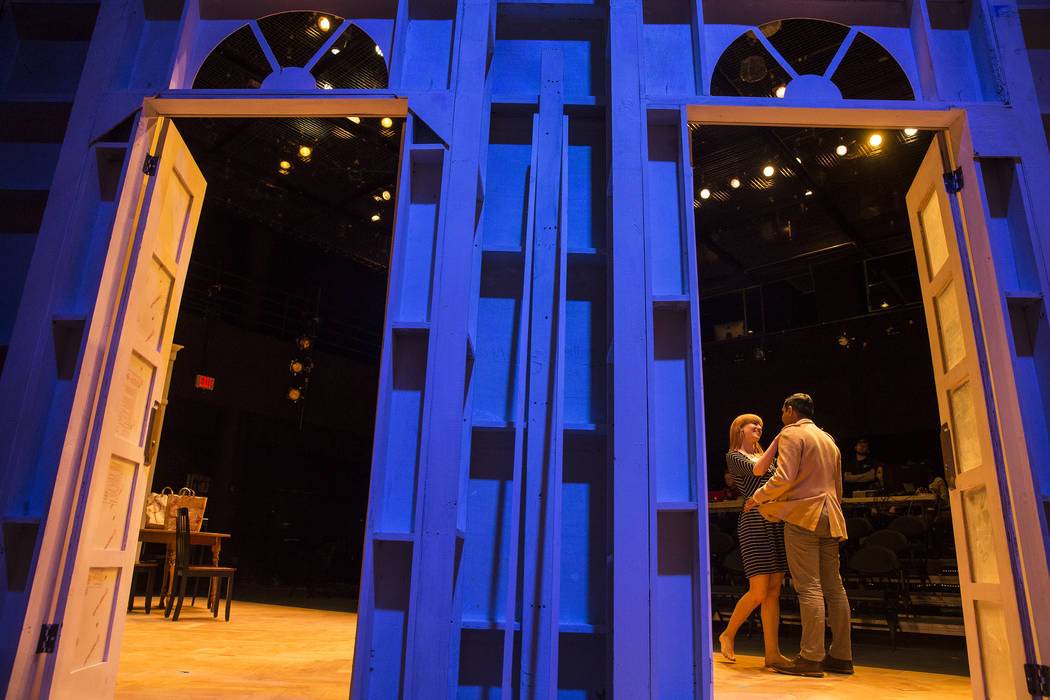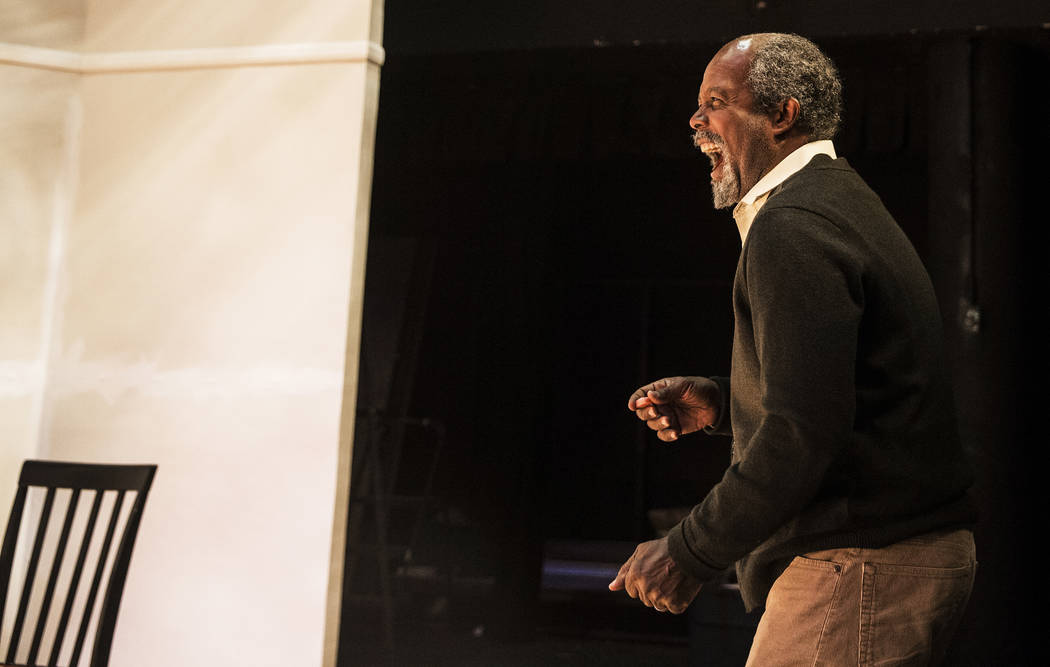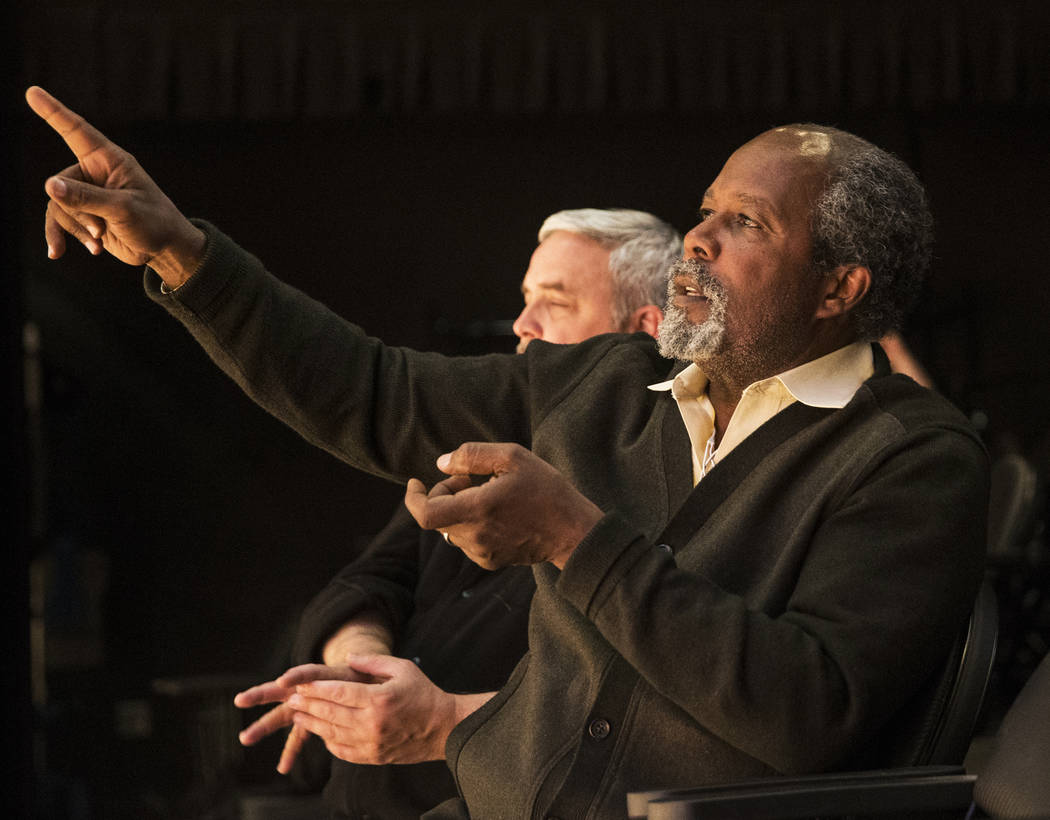 Heavy themes with a light touch.
It's a challenge, but one that helps make "Disgraced" such a taut — and topical — theatrical experience.
Ayad Akhtar's 2013 Pulitzer Prize winner — which opens Friday at UNLV's Black Box Theatre for two weekends, then moves to downtown's Art Square Theatre for two more — qualifies as "such an important play," says Clarence Gilyard, who's directing the work for Nevada Conservatory Theatre, UNLV's professional theater training program.
In part, Gilyard attributes the play's impact to its explorations of "race, politics, gender, society, faith, marriage" and more.
"Outside of that, it's a great evening in the theater," Gilyard continues. "That's hard to do, hard to create."
"This play is going to go home with you, sleep with you," adds co-director Douglas Hill. "You can't escape from it. You can't get it all sorted out and neatly put away."
Not with "Disgraced's" contradictory characters, who gather for a dinner party where the conversation goes from convivial to incendiary as the evening progresses. (Or, more accurately, degenerates.)
The hosts: Amir (played by Los Angeles-based Equity actor Anil Margsahayam) and Emily (Alexandra Ralph). He's a rising corporate attorney of Pakistani descent — assimilated, secular and anti-Muslim in his attitudes. She's an artist who uses Islamic imagery in her work. And did we mention she's a WASP?
On the guest list: lawyer Jory (Alexis Hudson), Amir's colleague, who's African-American and married to Isaac (Brandon Dawson), who's Jewish — and a curator at New York's Whitney Museum of American Art.
Rounding out "Disgraced's" players: Abe (Jacob Samir Sidhom), Amir's nephew. He may have changed his name from Hussein Malik to Abe Jensen to make life in America a bit easier, but he maintains more traditional Islamic beliefs.
"They are really complex, messy people," Gilyard says of "Disgraced's" characters, noting it's one of the reasons "actors love this play." (He should know; in addition to teaching acting at UNLV, Gilyard's still a working actor, with credits ranging from "Die Hard" to "Walker, Texas Ranger." He recently returned from a Georgia location shoot that reunited him with "Die Hard" co-star Bonnie Bedelia.)
Margsahayam, this "Disgraced's" Amir, cites the play's seemingly contradictory demands: exploring serious themes in a way that's "still buoyant," with "somewhat of a situational comedy" feel.
That balancing act takes place as "Disgraced" forces audiences to confront assumptions about "a person, a character, a culture and how we make judgments about what that is," NCT artistic director Christopher Edwards says.
And while the play's characters demonstrate how truly disgraceful they can be, "those ideas get flipped on their head," he adds, prompting each audience member to ponder "what you thought you knew — and what you've just discovered."
Read more from Carol Cling at reviewjournal.com. Contact her at ccling@reviewjournal.com and follow @CarolSCling on Twitter.
Preview
What: "Disgraced"
When: 7:30 p.m. Friday-Sunday, 2 p.m. Sunday; also 7:30 p.m. April 6-8, 2:30 p.m. April 8-9, 8 p.m. April 14-15 and 21-22, 2 p.m. April 16 and 23
Where: Black Box Theatre, UNLV, 4505 S. Maryland Parkway (through April 9); Art Square Theatre, 1025 S. First St. (April 14-23)
Tickets: $14.75-$16.50 at UNLV (702-895-2787, www.unlv.edu/nct), $12-$20 at Art Square (725-222-9661, www.cockroachtheatre.com)
Nevada Conservatory, Cockroach theaters continue collaboration
UNLV-based Nevada Conservatory Theatre (the university's professional theater training program) and Arts District-based Cockroach Theatre may have different audiences and different approaches.
Once a year, however, they have the same play.
This year's production, the Pulitzer Prize-winning "Disgraced," opens at UNLV on Friday, then transfers downtown to Cockroach in mid-April.
"Year over year, one side takes a little bit more of a lead," explains Levi Fackrell, Cockroach's artistic director.
Last year, Cockroach took the lead with the original musical "Bright Side." This year, it's NCT's turn to originate the production.
"Disgraced" marks the fourth collaboration between NCT and Cockroach, which was founded in 2003 by recent UNLV theater graduates.
The partnership "gives the university and the theater a chance to give back and have a connection to the community," says Christopher Edwards, NCT's artistic director.
In addition, "it allows, on both sides, for audience development," Edwards explains. "The folks who tend to go to Cockroach shows tend to skew a little younger." Putting NCT's "Disgraced" on Cockroach's home stage at Art Square Theatre allows their audience to see what's going on at NCT.
The collaboration also benefits student designers, who create a design that fits two places, Fackrell points out.
The NCT-Cockroach collaboration also benefits those on stage, according to "Disgraced" director Clarence Gilyard.
"It gets our graduate students in professional houses," he notes — for a longer period than if "Disgraced" stayed put in UNLV's Black Box Theatre.
"To have a monthlong run is a gift," the director says.
Adds Fackrell, "the more they're able to get runs with audiences, the more the nuances start to come out."
Or, as Gilyard promises, "it's going to be a different play by the time it gets to Cockroach. In a good way."