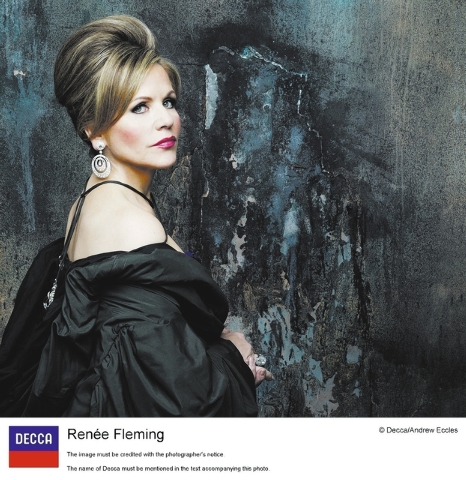 She sang "The Star-Spangled Banner" at this year's Super Bowl.
She sang at President Obama's inauguration. She sang at Buckingham Palace for Queen Elizabeth II's Diamond Jubilee.
She sang on "Sesame Street." She's even sung the Top 10 list on "Late Show With David Letterman."
But Renee Fleming has never sung in Las Vegas — at least not in public.
She performed at the 2005 opening of the Wynn Las Vegas, she notes, but that "was a small private gathering, just 125 guests, and I only performed two pieces."
By contrast, more than a dozen selections are on the program next Thursday, when the Grammy-winning soprano known as "the people's diva" makes her Smith Center debut with a program she dubs "Guilty Pleasures."
What's so "guilty" about it?
"These are things I love to sing, and the guilt just comes, as a musician, from indulging in cherry-picking," Fleming says in an email interview. (She's on offstage vocal rest, per doctor's orders, in between performances of Richard Strauss' "Arabella" in Salzburg, Austria, and a Carnegie Hall Rainforest Fund benefit concert alongside Sting, Paul Simon, James Taylor, Dionne Warwick, Chris Botti and others.)
At Thursday's "Guilty Pleasures" concert, the common thread will be beautiful music, she says, promising that "you'll hear songs that are arias by Mozart, Handel, Rachmaninoff, Dvorak, Strauss and even Rodgers and Hammerstein."
Specifically, Fleming will open the concert (with accompaniment from pianist Richard Bado) with Mozart's aria "Nehmt Meinen Dank," followed by the pleasures of Handel's "To Fleeting Pleasures" and "Endless Pleasure."
Rachmaninoff's "Twilight" and "Spring Waters" bookend Dvorak's "Songs My Mother Taught Me," while French composer Canteloube is represented by "Bailero," "Malurous qu'o uno fenno" and "La Delaissado," followed by "Les Filles de Cadix," by another French composer, Delibes.
And that's only the first half of the concert.
The second finds Fleming moving to Germany — with Strauss' "Standchen," Wagner's "Traume" and Strauss and Korngold's "Frag mich oft." Broadway masters also get into the act, first Kurt Weill ("Foolish Heart," from "One Touch of Venus"), then the Rodgers and Hammerstein favorites "The Sound of Music," "Hello, Young Lovers" (from "The King and I") and "Wonderful Guy" (from "South Pacific").
"It's fun to be able to offer a wide range (of music) in terms of period, composers, language and style," she says in her e-mail. "And my own tastes are so diverse that I want to give the audience as full a picture as possible of who I am."
Not that she needs any introduction.
Now 55, the four-time Grammy winner was born in Indiana, Pa. (also the hometown of Hollywood legend James Stewart), and grew up in Rochester, N.Y., the daughter of two music teachers. In college — and even when studying at New York's famed Juilliard Institute — Fleming sang jazz gigs.
She also began performing with smaller opera companies while a Juilliard graduate student, scoring her big breakthrough in 1988 when she won the Metropolitan Opera auditions at age 29. Fleming made her Met debut in 1991.
Since then, she's become a classical superstar — and more, extending her musical talents to encompass jazz and even indie rock, on such albums as "Haunted Heart" and "Dark Hope." (Fleming points out that her cover of Leonard Cohen's "Hallelujah," featured on "Dark Hope," is her "biggest-selling single track.")
Overall, "I find the barriers between musical styles are breaking down a bit, and that's a great thing," she says. "As someone who loves pretty much every kind of music, I'm passionate about wanting everyone to hear all kinds of singing."
And if someone who knows only her rendition of "Hallelujah" should decide "to investigate my Handel album, or the opera arias on 'Verismo,' I'd be thrilled," Fleming continues.
"The changing media environment is contributing to this as well," she adds. "Just think of the advance that something like YouTube represents, or digital music in general. It's now possible to have an immediate taste of almost any kind of music on demand. What a marvelous opportunity this offers."
Delivering that musical mixture in concert, however, represents a definite challenge.
"Programming recitals is actually one of the hardest things to do," she says. "It's like planning a dinner. I take great care to put together programs that flow naturally from one piece to the next, varying moods and tempos to keep the audience engaged, and I try to include something for everyone."
Also involved in the planning: adjusting her vocal approach.
After all, "opera is performed without amplification — I might be singing over an entire orchestra, for a hall of 4,000," she says. (The Smith Center's Reynolds Hall seats a bit more than 2,000.) But "when you sing pop music, you're singing into a microphone." As a result, "volume and emphasis on diction have to be much greater in opera."
Fleming likens opera singers to the weightlifters of singing, in a way.
"Singing pop," she says, "you need to put that heavy lifting aside, or it will be stylistically all wrong."
Fleming says although some of her greatest experiences as a performer have occurred in opera, its collaborative nature "can be frustrating, if things don't go as you would like."
But she says she also enjoys "the relative autonomy that the song recital presents, the responsibility of creating and sharing my own personal vision, which comes with its own pressures."
There's also the practical side, where commitment to an opera production can mean weeks of rehearsal away from home,
"And I find that the shorter trips allowed by recitals and concertizing appeal to me more and more," she says.
As for her long-awaited Las Vegas debut, Fleming might have considered a previous engagement, but "honestly, none of the casinos asked me," she admits. "But the opening of The Smith Center is such a fantastic addition to the cultural profile of Las Vegas."
Yet there's another side to Las Vegas that also holds particular appeal for Fleming.
"If you want to know my biggest surprise upon first visiting Las Vegas, it's definitely the natural beauty of the place," she acknowledges. "You read so much about the nightlife, the shows, the casinos, which are all impressive, But I had no idea before I first came here of the gorgeous quality of the light, or the views of the mountains in the distance. It was a lovely, unexpected bonus."
Contact reporter Carol Cling at ccling@reviewjournal.com or 702-383-0272.