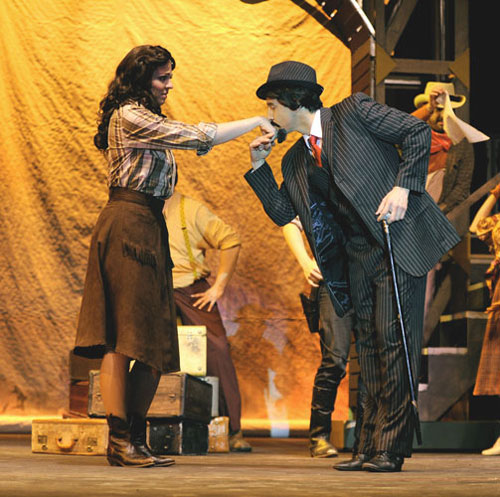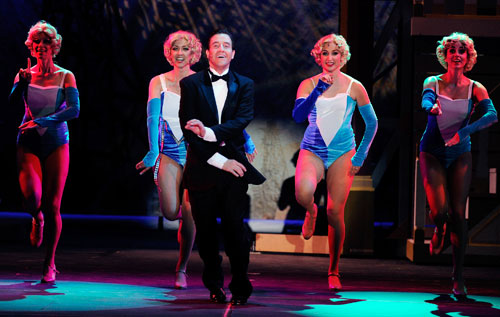 Ken Ludwig was almost crazy enough to let "Crazy for You" get away.
The author of such hit stage comedies as "Lend Me a Tenor" and "Moon Over Buffalo" initially turned down the offer to write – or, more precisely, rewrite – "Crazy for You," a planned showcase for classic, tap-happy George and Ira Gershwin tunes.
Ludwig resisted a Broadway producer's entreaties not once, but twice.
Eventually, however, the persistent producer wore Ludwig down and convinced him to reconsider, setting the stage for "Crazy for You."
A Tony winner for best musical during its four-year Broadway run, "Crazy for You" kicks off Super Summer Theatre's musical lineup at Spring Mountain Ranch, playing Wednesdays through Sundays through June 30.
Super Summer musicals continue with "Oliver!" (July 11-28), "Joseph and the Amazing Technicolor Dreamcoat" (Aug. 8-25) and "Leader of the Pack: The Ellie Greenwich Musical" (Sept. 6-22).
The Spring Mountain Ranch setting seems particularly appropriate for "Crazy for You," considering that the 1992 show happens to be one of the few stage musicals set in Nevada. (Along with the 1994 Broadway floppola "The Best Little Whorehouse in Vegas" and Steve Lawrence and Eydie Gorme's 1968-'69 "Golden Rainbow," adapted from "A Hole in the Head," which moved the original play's action from Miami to Las Vegas.)
But "Crazy for You" didn't start out as a Nevada musical.
After all, it was inspired by the Gershwins' 1930 hit "Girl Crazy," best remembered today for a score that featured such standards as "I Got Rhythm," "But Not for Me" and "Embraceable You" – and a cast that featured future showbiz legends Ethel Merman and Ginger Rogers.
When Ludwig first read "Girl Crazy's" vintage script, however, "it didn't ring any bells," the playwright said during an interview from his home base in Washington, D.C.
Ludwig did hear a few warning sirens, however, triggered by "a lot of stereotypes we don't tolerate today," along with "a lot of corny jokes" and "the flimsiest of plots," he recalls.
So Ludwig told persistent producer (and mail-order catalog maven) Roger Horchow that he'd do the show – but only if he could "write an entirely new musical from scratch."
In "Crazy for You," Ludwig retained exactly one "Girl Crazy" element: a central character who's "an Easterner who goes West."
In "Girl Crazy," the Easterner is Danny Churchill, who's sent to Custerville, Ariz., to run the family ranch – and transforms it into a dude ranch, complete with Broadway showgirls.
In "Crazy for You," set during the 1930s, the Easterner is Bobby Child (played by Evan Litt ), a stagestruck banker's son who finally gets his chance to dance when he's dispatched to desolate Deadrock, Nev., to foreclose on the local theater. (Sound familiar, Silver State residents?)
Rather than foreclose, however, Bobby decides to pay off the theater mortgage by staging a spectacular show with local cowpokes – and chorus girls imported from New York.
Naturally, every song-and-dance man needs a leading lady.
In "Crazy for You," she's Deadrock's own plucky Polly Baker (played by Shannon Winkel , the show's musical director). The daughter of Deadrock's embattled theater owner, Polly vows to get even with Bobby if she ever encounters him.
Inevitably, they fall in love at first sight. Equally inevitably, screwball-style comic complications ensue – including, but not limited to, mistaken identity and misunderstandings, all leading to the inescapable happy ending.
As for the show's Nevada setting, Ludwig chose it because "Nevada sounds like it would be full of cowboys," he explains, adding that "I suppose there isn't really a Deadrock – I made it up."
Ludwig remembers listing potential town names on a few sheets of paper – "Rattlesnake, Dry Gulch, Dry Rock, Dead Dry" – before settling on Deadrock.
(His only trip to Nevada, he says, came when Steve Wynn invited him to Las Vegas to discuss writing "Miss Spectacular," a musical featuring a score by "Hello, Dolly's" Jerry Herman, that Wynn planned to stage at The Mirage – before he sold the casino.)
And while many of "Girl Crazy's" songs made it into "Crazy for You," the "new Gershwin musical comedy" (as it was billed on Broadway) includes favorites interpolated from other scores, from obscure delights ("Treasure Girl's" ruefully comic "What Causes That?") to classics first introduced on the silver screen by Fred Astaire ("They Can't Take That Away From Me," "Nice Work If You Can Get It").
Producer-director Philip Shelburne , who has been staging Super Summer Theatre productions since 1994, "wasn't familiar with the music" featured in the score, "but I've grown to love it," he says, citing the show's "nice music, fun tapping and fun characters."
Set in the '30s and rooted in the best gotta-sing-gotta-dance Broadway tradition, "Crazy for You" represents a challenge to stage, the director acknowledges.
For one thing, "finding a cast that can tap is tough," Shelburne says, noting that he found a few cast members who could tap dance, augmented by performers who learned to tap for the show.
In addition, "performing on a concrete floor," instead of a springy wooden stage, represents "an extreme challenge," he points out.
But, to quote one of the Gershwin classics featured in the show, it's "nice work if you can get it – and you can get it if you try."
No wonder "this cast very much enjoys the show," says Shelburne, who shares their enthusiasm. "I smile when I see the girls tapping their hearts out. Everything is quite fun."
Contact reporter Carol Cling at ccling@reviewjournal.com or 702-383-0272.
Preview
What: "Crazy for You"
When: 8 p.m. today through Saturday; also 8 p.m. June 20-23, June 27-30
Where: Spring Mountain Ranch State Park, 10 miles west on Charleston Boulevard from the Las Vegas Beltway
Tickets: $12-$20 (895-2787,
unlvtickets.com,
showtix4U.com)