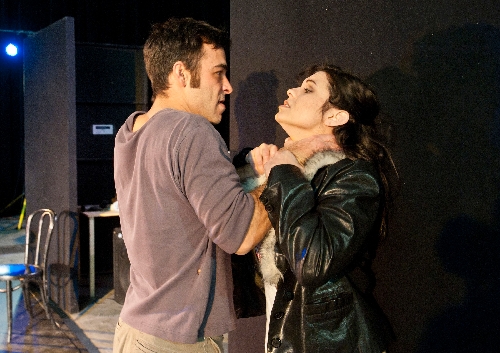 After a two-year hiatus from the local scene, Cockroach Theatre kicks off the 2011 season with a love story and a new business model for its edgy, alternative brand of theater.
"Danny and the Deep Blue Sea," by John Patrick Shanley, opens today at Creative Studios LV. The play follows two bitter, hardened people who find in each other the possibility of a future.
"It's a love story but not a pretty one," says Cockroach's artistic director and co-founder, Levi Fackrell. "It's about two characters who are troubled and seemingly unlovable. They meet in a bar, and by the end, you get the sense they may have a shot at happiness."
The play is a collaboration between Cockroach and Born and Raised Productions. Erik Amblad of Born and Raised will direct while Ernie Curcio and Mundana Ess-Haghabadi star in the two-person show.
While both theater companies have similar goals, their styles are very different, Fackrell says. By collaborating, they can share overhead costs without fear of cannibalizing the other's audience.
"The way we envision it working is to streamline resources, fundraising, advertising, public relations and other administrative costs," Fackrell says. "We produce different types of theater so there's no stepping on toes."
Born and Raised Productions is more family-friendly while Cockroach is known for what Fackrell calls "defiant theater," or more progressive plays that tend to appeal to a niche audience.
Cockroach planned to open a theater in Neonopolis in 2008, but the deal fell through. The economy forced Cockroach founders to take a step back, but this collaboration provided them with the perfect opportunity to return to the theater scene, he explains.
The two companies will share space in their new theater, Creative Studios LV at Loft Works, 6415 S. Tenaya Way, Suite 140. They have a one-year lease and plan to hold workshops and bring in other artists between shows. Whether the collaboration continues beyond this year depends on the success of their business model, Fackrell says. Hopefully, their new venture will spark interest in the community and introduce people to live theater, he adds.
"That's what needs to happen in Vegas, more groups need to start cross-pollinating," Fackrell says.
Contact reporter Sonya Padgett at spadgett@ reviewjournal.com or 702-380-4564.
Preview
"Danny and the Deep Blue Sea"
8 p.m. today, Saturday, Tuesday and Thursday (through Jan. 29)
Creative Studios LV, 6415 S. Tenaya Way, Suite 140
$15 (376-9650)