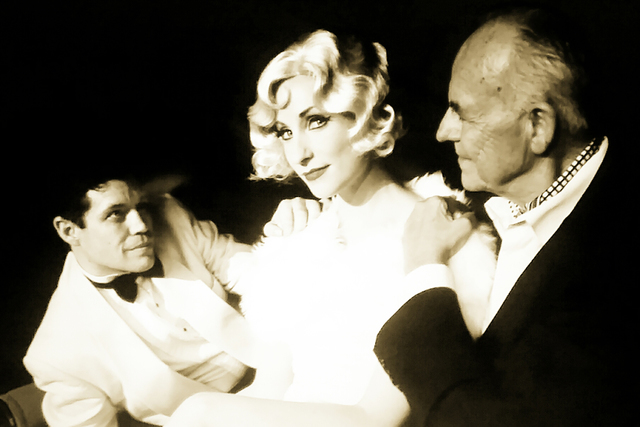 'The Cat's Meow'
The immersive Jazz Age Hollywood murder mystery "The Cat's Meow" returns Sunday to the Velveteen Rabbit, 1218 S. Main St., as star Charlie Chaplin and starlet Marion Davies, among others, embark on a fateful — and fatal — yacht voyage. Performances are at 7 p.m. Sundays (preceded by cocktails at 6 p.m.) for those 21 and older; for tickets ($25-$30), visit www.table8lv.com.
Oleta Adams
Grammy-nominated singer Oleta Adams has shared the stage with everyone from Phil Collins to Luther Vandross, but this weekend she has the spotlight to herself when she headlines The Smith Center's Cabaret Jazz, performing music that ranges from R&B to soul to pop. Catch her act at 8 p.m. Friday and 6 p.m. Saturday; for tickets ($39-$65), call 702-749-2000 or click on www.thesmithcenter.com.
Little Theatre preview
Previews of coming attractions go beyond the movie theater as Las Vegas Little Theatre showcases scenes from 10 upcoming productions with readings from such acclaimed works as "A Little Night Music," "The Nance" and "Absurd Person Singular." The free season preview will be presented at 8 p.m. Saturday and 2 p.m. Sunday at LVLT, 3920 Schiff Drive. For details, call 702- 362-7996 or go online to www.LVLT.org.
Ronnie Foster Organ Trio
Organist Ronnie Foster, who's also done time as a showroom music director, reverts to his jazz roots for a concert with guitarist Jake Langley and drummer Jess Gopen — all of whom are bound for next month's Monterey Jazz Festival. They'll perform at 2 p.m. Saturday at the Winchester Cultural Center, 3130 S. McLeod Drive; for tickets ($10 in advance, $12 on the day of the concert), call 702-455-7340.
'Opera in August'
Sin City Opera kicks off its free "Opera in August" concert series with "Those Faching Tenors" (the title offers a play on the operatic term "fach," a method of classifying singers according to voice type), featuring Matthew Kirchner, Alex Mendoza and Jorge Ortiz along with Opera Innamorata, alias Kirchner and wife Marcie Ley, who'll perform at 2 p.m. Sunday at Summerlin Library, 1771 Inner Circle; for more information, call 702-507-3860.