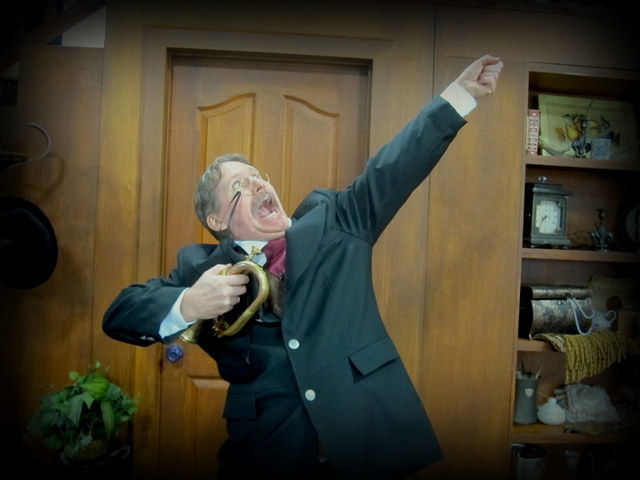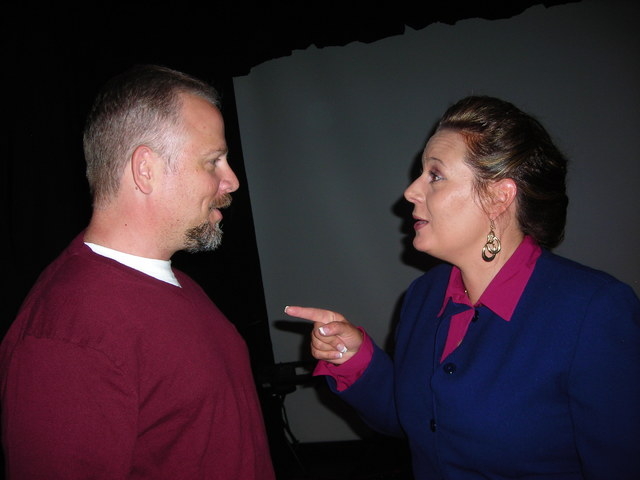 Think big. And small.
The stages may be different sizes. The plays may be from different decades.
But a laugh's a laugh — and the two vintage comedies opening this weekend are poised to generate plenty of them.
In the "big" department, there's the Super Summer Theatre stage at Spring Mountain Ranch State Park, where the 1940s farce "Arsenic and Old Lace" continues through Sept. 20.
And, at the intimate Onyx Theatre, it's the 1970s all over again, as Neil Simon's "California Suite" details the comedic disasters lurking behind the door of a Beverly Hills Hotel suite, occupied by four separate couples.
A West Coast spin on Simon's 1968 "Plaza Suite" (which was set at New York's posh Plaza Hotel), 1976's "California Suite" unfolds in four separate scenes.
Traditionally, one director oversees all four segments — and cast members take on multiple roles.
But this "California Suite" — a collaboration between Chaos Theatre Company and Olde English Productions, in association with Off Strip Productions — offers a bit of a twist, with different directors overseeing the four separate scenes.
That's "the cool thing about 'California Suite,' " said Olde English's Shane Cullum, who's directing the play's opening scene, "Visitors From New York," and acting in "Visitors From Philadelphia" for Chaos' Jeremy Nino. (Jeremy's brother Jason Nino and Gus Langley, Cullum's Olde English partner, round out the directorial quartet.)
"Each director is doing their own thing," Cullum says, noting the differences in tone among the segments. "To me, that's what the draw is. For one ticket price, you're getting some drama and some comedy."
Cullum's "Visitor From New York" leads off the quartet, as a divorced couple — a Manhattan workaholic (played by Kim Glover) and a Southern California-based screenwriter (Glenn Heath) — argue about living arrangements for their teenage daughter.
Cullum plays the "Visitor From Philadelphia," a conservative businessman who wakes up with a dead-drunk hooker (played by Olivia Hernandez) in his bed — and his wife Millie (Tara Lynn) on her way up to the suite.
"Visitors From London," directed by Jason Nino, finds a fading British actress Diana Nichols (Kellie Wright) contemplating her first-ever Academy Awards nomination — and the truth about her marriage of convenience to husband Sidney (Brian Scott), a once-closeted antique dealer who's becoming increasingly open about his sexual orientation.
Rounding out the "California Suite" quartet: "Visitors From Chicago," directed by Langley, about two vacationing couples (Madeline Angulo, Aaron Barry, Olivia Hernandez and Jeremy Nino) whose friendship is threatened by the (literally) painful aftermath of a mixed doubles tennis match.
The mood in each "California Suite" chapter may vary, but all four segments share the same set — and 1970s setting.
"Some of the references are a little outdated," Cullum says, citing mentions of Charles Bronson (big box-office in the mid-'70s thanks to "Death Wish") and of Adlai Stevenson, the former Illinois governor and 1950s Democratic presidential nominee, who lost to Dwight Eisenhower (twice) before becoming President John F. Kennedy's United Nations ambassador in 1961.
But that shouldn't interfere with the audience's enjoyment, Cullum adds.
Although Simon ranks as a community-theater staple, "I don't think 'California Suite' is one of his more famous titles," he says, noting the play is quite different than the movie.
The stage-screen connection looms even larger in the case of "Arsenic and Old Lace," a Broadway smash in 1941 — and a Hollywood hit after its 1944 movie adaptation, which boasted Cary Grant in the lead and director Frank Capra calling the comedic shots.
"A lot of people know the Cary Grant movie," concedes Rob Winch, executive director of United Production Works, which is producing the Super Summer season finale. "Not to mess with your dreams," he says, but "it's not the movie. There might be a few variations."
Besides, adds director Troy Heard, "Cary Grant was Cary Grant. If you try to do Cary Grant, you're doomed."
Even so, this production remains very much in the spirit of the movie, Heard says. "It's definitely the same breakneck screwball comedy" audiences have loved since "Arsenic" first introduced the seriously unhinged Brewster clan.
There's one seemingly sane member: drama critic Mortimer Brewster (played by Cory Benway), the sole family member who hasn't descended into madness.
Oh, Mortimer's sweet spinster aunts, Martha and Abby (Mary Alice Burack, Andee Gibbs), may appear harmless — until you consider their penchant for poisoning lonely old men with homemade elderberry wine. (It's laced with not only arsenic but strychnine and "just a pinch" of cyanide.)
Their brother Teddy (Jeff Tribbitt) thinks he's Teddy Roosevelt — and spends his time in the basement, digging locks for the Panama Canal. (At least his excavations provide convenient burial spots for Martha and Abby's victims.)
And nephew Jonathan (Alex Pink) not only looks like Boris Karloff (who played the role on Broadway) but kills like the many monsters Karloff created on screen, from Frankenstein to the Mummy.
Such darkly comedic doings lend themselves to the Super Summer Theatre stage, according to Heard, who describes the play as "the quintessential black comedy," with "lots of laughs to be had."
This production shifts the action to October, "to make it a little more Halloween-y," the director notes. The production also, he says, heightens the frantic farce and streamlines the script to make it more ranch-friendly.
Spring Mountain Ranch's expansive stage also has plenty of room for the play's atmospheric set, a "gorgeous, gingerbread Victorian" house, says Heard, who describes it as "a dollhouse — with a sinister twinge."
In Winch's view, "it's just a classic" — one that deserves the classic description "if it ain't broke, don't fix it."
Contact reporter Carol Cling at ccling@reviewjournal.com or 702-383-0272.
Preview
"Arsenic and Old Lace"
7 p.m. Friday and Saturday; also 7 p.m. Sept. 11-13 and Sept. 18-20
Super Summer Theatre, Spring Mountain Ranch State Park, 10 miles west of Charleston Boulevard and I-215
$12.95 in advance (866-967-8167, supersummertheatre.org), $20 at the gate (subject to availability)
"California Suite"
8 p.m. Friday and Saturday, 2 p.m. Sunday; also 8 p.m. Sept. 11-13, 2 p.m. Sept. 14
Onyx Theatre, 953 E. Sahara Ave.
$15 (702-732-7225, www.onyxtheatre.com)