West-side venues gear up for biggest party of the year
December 25, 2012 - 12:18 am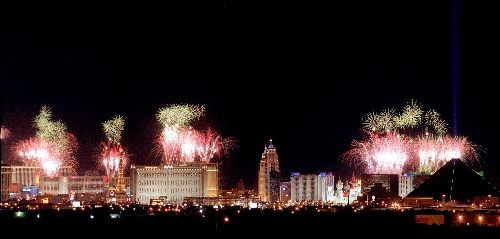 Now that the Mayan calendar and its "end of the world" predictors have been proved wrong, it's time to ring in the New Year with parties, entertainment and all things fun-loving. Las Vegas earns its reputation as the party capital of the world year-round but really tops the charts on New Year's Eve.
Despite temperatures in the 30s last year, New Year's Eve saw more than 332,000 out-of-town partiers ringing in 2012, according to the Las Vegas Convention and Visitors Authority, many of them braving the cold to party in the street on the Strip. That many visitors translated to an economic impact of $209.8 million in non-gaming revenue surging into the city. The year before saw 317,000 people, resulting in an impact of $189.6 million.
The LVCVA said it expects this year to mirror last year's numbers as far as visitors, but their pocketbooks should be slightly looser, resulting in $209.9 million in economic impact.
"Las Vegas has evolved to be the premier destination for special events, and our December calendar showcases Las Vegas' vast appeal as the place to be," said Rossi Ralenkotter, LVCVA president and CEO. "Thirty years ago, December was one of the slower periods in Las Vegas. Today, we have a variety of special events that attract visitors, stimulate the economy and generate worldwide media coverage."
While the Strip sees most of the action, the outer parts of Las Vegas, especially the west-side suburbs, have their own way to celebrate. Local casinos and hotels provide special performer lineups to rock through the night.
Summerlin resident Elaine Benson and her husband, Danny, like to ring in the new year at Red Rock Resort, 11011 W. Charleston Blvd. They usually arrive about 9 or 10 p.m. and go to Lucky Bar, at the center of the casino.
"It's close to my house," she said. "I like to avoid all the tourists, and I don't have to drive all the way to the Strip. It's definitely a younger crew that goes (there), and the type of music they play is top 40. So the vibe is, it's just a young, refreshing crowd."
Nancy Price, also of Summerlin and her husband, Jerome, like to dine out on New Year's Eve, especially with friends or neighbors.
"We usually hit one of the local restaurants," she said. "There's Mastrioni's that's near us. It depends, if we have family plans, then it's more like a Cheesecake Factory night. But if it's all adults, then it's the Red Rock. It just depends on what's going on that year."
She said the local casinos near her, whether Red Rock Resort or the Suncoast, 9090 Alta Drive, have a variety of options for dining and celebrating.
"It's always packed here at New Year's Eve," said Heather Sobczak, spokeswoman for Arizona Charlie's. "It's just a lot of fun. Everyone here is kind of like family, so it's a big party with people you know and have seen before. Newcomers are always welcomed; it's people just enjoying the evening, enjoying the music. We give out the hats and the horns about 11 (p.m.), and it gets pretty rowdy."
Arizona Charlie's west-side location is at 740 S. Decatur Blvd.
Whatever they offer, local venues are apt to see an increase in business. David Strow, spokesman for Boyd Gaming Corp., said it was difficult to speculate how many people would be at its properties but "I can say that it is the busiest night of the year. You have a lot of big weekends, but this is the busiest night that pretty much everybody in town will see. We have about 1,900 hotel rooms, and it's safe to say they will be sold out, very safe. And we expect our local residents to come by and celebrate with us, as well. We expect the same will be true in all our properties around town."
When it comes to booking talent for New Year's Eve, Strow said it meant covering all bases so as to appeal to a variety of tastes.
"You want to have the broadest possible spectrum of entertainment available," he said. "We have several dance parties going. Those are quite popular on New Year's, but we have different types of parties, a more laid-back experience in the Prime Rib Loft (at The Orleans), and we have a dance party at Big Al's Comedy Club (at The Orleans). We have a disco party elsewhere, so you just want to have a spectrum of different entertainers available that will appeal to different customer groups."
He said local residents were no exception. "I think everyone is looking to have fun," Strow said. "This is the one night of the year when folks want to get out and have a (good time), so that would hold true for pretty much everybody."
Contact Summerlin/Summerlin South View reporter Jan Hogan at jhogan@viewnews.com or 702-387-2949.