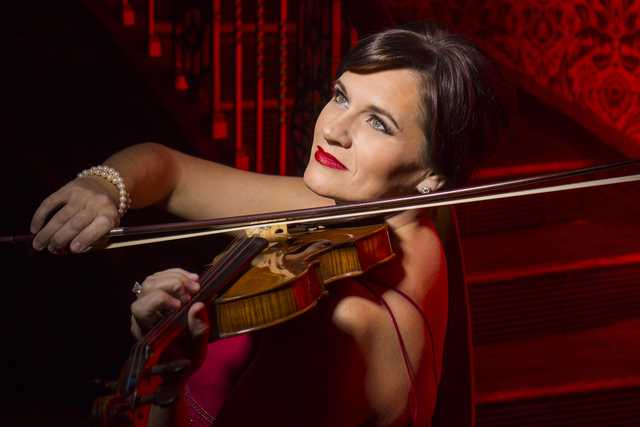 LAS VEGAS PHILHARMONIC
Usually, the focus at Las Vegas Philharmonic concerts is what the orchestra's playing: Philip Glass' Company for String Orchestra (the Philharmonic's first Glass performance), Mozart's "Prague" Symphony (No. 38 in D major) and Brahms' Violin Concerto in D major. But Saturday's concert is just as notable for the violin that concertmaster De Ann Letourneau's playing in the latter: a rare 18th-century Stradivarius, the "Chanot-Chardon," made by Antonio Stradivari in approximately 1726. Letourneau joins Philharmonic music director Donato Cabrera for a 6:30 p.m. pre-concert talk in The Smith Center's Reynolds Hall; the concert follows at 7:30 p.m. For tickets ($26-$96), call 702-749-2000 or visit www.lvphil.org.
First Friday
It's time to chow down at First Friday — which seems appropriate, considering the theme for March's event is "Edible Arts." In addition to an edible art sculpture in the welcome area, the downtown arts festival — happening in and around Art Square and the Arts Factory —will feature onstage chef demonstrations interspersed with musical performances from 5 to 11 p.m. For more information, visit ffflv.org or www.facebook.com/firstfridaylasvegas.
'In the Next Room'
Vibrations — good, bad and strange — power playwright Sarah Ruhl's Pulitzer- and Tony-nominated comedy "In the Next Room, or The Vibrator Play," which opens a three-weekend run Friday at Las Vegas Little Theatre, 3920 Schiff Drive. Set in a seemingly perfect Victorian home, the period piece centers on a doctor, specializing in gynecology and "hysteria," who treats patients with a new electric device — while his young wife listens, and learns. The adults-only play will be staged at 8 p.m. Friday and Saturday and 2 p.m. Sunday; performances continue at 8 p.m. March 10-12 and 17-20, with 2 p.m. matinees March 12, 13 and 20. For tickets ($20-$25), call 702- 362-7996 or visit www.LVLT.org.
'The Mitzvah'
The national tour of a fact-based solo drama — about tens of thousands of 'partial Jews' who served in German military forces during World War II — visits Las Vegas on Saturday. In "The Mitzvah" ("The Good Deed"), creator Roger Grunwald (the son of Holocaust survivors) portrays multiple characters, from a soldier to a Groucho Marx-style comedian/philosopher who comments on the absurdities — and horrors — the drama recounts. "The Mitzvah" begins at 7:30 p.m. Saturday at the Historic Fifth Street School, 401 S. Fourth St. For tickets ($10 in advance, $15 at the door), call 702-229-4800 or click on www.artslasvegas.org.
Ronnie Foster Organ Trio
In his "day" job, Ronnie Foster serves as music director for the Human Nature show at The Venetian. This weekend, however, Foster reverts to his '70s jazz-organist persona — when he recorded his own solo albums and played on seven of George Benson's. He's joined by guitarist Jake Langley and drummer Jess Gopen at 2 p.m. Sunday at The Smith Center's Cabaret Jazz; for tickets ($19-$35), call 702-749-2000 or visit www.thesmithcenter.com.
CAROL CLING