World of Art Showcase features thousands of works from artists in every genre
December 21, 2012 - 2:02 am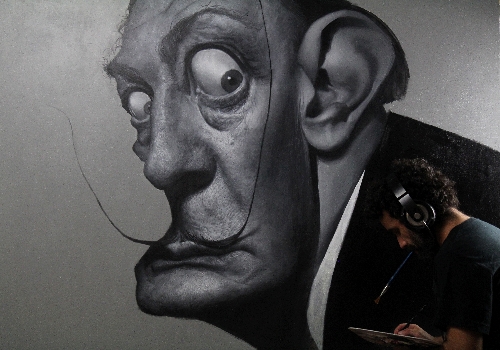 If you're going to roll the dice, there's no better place to try than Las Vegas.
Even if your go-for-broke bet involves an international art show.
That's what World of Art Showcase founder David Goldstein figured when he dreamed up the three-day showcase, which continues its inaugural run today and Saturday at Wynn Las Vegas.
Showcasing more than 2,000 works by more than 70 artists, the World of Art Showcase aims to introduce attendees to the wide world of art – and the artists who create it.
From realism to surrealism, from impressionism to abstract expressionism, the World of Art Showcase provides an opportunity for patrons to "see great art all at one place, at one time," in Goldstein's words.
Attendees "will be overwhelmed by the sheer quality," agrees Mario Parga , the showcase's Las Vegas-based executive director, an artist who's participating in the show as well as helping to run what he says "represents the finest of every genre."
The showcase, staged in two Wynn ballrooms, features dozens of booths – and a few separate rooms – where artists appear with their works and chat with patrons.
For visitors, it's a chance to meet acclaimed artists – a chance "you just don't get in a gallery," Goldstein points out. "The artists are enchanting. Some of them are crazy, but … "
Swiss surrealist H.R. Giger , for example – whose fiendishly frightening designs for the 1979 sci-fi classic "Alien" won an Academy Award – makes his first trip to the U.S. in two decades to participate in this weekend's show.
"It's his biggest show in the U.S. in 20 years," Parga says, "and it represents his entire career," not only his "Alien" days.
Artist Andy Russell, who paints "wonderful dreamscapes," rarely ventures forth from his upstate New York base, according to Goldstein. "Nobody gets to see his stuff," he says, "except if you go to Barnes & Noble and buy puzzles."
There's Cuban-born American artist Cesar Santos , whose "parents sold their home to give him an arts education," Goldstein says. Impressionist painter Betty R. Gates, now in her 80s, is "a jewel – and you're going to get to meet her."
For some artists at the showcase, the chance to meet members of the public ranks as a key reason to participate.
"I don't got out in public very often," acknowledges realist painter Nelson Shanks , whose works include portraits of Presidents Bill Clinton and Ronald Reagan and Britain's Princess Diana. (In addition to being a subject, Diana became a close friend, Shanks says, describing her as "just absolutely magnetic.")
The Pennsylvania-based Shanks has never attended an arts showcase like this one; he's also never visited Las Vegas before.
So he's anticipating that "meeting people and talking to them about my art" will be "great fun," he says. "The more people to meet, the better."
Another showcase artist, Venezuelan-born, Texas-based Jota Leal , acknowledges that he's "not used to work in public."
Like Giger, Leal is represented by Las Vegas-based virtual gallery Morpheus Fine Art, which also has a booth at the show.
A specialist in what he calls "Transformative Portraiture" (what others might call caricature), Leal has participated in other showcases – and welcomes this weekend's opportunity to repeat the process.
(Both Shanks and Leal are among artists presenting demonstrations at the showcase; Shanks' sessions are at 2:15 and 5:15 p.m. today; Leal, who was scheduled to offer two demonstrations Thursday, the show's opening day, will present two more at 1:15 and 2:15 p.m. Saturday.)
Although "Vegas is the entertainment capital of the world, it's not associated much with art," Parga says. "But it could be."
That was one inspiration for the World of Art Showcase, Goldstein notes.
But something else came first: "Number one, I'm crazy," he says.
Crazy about art, certainly.
In addition to helping to run the family business – the art supply retail chain Jerry's Artarama – Goldstein has been an art collector since the ripe old age of 12, when he bought one of Andy Warhol's Campbell's Soup can images for $200.
"I will never, ever sell it," he vows. "It's part of the family. My kids grew up with that Andy Warhol soup can in the kitchen."
Ensuring this generation's kids have the chance to grow up with art ranks as a major motivation for the showcase, organizers maintain.
"The whole point of this show is try to restore fine art" and boost its relevance in contemporary life, Parga says.
"Most people do not have an affinity for art anymore," Goldstein says.
In part, he attributes that to the fact that "people are scared and shy away from" encountering art in galleries.
"It's not uncommon for people to feel overwhelmed," says Shanks, who's "always been an exponent of and advocate for the arts."
But Goldstein hopes the World of Art Showcase – with its international array of art and artists – will inspire more people to investigate that creative world.
"There's very few things you need to appraise art: your eyes, your brain and your heart," Goldstein says. "That's it."
And that's everything, Leal insists.
Talking with patrons who are "recognizing the art," he says, "your heart fill – and it's amazing."
Contact reporter Carol Cling at ccling@
reviewjournal.com or 702-383-0272.
Preview
World of Art Showcase
Continues 11 a.m.-7 p.m. today and Saturday
Wynn Las Vegas, 3131 Las Vegas Blvd. South
$55 (866-891-9861, www.worldofartshowcase.com)