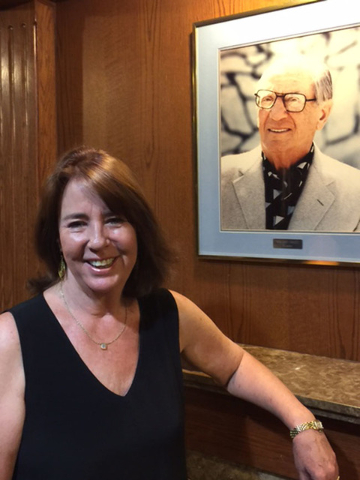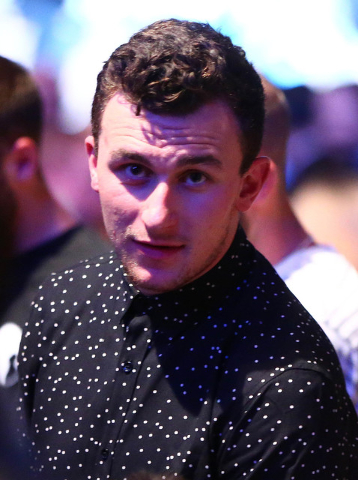 Free spirit Johnny Manziel is back in Las Vegas, where he has added a party-seasoned sidekick to his circus.
The Cleveland Browns' trouble-prone quarterback, whose NFL career appears to be going off the rails after several off-field issues, walked into 1 OAK nightclub at The Mirage on Friday withScott Disick in the same group.
They were even dressed alike: in brown pullovers with hoodies.
Disick, the father of three children with Kourtney Kardashian, is coming out of a rehab session. He was Friday's celebrity host at 1 OAK.
Manziel and Disick were seen partying together after arriving after midnight.
Earlier, Manziel dined at STK restaurant at The Cosmopolitan, where he and his crew partied on Belvedere Red Bulls and Vegas Bombs.
Remembering Dalitz
Suzanne Dalitz, who lives in Santa Fe, N.M., returned to her beloved Las Vegas Country Club last week to share some excerpts from a memoir she's working on.
First impression: The daughter of Moe Dalitz, who ran the Desert Inn for the mob back in the 1950s and 60s, can write.
Among the many finely crafted stories she told Friday at the luncheon series started by the late Robert Maheu was the mother of all catfights during the Helldorado Parade.
Setting the scene, she said the children of the Desert Inn "waited for our fathers to parade on horseback past the bleacher. Our mothers, dressed as cowgirls in bosomy plaid blouses, sat together pouring Bloody Marys."
A liquor-fueled battle was brewing.
"Blocking our view of the parade route was Joan Shoofey, the wife of Alex Shoofey of the Sahara," Dalitz said.
"We tried to peek around Joan's enormous red bouffant, comprised of several wigs stacked atop each other. But there was no way. When one mom asked Joan to shove over so the children could see their fathers, she refused.
"It's unclear who threw the first punch," Dalitz said, "though those wigs became the first casualties. One of our moms grabbed the things right off Joan's head, while the others joined the boozy brawl. The nannies tried to herd the children away from the melee before the squad cars arrived."
She continued: "As our mothers were being arrested, our fathers rode up on horseback waving their hats to the horrified children, as well to their now-arrested wives. They could do little but follow the squad cars to the police station on horseback, where charges were instantly dropped. Profuse apologies arrived from the Sahara the next day."
The scene and heard
A name to watch in the UNLV coaching hunt: South Carolina's Frank Martin, formerly at Kansas State. Key UNLV boosters love his emotion. He has engineered a major turnaround at South Carolina. In their fourth season under Martin, the Gamecocks started the year 15-0 and finished 24-7, their best mark in 20 years.
On this day
March 6, 1957: Dean Martin debuts his solo act in Las Vegas at the Sands before a curious crowd wondering how the crooner would perform without his former partner, Jerry Lewis. The enthusiastic audience includes Jack Bennyand Lucille Ball, and the Sands quickly signs Martin to a long-term gig.
Sightings
Former NBC anchor Tom Brokaw, screenwriter Nicholas Pileggi ("Casino" and "Goodfellas") and former mob enforcerFrank Cullotta, touring the Mob Museum on Saturday. … In a private room at STK on Friday: Nate Diaz, Ireland's Conor McGregor's opponent in UFC 196. Diaz requested his food be prepared without butter or oil, and he drank Fiji water. … UFC superstar Holly Holm — who rocked the sports world in November by knocking out undefeated Ronda Rousey — glammed up at Claude Baruk Salon in Encore before dining at Andrea's with husband Jeff Kirkpatrick. … At Celine Dion's show at Caesars Palace on Friday: Romanian tennis star Simona Halep and Golden Nugget headliner Gordie Brown, in separate groups. … Actor Gerard Butler, with friends Friday at Marquee at The Cosmopolitan.
The punch line
"The Google search 'How to move to Canada' started trending after Donald Trump's impressive showing on Super Tuesday. Or as Canadians put it, 'Great, now we need to build a wall.'" — Jimmy Fallon
Norm Clarke's column appears Sunday, Monday, Wednesday and Friday. He can be reached at 702-383-0244 or norm@reviewjournal.com. Find more online at www.normclarke.com. On Twitter: @Norm_Clarke