Big names and small behind NHL push
February 11, 2015 - 1:12 pm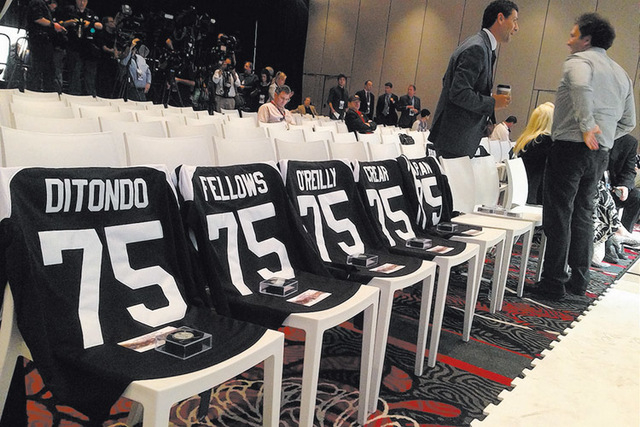 Gavin Maloof was ticking off a long list of celebrities who have jumped on the NHL to Las Vegas bandwagon when he stopped in midsentence.
"Michelle! Michelle!" he hollered, while summoning a woman who was heading for an exit Tuesday after the ticket drive news conference in an MGM Grand ballroom.
Michelle DiTondo may not be a household name in the celebrity world, but she has become a superstar among the Founding 75, a group tasked with getting the bulk of 10,000 season ticket deposits the NHL wants to see to gauge interest while considering a franchise to Las Vegas.
DiTondo, senior vice president of human resources of MGM Resorts International, is one of 75 locals charged with selling 60 ticket deposits.
DiTondo has nailed down more than 100 commitments — almost all from the local hockey community.
Her next goal: pitching the 50,000 employees in the MGM Resorts family on the Strip.
She is among the army of hard-charging, hockey-loving team members working with Gavin and Joe Maloof, the duo leading the ticket deposit drive for Bill Foley, the main money man behind the push for an NHL team.
Most of the 75 were among a capacity crowd that filled a ballroom for the launch of the ticket drive.
Members of the Maloof family, former owners of the Sacramento Kings and the Palms hotel-casino, were seated in the front row. The group included George Maloof, who has stayed in the background.
After the news conference, which featured NHL commissioner Gary Bettman on the dais, Gavin Maloof made it clear the Maloofs planned to tap into their deep celebrity connections for support.
"There will be more celebrities at our games than the Staples Center," he said, referring to the home of the Los Angeles Lakers, Los Angeles Clippers and Los Angeles Kings.
He mentioned the DJ community, with its many millionaires, would be a prime recruiting territory. He noted that veteran DJ Steve Aoki had stepped forward to be among the Founding 75.
"Floyd Mayweather is in, so is Mike Tyson, and (poker star) Daniel Negreanu, Maloof said.
Negreanu and fellow Canadian Mark Shunock, one of the leads in "Rock of Ages," attended the news conference as members of the Founding 75.
Negreanu said he has sold between 75 and 80 deposits and plans to buy 20 season tickets and donate them to Cambeiro Elementary School.
Shunock said he joined the effort about 10 days ago when he reached out and "explained my background."
His father, George, organized a drive years ago to keep the Canadian Hockey League team in Sault Ste. Marie after it was nearly moved to Michigan.
Shunock, the organizer of the Mondays Dark fundraiser for local charities, said the entertainment community is rallying around the effort to get an NHL team.
"What's unfortunate," he said, "is that I won't be able to go to the games. We perform every night. But I'll be sharing them with my friends."
GRUDEN RECRUITED
ESPN Monday Night Football analyst Jon Gruden might be making a cameo as a guest play caller for the Las Vegas Outlaws of the Arena Football League.
While in town last month for son Deuce's 21st birthday, Gruden partied with Outlaws co-owner and general Bob Hewko.
Gruden, a big Motley Crue fan and longtime friend of Crue frontman Vince Neil, said he would return for an Outlaws game.
Hewko said Gruden agreed to join head coach Aaron Garcia on the sidelines and call some plays. Gruden is a former NFL head coach. He won a Super Bowl with the Tampa Bay Buccaneers and also helmed the Oakland Raiders.
When Luxor headliner Carrot Top joined the birthday party, he got recruited to suit up for a play "if the Outlaws have a big lead," Hewko said.
The Outlaws open the season March 30 against San Jose at the Thomas &Mack Center.
THE SCENE AND HEARD
Among the potential team names I heard circulating at the ticket drive launch were Hitmen, Scorpions and this from Steele Lishnoff, executive director of operations at Sapphire Gentlemen's Club: the Las Vegas Enforcers.
SIGHTINGS
Cast members from "Jersey Boys" and "Steve Wynn's ShowStoppers" were on hand Monday when "Jersey Boys" cast member Doug Crawford proposed to longtime girlfriend Emma Hughes in a prom-themed party at The Bootlegger Bistro's Copa Room. … Holly Madison, with husband Pasquale Rotella and friends at La Cave Wine &Food Hideaway in Wynn Las Vegas on Saturday.
THE PUNCH LINE
"The only good thing to know about Charles Manson is he's in prison for the rest of his life. He was going to get married. Well, guess what? The marriage has been called off. Well, what happened? The bride finally Googled him." — David Letterman
Norm Clarke's column appears Sunday, Monday, Wednesday and Friday. He can be reached at 702-383-0244 or email him at norm@reviewjournal.com. Find more online at www.normclarke.com. Follow Norm on Twitter @Norm_Clarke.