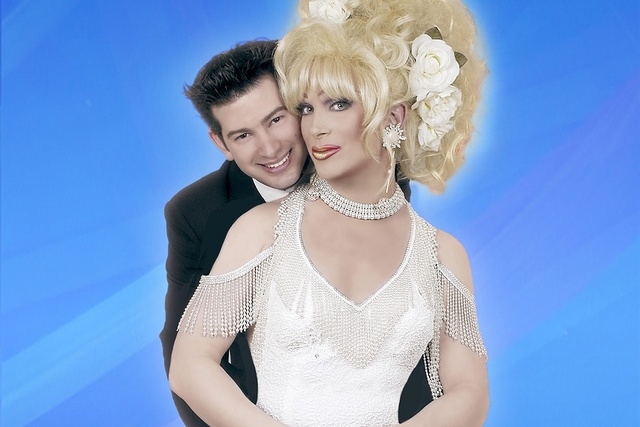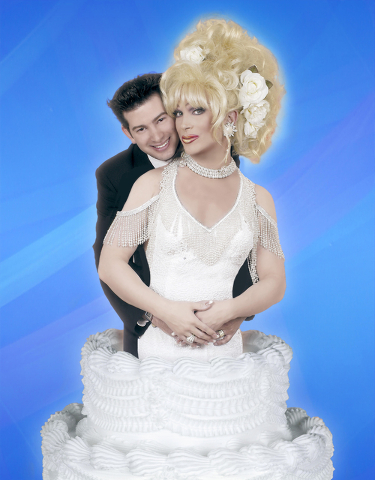 The Frank Marino-Alex Schechter wedding is being turned into a fabulous reality show.
Titled "My Big Fat Disney Wedding," the show will lead up to the wedding finale at Disney World in Florida.
"You know it's my favorite place on earth," said Marino, who has celebrated Christmas at Disney World for 25 years.
"I always wanted to arrive at my wedding in Cinderella's coach," he said, adding it's going to happen.
Filming starts in January and should wrap in June or July, when they are due to move into their new home in Eagle Hills. It is scheduled to air on Bravo in fall 2016.
Marino, the self-proclaimed "queen of Las Vegas" since the mid-1980s, was quoted about three years ago as saying he didn't expect to see same-sex marriage legalized in his lifetime.
The star of "Frank Marino's Divas" at the Quad and Schechter, the vice president and associate producer of SPI Entertainment, will mark their 22nd year together on Saturday. They got engaged on stage in July 2013, when Schechter popped the question during a walk-on appearance.
They welcomed the Supreme Court's historic decision Friday, in a 5-4 vote, that legalized same-sex marriage in all 50 states.
"About time," said Marino. The wedding will take place near Orlando, Fla., at Disney's Grand Floridian Resort & Spa.
Marino won't be wearing the lavish gowns he's famous for, "but I will wear a veil," he said. Don't rule out groomsmen dressed as Disney princesses.
He will celebrate his 30th year as a Las Vegas headliner Sept. 18 in the "Hangover" suite at Caesars Palace.
PAGEANT GRUMBLES
For the second year in a row, Nevada will have a newcomer to the state competing for a national pageant title.
No sooner had Katherine Kelley qualified for the Miss America pageant by winning the Miss Nevada title Saturday when the grumbling began.
Kelley has competed in a Miss America competition in at least three states. In addition to Nevada, she pursued state titles in her home state of Kentucky and Alabama.
A year ago in June, Miss Nevada USA Nia Sanchez, a California pageant veteran, relocated to Las Vegas and went on to win Miss USA.
Shortly after Kelley's win at the Smith Center's Reynolds Hall, I asked her about her residency.
When Kelley said she moved here less than a year ago, I asked if she relocated so she could compete in Miss America competition here.
"No, no, no," she said. "I came here to teach."
According to her Miss Nevada bio, she graduated cum laude from the University of Alabama and currently holds a 4.0 in her master's program at UNLV.
After I wrote that she insisted she wasn't a "pageant jumper," readers forwarded evidence that she was.
This was being proclaimed The Year of the Comeback by Nevada's reshuffled Miss America Organization after a messy 2014 that saw Amy Hacker bounced as executive director of the Miss Nevada Scholarship Organization.
She was replaced after the national organization acknowleged "scoring irregularities" in the 2014 Miss Nevada Outstanding Teen pageant.
Parents of contestants challenged the results that gave Amy Smith of Henderson the MNOT title.
Haleyann Hart of Henderson was named the winner, but she chose not to go to the national competition in Orlando even after the national board allowed Smith and Hart to compete.
Smith went on to win Best Platform and Miss Congeniality.
Jodi Fonfa, the new executive director of the Miss Nevada organization, did not respond to emailed questions by deadline.
To be eligible to compete for Miss America's Miss Nevada competition, a contestant must be a U.S. citizen and a resident of the state for at least six months prior to the first local pageant.
SIGHTINGS
At Hexx kitchen + bar (Paris Las Vegas) on Saturday night: Shaquille O'Neal and his girlfriend Laticia Rolle before his DJ appearance at Chateau Nightclub and Rooftop (Paris). Also at the club, Shaq's former Los Angeles Lakers teammate Rick Fox. Earlier at Hexx: Steelo Brim of MTV's "Ridiculousness" and actor Michael B. Jordan, who plays Johnny Storm the Human Torch in the latest "Fantastic Four," which comes out in August … Jordan, with friends at Marquee (Cosmopolitan) on Saturday … Marcus Mariota, the No. 2 overall pick in the 2015 NFL draft, with his family at the "Reba, Brooks & Dunn" show at the Colosseum (Caesars Palace) on Saturday. Also at the show: Former U.S. Sen. Bill Frist, R-Tenn., the Senate majority leader from 2003 to 2007, backstage after the show … At "Mystere" (TI) on Saturday: actor Kevin Costner with his family… Actor Don Cheadle, shopping at Elton's Men's Store (Palazzo) on Saturday… Bismack Biyombo, who plays center for the Charlotte Hornets, at Tao (Venetian) on Saturday… Detroit Lions linebacker Kyle Van Noy, taking in "Absinthe" at Caesars Palace.
THE PUNCH LINE
"On Father's Day my kids gave me breakfast in bed, which I thought was sweet. My 9-year-old makes a mean mojito. Brought me a cigarette, too. Rolled it himself." – Conan O'Brien
Norm Clarke's column appears Sunday, Monday, Wednesday and Friday. He can be reached at 702-383-0244 or email him at norm@reviewjournal.com. Find more online at www.normclarke.com. Follow Norm on Twitter: @Norm_Clarke