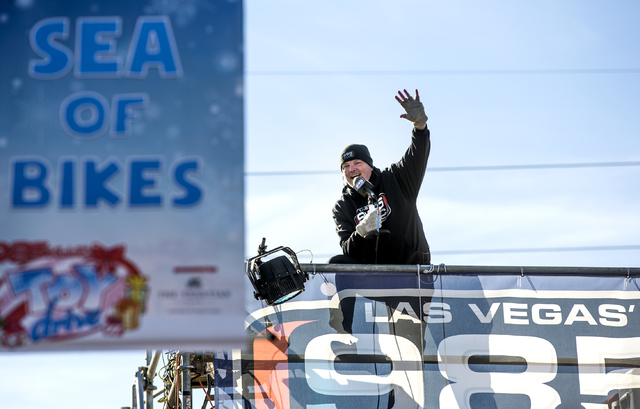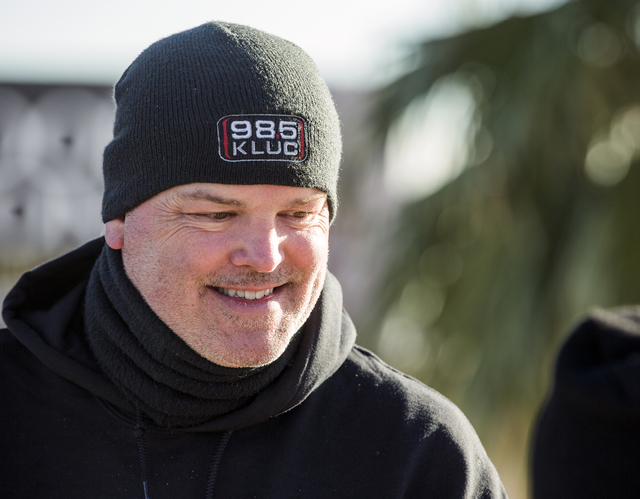 Growing up in Seattle as the only son of a single mom, Chet Buchanan spent his days in front of his house. "It was a lot of shooting hoops and listening to the radio," he said. "I always loved the radio and the jocks were as interesting to me as the music."
As host of "The Chet Buchanan Show," on KLUC 98.5 since 1999, he is one of the DJs now who brings his Morning Zoo to Vegas listeners. His annual Toy Drive — where he sits on a scaffold until the last bike rolls in — tops itself every year. "I don't see mathematically how we've not given at least 30 million in toys, bikes, cash and gift cards. If you want to be super conservative, let's call it 20 million. I've spent over 200 days of my life on a 30-foot-high scaffold."
Buchanan would like another seat in two years as the Raiders announcer.
RJ: What's a perfect Sunday?
CB: Is it football season or not? If it's not, my wife and I usually try to keep it as easy and quiet as it can possibly be. A lot of times you can find us on the couch watching movies or sports with our two dogs, a Golden and a Yorkie. If it is football season, let's just say I grew up in Seattle. I bleed a lot of blue and green.
Describe your schedule.
I'm up at 3 or 3:30 in the morning. I'll feed the dogs and stay in my home office until four and get to the station around five. We're on the air at five thirty. I'm usually out by noon and back in my home office because I've got all kinds of side hustles. Later, my wife and I take a long walk, and if I can be in bed by 7:30 that's good. DVR is a beautiful thing.
What was your first radio job?
I met this guy who came to school for career day. He worked at one of the little AM Top 40 stations, KRKO, in Everett, Washington. I worked the concession truck in the pits at Evergreen Speedway. One night, the station was doing a remote broadcast and I loaded up all the guys with a bunch of food. Afterward, I said, "I'll do anything if you let me work at the station." They said, "Yeah, kid. How about Monday you come in?"
You've worked in Portland, Seattle, Phoenix and Salt Lake. During which one of those gigs did you relax by going to Las Vegas?
When I was working in Phoenix, I went with a buddy to Vegas. We walked from the Imperial Palace down the Strip and ended up all the way at Vegas World. We didn't know where we were, but it didn't seem like the best neighborhood. I knew we should get a cab back, but I didn't want to break a hundred. So I said, "I'm going to play blackjack, and when I get down to 20 bucks then we'll go back to the hotel." Four hours later, I finally got up from the table with $2,200. We took the cab.
So you enjoyed Vegas?
When I went back to work in Seattle, I'd always take America West when I was on trips, so I could route myself through Vegas. I was notorious for jumping off the plane, grabbing a cab and going to the Barbary Coast. I'd jump out of the cab, run right in and the blackjack tables were right there. I'd make a couple of hundred bucks, jump back into the cab and go back to the airport.
And then you thought about quitting radio. Why?
I was doing afternoons and the morning guy was jealous and territorial. He and the program director were best friends. I got myself fired. I was really leaning toward not doing radio anymore when Cat Thomas called and said, "Our morning host is going on vacation. Fill in." I came to Vegas for a week and they were like, "Yeah, we'd like you to do mornings." That was 1999.
How did Toy Drive start?
I knew I wanted to do something when I first came here, but I didn't want it to be a stunt. In the 19 years we've done it, 17 were mine. I have a million stories that have touched my heart about the kids.
How did you meet your wife, Amy?
We met at St. Baldrick's at McMullan's (Irish) Pub. We started talking. She's just a great girl — interesting, fun and amazing. We hit it off immediately.
You've said you want to be the Raiders announcer. Have you spoken to them?
(Raiders owner) Mark Davis was at an event where I was selling trips for the silent auction. We kind of bumped into each other. Then he says, "You're doing a great job, buddy. Hi. I'm Mark Davis." I introduced myself and complimented him on how the Raiders are doing a great job becoming a part of the Vegas community. Then I said to him, "I want to let you know in advance I'm going to be your public-address announcer … and number two, your dad tried to kick me in the head once."
Al Davis, his father and former Raiders owner, tried to kick you in the head? Why?
When I was doing music for the Seahawks, Al Davis came over and said I was playing the music too loud. I chose to ignore him. At one point, he tried to kick me in the head. I told him if he happened to be successful, I would try to knock him out. We had a good laugh about it all. Meanwhile, back in Vegas recently at that event, Mark loved the story and we broke as friends. Just when I was ready to go on stage that night for the charity, I saw that Mark was up front with the rest of the Raiders front office. He introduced me to the president of the team. The president said, "Since we haven't talked to anyone else, you're the front runner." I said, "I'll talk to you in two years."