John Corbett spends lazy Sundays with his 'gal'
August 19, 2017 - 2:43 pm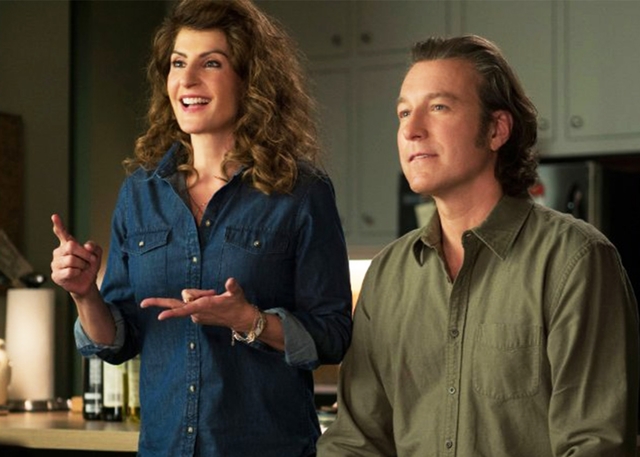 Let's cut right to the chase and talk to John Corbett about sex. Will there be another "Sex and the City" film?
The man who played Carrie Bradshaw's love interest, Aidan Shaw, set the record straight. "I'm on a conference call right now about another movie," he says. "We're changing the title to 'Aidan in the City.' "
"Carrie and Mr. Big cheated on me on the series," Corbett says. "They were pretty risqué getting all that cheat on in a hotel room while poor Aidan was re-doing her floors. Then you jump to the second 'Sex and the City' movie and all I get is a little peck.
"Let me have a little nudity! Come on!"
It would be a far cry from his new family film "All Saints," based on the true story of a salesman-turned-pastor who saves his small Tennessee church and turns it into a farm to help refugees.
Corbett likes to mix it up when it comes to film genres and a career that includes a country rock band. At home, he's steady as it goes as he celebrates 22 years with Bo Derek.
Review-Journal: What is your typical Sunday morning at home in Santa Ynez, California?
Corbett: My gal and I love Sundays. We just like to hang out. We live in this beautiful wine country, and a good day for us is to have breakfast at a great little coffee shop. I'll take my writing pad and we'll have lots of coffee and eggs Benny. We'll talk for long time and then I do a lot of journaling. My gal has a line of dog shampoo and has to create these blogs, so she will write, too. In the afternoon, I'll go for a long motorcycle ride, go see the ocean and then come back home. Bliss.
Are you a Sunday fix-it-around-the-house guy?
There's always a toilet to fix, and my gal is the one who is handy with the tools and fixes it. Me? I give moral support.
You've performed in Vegas many times with your band. Do you have a favorite Vegas memory?
I'll never forget that I went to the opening of the Green Valley Ranch casino. It had the most amazing display of fireworks I've ever seen. My other favorite Vegas memories have to do with my country rock band. We play Vegas about once a year. What I love about Vegas is that you play a show and maybe 300 people are in the audience. Three hours later, those same 300, give or take a few, are still there.
What's on your Vegas list?
I made a lot of friends when I did the series filmed in Vegas called 'Lucky.' So when I'm back, I'll go hang out with them. We'll try to see some shows. But why is it so hard to get tickets? We tried to get tickets to Britney Spears, but couldn't get them. So many greats play Vegas.
Tell us about your new film, "All Saints."
I play this amazing man, Rev. Spurlock, who was married with a kid and changed careers mid-stream. He was a paper salesman who decided to be of service to people and became a minister. The town was going to close his first parish, which was this small country church with about a dozen members. They were losing money. All the pieces were in place to move on. This pastor was going to get a better assignment with a real congregation and move up the chain like we all do in life. Then these refugees arrived at a Sunday morning service, asking to attend church. They needed help with food, clothing and transportation. Spurlock said, 'Welcome. We don't know how this is going to work out, but you come to church with us and we'll figure it out together.'
Then the congregation turned the land around the church into a farm to feed everyone and make money.
The pastor said he heard God speak to him one night. God told him, 'Take this land around the church and these people who were farmers and do what you should do with it and them. You can feed these people by growing food on this land and sell the rest.'
You filmed on a farm in Smyrna, Tennessee, and hung out with the refugee children from Southeast Asia who live there. What was that like?
I don't have kids of my own, so I loved hanging out with these children. I'd grab a guitar and sing some songs. Slowly, the kids would come up and ask to play the guitar, too. They actually played me some John Mayer songs. I was just the big guy strumming a guitar and singing a tune. They weren't into 'Sex and the City.' They weren't 'Northern Exposure' fans. And that was fine with me.
There are so many TV revivals in the works. Any chance of a "Northern Exposure" return?
I wish. I'd be up for it in a second. I loved the series. But I don't think it will ever happen. Everyone has gone on to other things.
So, no real word of a third "Sex and the City" movie?
I honestly don't know about another film. I was just a guest star who stopped by for a few episodes of 'Sex and the City' 17 years ago. It does feel like 17 months ago that I was kissing Carrie Bradshaw on her front stoop. Personally, I do feel like there are more 'Sex and the City' stories to tell. The women are in the prime of their lives, and they all look great. But I probably had my reintroduction and my exit when I kissed Carrie in the second movie.
Yeah, Carrie was married to Big. Aidan is married. So that might be filed in the kinda-wrong file.
You know what a kiss can lead to.
Nudity?
Nudity!