Renee Zellweger reflects on old and new roles, making a difference
November 4, 2017 - 6:14 pm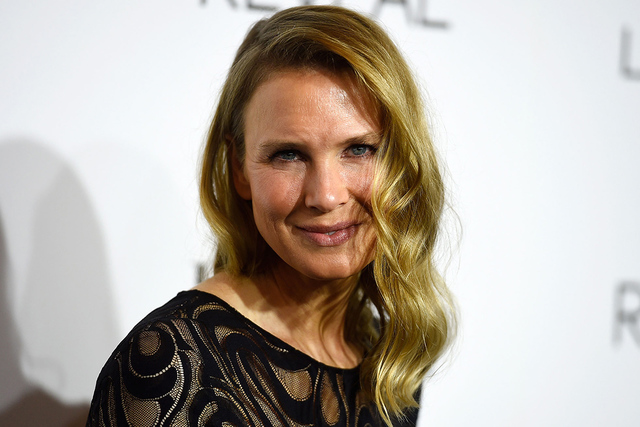 She had you at hello. Renee Zellweger has always been a soft-spoken, sweet type. When she sees a small dog on a leash in the hallway of her hotel, all Hollywood bets are off. Forget the fact that she looks camera ready with her long, blonde hair cascading down a blue dress. Zellweger is crouched down, expensive makeup being swiped off by a four-legged pug who maybe watched "Jerry Maguire" one time too many (who hasn't?).
The Katy, Texas, native stars in the VOD film "Same Kind of Different As Me," based on the true story of Fort Worth father of two and art dealer Ron Hall (Greg Kinnear) who cheats on his wife and promises he will do anything to get back in her good graces.
She challenges him to help her feed the homeless at the local Union Gospel Mission and strike up a friendship with a felon named Denver "Suicide" Moore (Djimon Hounsou).
Zellweger, 48, is also in pre-production for "Judy," a biopic in which she will play screen legend Judy Garland. The work is welcome for Zellweger fans who didn't see her during a career break from 2010 until 2016. Zellweger said that time was about "shifting my focus and living my life. Out of the public eye."
How do you spend a typical Sunday?
If there are dogs involved, it's a much better Sunday, so I try to make that happen. If I'm not working, then on Sundays I do a whole lotta nothing with friends and eat a lot of good food.
How did you come to do "Same Kind of Different As Me?"
I got a phone call from director Michael Carney. We talked about how this film was going to make a real impact. Not only was I really inspired by these people's lives, but I knew that we were going to film in a real mission in Jackson, Mississippi. We weren't just going to go there and do the Hollywood thing of building a set and tearing it down. We were going to find a real place, refurbish it and leave it there so the folks in this town would get some care. We threw film budget money at the place and even built a whole new commercial kitchen to help folks. Now, that's a cool reason to make a movie.
Your character in the film deals with a cheating husband, but she gives him another chance.
She has such a big heart and was capable of seeing the value in starting again. She believed in second chances.
What does this movie say about the human spirit?
It says that with courage, compassion and awareness, you have the power to make an impact. You certainly have the power to make a significant change in another person's life if you just make up your mind to do it.
We've seen a lot of that in Vegas after the Oct. 1 shootings.
It's amazing to see a community come together like in Vegas. Sometimes we don't believe that we have the power to make a contribution by a simple act of kindness.
In Vegas, people lined up for hours to give blood after the tragedy.
You have the capacity to leave a mark beyond what you might imagine by saving one life.
You grew up in a small Texas town and got your big break in "Dazed and Confused." When did you come to LA?
I was 24 when I first moved to Los Angeles. I didn't really know how to pursue a career. I just started working pretty regularly. I'm not trained. Every job I feel I got by accident. I auditioned three times with this nice man named Tom Cruise for 'Jerry Maguire.' I never thought I'd get the job. Like I tricked them and they're going to find out. Now that I look back, I'm just so grateful.
Last year, you played Bridget Jones again. What is the appeal of returning to characters you created long ago?
I love revisiting characters we met over a decade ago. Take Bridget. She's still part of a conversation we started in the '90s. We all feel so connected to Bridget especially and I think fans really do want to know that she's happy and figuring out her life. I still hear from so many young women who tell me, 'I am Bridget.'
You've starred in movies that people watch over and over – "Jerry Maguire," "Chicago," and, of course, "Bridget Jones." Do you ever think about your legacy in Hollywood?
It's really nice to hear that people find something about the films years later that still is special. It makes me happy that people look at some of my movies again and again to find something meaningful to them.