China's National Circus and Acrobats set to make Las Vegas debut — PHOTOS
October 2, 2015 - 9:09 am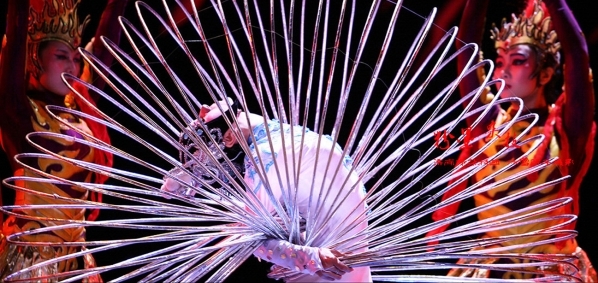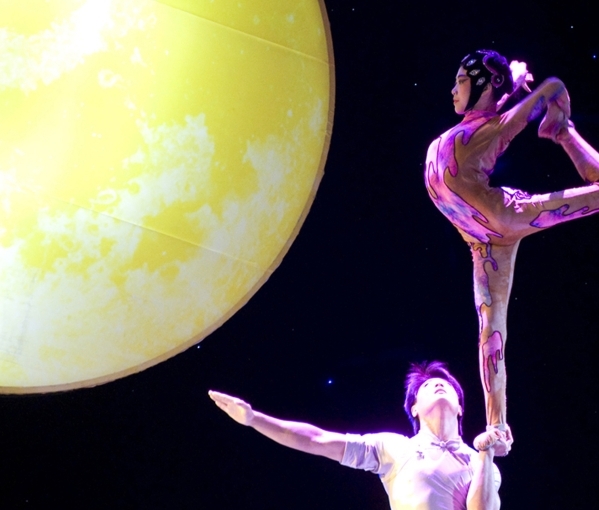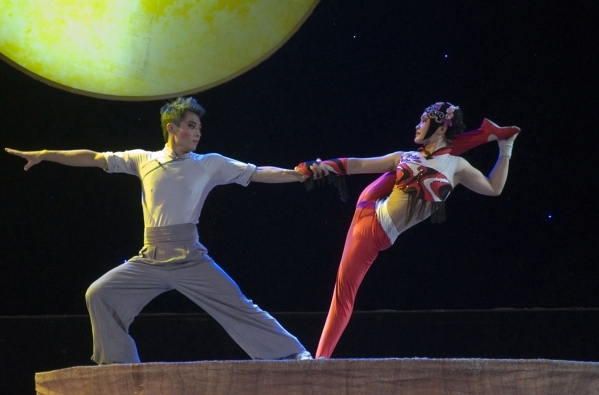 With multiple Cirque du Soleil shows to see up and down the Strip, Las Vegas audiences are more than used to the idea of seeing a circus without animal acts.
But a few thousand years before Cirque du Soleil, the all-human, no-animal circus formula surfaced in China.
The National Circus and Acrobats of the People's Republic of China are still following that tradition — as locals will see for themselves when the circus makes its Las Vegas debut Friday at UNLV's Artemus Ham Hall.
"To put it simply, Chinese circus doesn't use animals in their acts, while the Western circus does," explains Baojin Deng, the troupe's artistic director, in an email interview from somewhere on the circus' 3½-month North American tour.
It's also probably safe to say that most Western circuses don't get their inspiration from opera.
But the Chinese circus' current production, "Peking Dreams," also incorporates elements of Peking Opera — notably "eye-catching costumes, music and theatrical elements," Deng adds, "to make the experience even more enjoyable."
Some of the segments presented during the show tell a definite story.
"Aerial Silk" traces a Peking couple's courtship from acquaintance to friendship to love — as the duo dances on colored silk, expressing tender sentiments, high above the stage floor.
Or in "Straw Hats Juggling," wedding guests send the title headgear flipping and spinning.
The circus' bicycle-stunt act even has an official Peking Opera source, "The Generals of the Yang Family," in which female performers, costumed as female warriors, execute their tricks.
Other "Peking Dreams" routines take their cues from China's imperial past.
Forbidden City settings figure in "The Drunken Beauty" (featuring the title character, the imperial concubine, swinging on a trapeze while, beneath her, palace maidens spin plates) and "Contortion With Carpets Spinning, which depicts the emperor and his maids drinking wine and dancing. (That is, before the palace maids sway and twirl, combining classical Chinese dance with contortions and carpet-spinning.)
Modern-day Beijing's breakneck pace, by contrast, inspires "Hoop Diving," in which performers somersault and twist through two, then five, then six hoops.
Umbrellas, hula hoops and and Chinese yo-yos also get their turn in the spotlight, before the climactic "Balancing on High Chairs," which symbolizes China's Great Wall.
Whether cast members "perform solo or in a group, all" the moves "require strength, flexibility and concentration," Deng emails.
All of which have been part of the performers' lives for years.
"In China, acrobatic performers train daily on our core skills: handstand, tumbling, flexibility and dance," she notes. "They are also expected to be skilled in other aspects, such as juggling."
Founded in 1958, the National Circus and Acrobats of the People's Republic of China now recruits its performers from "graduates of the art schools or professional circus schools," according to Deng. "They start studying from the age of 8 or 10."
But it wasn't always so.
"Many years ago, traditional acrobatic troupes in China were family-owned," she points out. "Performers were from families and they roamed the countryside."
Some think China's circus traditions evolved from imperial court performers, similar to court jesters in medieval Europe. Others contend that the circus began as a folk art before becoming popular with the ruling classes. (The first written records of Chinese circus date back 2,000 years.)
Either way, the ancient Chinese came to call the circus "the show of a hundred tricks."
By now, a lot more than a hundred tricks have made it into the repertoire of the National Circus and Acrobats.
Some of those tricks have collected awards at circus festivals around the world. And some of them have been performed in other shows, including Ringling Brothers Barnum & Bailey Circus and Tokyo Disney's Cirque du Soleil Theater.
And now, Las Vegas audiences can catch up with the Chinese circus' brand of artistry.
"We are pleased to see that more and more American people like Chinese acrobats and are interested in Chinese culture," Deng comments. "We hope to entertain audiences across the United States with our artistic innovation."
— For more stories from Carol Cling go to reviewjournal.com. Contact her at ccling@reviewjournal.com and follow @CarolSCling on Twitter.
Like Neon Las Vegas on Facebook: