Complicated couple at center of 'Fool for Love, opening for seven-show run
September 16, 2010 - 11:00 pm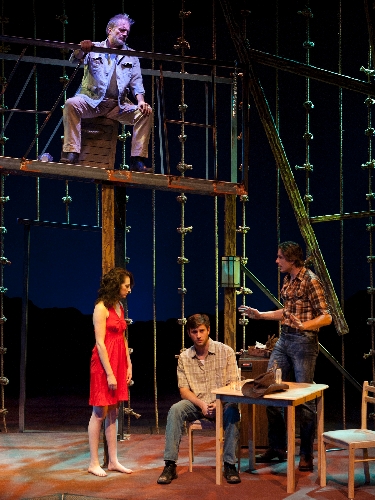 Given his fondness of exploring the reality and myths of the American West, dramas by Sam Shepard would, it seems, be a natural fit for Southern Nevada theater companies. And, in fact, Shepard's plays have been, and continue to be, produced by a number of Southern Nevada theater groups.
But not — at least not anytime recently — by Nevada Conservatory Theatre, the University of Nevada, Las Vegas' resident theater company. However, that changes this evening, when Shepard's "Fool for Love" opens for a seven-performance run at the Judy Bayley Theatre.
"Fool for Love" is set in a motel room on the edge of the Mojave Desert. There, a man and a woman fight about their relationship which, it seems, is way more complicated than either could have imagined.
The play premiered in San Francisco in 1983 with Ed Harris and Kathy Baker in the lead roles, then premiered a few months later in New York City. In 1985, Robert Altman directed a film version of the play with Kim Basinger and Shepard in the lead roles.
And, now, "Fool for Love" comes to NCT in a production directed by Michael Lugering and featuring Lauren T. Mack as May, Alan Dronek as Eddie, Jordan Bondurant as Martin and UNLV theater professor Michael Tylo as The Old Man.
Lugering says this is the first time he has directed a Shepard play. But, he adds, "Fool for Love" offered him much to work with, because "it's complicated and twisted, with a bit of romance and a lot of angst."
Lugering first encountered the play by watching a scene during an acting class. But, he says, "I never saw the play done. I've seen the Altman film but not since the '80s when it came out.
"But the play is interesting in that some of the exposition you'd like to have you don't get until the very end. So it has a real feel of, you don't quite know who these people are and what their relationships are until you're toward the very end of the play.
"That part of the story is fascinating, I think," Lugering says. "I think it has a great deal of intrigue in many ways."
Shepard, Lugering says, also has "done a really good job in crafting this play. He has a great command of his material, he understands his language, he understands his characters and he has a real sense of where he wants the plot to go."
As a director, "that's kind of refreshing," Lugering continues, and Shepard has created "a very good blueprint to action (in) this particular play."
The intensity of "Fool for Love" seems well-suited for an intimate set. So, Lugering says staging the production in the relatively large expanse of Judy Bayley Theatre required some creative work by the show's set designer.
But, he says, "I think it will prove to be an intimate experience."
Unlike some of the plays on Lugering's resume, "Fool for Love" is, by its very nature, a play without elements of, for lack of a better word, spectacle.
"I think this show will be visually quite stunning, with a big red mountain background, a lovely set made of wood and rope and a raised platform," he says. "We've attended to the visual elements."
But, he jokes, it's not Cirque du Soleil, either.
"The first thing I have to do as a director is to accept the play I'm in and not try to turn it into something it isn't. I think this story is compelling and I think the characters are compelling and commanding enough that I hope you'll sit up and pay attention."
Contact reporter John Przybys at jprzybys
@reviewjournal.com or 702-383-0280.
Preview
"Fool for Love"
8 p.m. today, Saturday, Sept. 23, Sept. 24 and Sept. 25; and 2 p.m. Sunday and Sept. 26
Judy Bayley Theatre, University of Nevada, Las Vegas, 4505 S. Maryland Parkway
$20-30 (895-2787)