Could the selfie dad have future selling Vegas tourism?
November 23, 2015 - 12:58 pm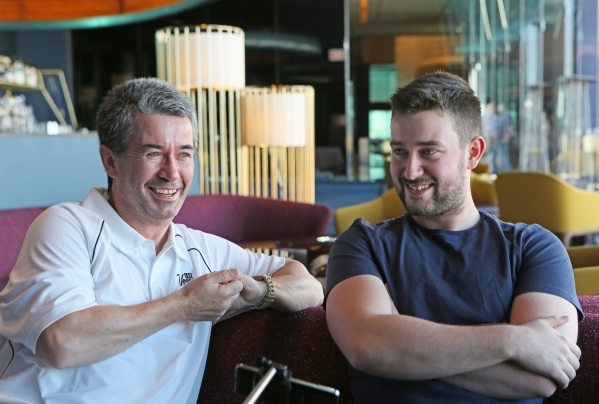 Joseph Griffin, famous for one week, has a commercial pilot license but no fliers will put their lives in his goofy hands.
"People have said to me, 'You're a pilot? Jesus, I wouldn't get in the plane with you,'" he said.
So Griffin, sweet and softspoken, remains a career bus driver in Dublin and calls himself a "52-year-old child," whose silly enthusiasm made him a star in a viral video.
In the video, he walks around on his Vegas vacation holding a GoPro camera — but he accidentally pointed the camera at his childlike facial expressions the whole time.
His son Evan, 20, uploaded the video to YouTube and Facebook a week ago. It's had 7 million views.
Griffin and Evan flew back to Las Vegas on Thursday as a guest of the Las Vegas Convention and Visitors Authority, to properly cut a new video and to talk with the media in the Delano hotel's Skyfall Lounge.
I took comedian Tom Rhodes with me to interview the Griffins on Friday, because Rhodes (killing crowds at Brad Garrett's Comedy Club this week) has spent a ton of time in Ireland.
"So," Rhodes said to Griffin, "Your lack of technical understanding has made you a global superstar."
"Ta-da!" Griffin responded, holding his palms up like a superstar in progress, then he dropped a "Forrest Gump" quote on us: "Stupid is as stupid does."
What kind of guy is Griffin?
He's one of those dads who tries to embarrass his children every day by chatting up strangers in stores in front of them, or by launching gabfests at their love interests.
"If you're not embarrassing your kids, you're not doing it right," Griffin said.
Evan, is that true?
"One hundred-ten percent," Evan said. "I've been (embarrassed) since I was old enough to realize he was embarrassing, and it's been embarrassing every single day since, so I'm fully used to it. But now I'm kind of proud of it, because it got me back here" to Vegas.
What happens to people after they become a viral video star? Did they make $10 million from all this?
"Not yet," Griffin joked.
Have they been contacted by President Obama?
"I have my phone on me just in case," Evan said.
If Griffin could pick one person in the world he would want to call him and say, "I love this video so much," who would it be?
"Angelina Jolie," he blurted without hesitation, looking heavenward, adding an angelic "Ahhh."
But they take happy solace in Ashton Kutcher and Zooey Deschanel's having shared the video on social media.
"I rang my wife and said, 'Zooey Deschanel has got us on Facebook, honey, can I have a divorce?'" His wife gave him a verbal reply on the level of a two-finger salute. (It's one finger in America, two in Europe.)
Even during this pro-Vegas interview, you could see the funny dynamic between Griffin and son. Griffin was goofily telling us about how Evan didn't quite explain the positioning of the wayward GoPro screen.
"It's not a screen," his son interrupted, seeming just a wee bit (comically) peeved. "I presumed from previous use of cameras that you'd know what a lens was. I thought that was a pretty safe assumption. Clearly not."
"Twenty-twenty hindsight," Griffin said, smiling and unbothered. "You're right."
Griffin and son said if nothing else serendipitous happens — such as our Mr. Bean-esque Griffin getting a role in movies from this, since "I've done some amateur drama stuff" — they will be happy they have provided laughs to the world in a tough news week (Paris, terrorism, yuck).
Rhodes said he truly believes Griffin could be a good Vegas tourism marketing spokesman, since he's a natural with his not-jaded sense of wonder. Griffin likes that idea.
"Bring it on. If that's in the lap of the gods, so be it," Griffin said, a thunderous statement coming from a humble, benevolent speaking tone. "I'll do what people want me to do. That's fine. It would beat bus driving."
And then Griffin invented this probably questionable motto on the spot: "You don't lose in Vegas."
We bid farewell to the kind, peaceful, Irish Griffins, then I asked Rhodes if he really thought Griffin and son could be a thing going forward.
"I think they could have a series of movies or television shows — the goofy dad who doesn't quite understand modern technology being swindled by his Millennial son. That's comedy gold," Rhodes said.
"I mean, they made all those 'Vacation' movies with Chevy Chase. These people are obviously funnier than Chevy Chase."
Doug Elfman can be reached at delfman@reviewjournal.com. He blogs at reviewjournal.com/elfman. On Twitter: @VegasAnonymous.