Country music is ever changing, and Clay Walker changes with it
December 6, 2013 - 7:17 am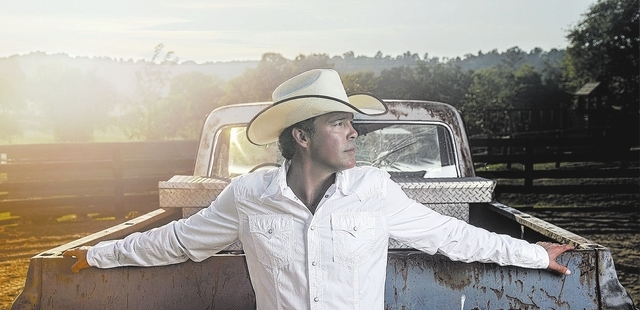 If more people aren't singing to cowboys this National Finals Rodeo week, Clay Walker says it "may be because there aren't many cowboy singers anymore."
As country music becomes bigger and wider in its reach, it seems to have less to do with NFR week on the Strip.
Some of Nashville's biggest stars will be in town Tuesday, but they will be here for a TV show, the fourth American Country Awards on Fox.
There is no need for Lady Antebellum or Brad Paisley, set to perform on the broadcast, to go out of their way to do Las Vegas concerts during the rodeo. They sell just as well any time they are routed through the Strip on tour.
But Walker is a real cowboy, although he modestly adds, "I'm a wannabe roper."
"George (Strait) loves the sport of rodeo because he's good at it as well," he adds. "I'm not. I'm a wannabe."
Walker, who plays the Sands Showroom at The Venetian for the first time Friday and Saturday, first played during NFR week in 1995. And he played it with his arm in a sling.
"I broke my collarbone," he says. "A mare that I had just bought flipped over on me backward and I broke my collarbone. I'm fortunate she didn't split me open like a water balloon.
"It was a pretty scary moment. I've been riding horses since I was 2, and you just never know when it's going to happen," he says.
"I have to tell you that putting the guitar strap on was excruciating."
Walker's real trials were to still to come, when he learned the next year he had multiple sclerosis.
"It's a tough life," the 44-year-old Texan says of the neurological disease, although he has been in remission, or "relapse free," for 15 years.
"I have to make a decision every day, what am I gonna do?" with his limited energy. "Am I gonna take my shot today or not? Am I gonna exercise today or not? I've gotta pick it, I've gotta choose."
But he still rides horses and will do so in the historical movie drama "Alone Yet Not Alone" due next March. And he devotes much of his year to the nonprofit he founded, Band Against MS.
Walker is also working on a new album and compares his resiliency to some of the cowboy stars who will compete at the Thomas & Mack Center through Dec. 14.
"I've always enjoyed being in town during that week. I've seen the evolution of the sport and it's very interesting what a tight niche that it is," he says. "There's only a handful of great ones, and they're going to be in Vegas that week.
"They're wearing their best clothes but believe me, behind the scenes, the blood, sweat and tears that went into getting right there, oh man," he adds.
"They live this. When they show up into the arena, they show up prepared. There is an incredible amount of preparation that has gone into being great."
Walker has that same passion for music, even though the game has changed on him since the early 1990s. "From a mainstream recording perspective, traditional country music is dead," he says.
"If you're going to be part of the industry, then you have to adapt to the new world, or be born into it," he adds. "I've realized the music I'm going to make in the future is not going to be the music I've made in the past, and that's the way you survive."
But, like those cowboys, he is tough. And driven.
"I have a passion for it and a love that is unquenchable. I can't get enough of it," he says.
"There are folks who came out when I came out and they're not around any more. I feel very blessed that I still have a great career and I'm still viable.
"I'm kind of like a pitbull. I just grabbed hold of it and said I'm never gonna let go," he adds with a laugh.
A few other rodeo week highlights:
Certified legends
The Golden Nugget gets back some of its Steve Wynn-Frank Sinatra glory days by scoring Willie Nelson for Tuesday and Wednesday shows in its cozy showroom (tickets start at $129; call 866-946-5336).
If that's not legend enough, how about Merle Haggard on Thursday? (Tickets are $90.85-$178.85).
And you can debate whether Dwight Yoakam is a legend, but he's certainly a survivor and an original. He sings at 10 p.m. Sunday and Monday (tickets start at $99).
Funny guys
In recent years, rodeo week has been almost completely hijacked by comedians, and there are still enough of them to amount to an unofficial "Blue Collar" festival.
You can put see Bill Engvall on Friday at Treasure Island (tickets are $65.95-$82.45; call 702-894-7722) or Ron White at The Mirage on Friday or Saturday (tickets are $75.84-$97.84; call 702-792-7777).
Ventriloquist Jeff Dunham brings his dead terrorist back to the Colosseum at Caesars Palace on Thursday ($49.50-$89.50; call 888-929-7849).
Fun gals
Gretchen Wilson, forevermore have her signature hit "Redneck Woman" inserted between the two halves of her name, plays the Golden Nugget at 10 p.m. Friday and Saturday (tickets are $46.85-$112.85; call 866-946-5336).
And Wynonna, years past the need to remind folks her last name is Judd, brings her band The Big Noise to The Orleans at 8 p.m. Friday and Saturday (tickets are $82.50-$110; call 702-365-7075).
Shania Twain's colossal "Still the One" brings the country-pop spectacle to the Colosseum at Caesar Palace Saturday, Sunday, Tuesday and Wednesday ($55-$250; call 888-929-7849).
Dierks Bentley
The radio-friendly modern country star has a short haul up the highway if he's coming in from his native Phoenix for a 10 p.m. Friday show at The Pearl at the Palms (tickets are $60-$140; call 702-944-3200).
Honky Tonkin'
The Mirage sports book turns into party central each year with a different act on its temporary stage each night at 10 p.m., including Daryle Singletary on Dec. 12 and Easton Corbin to wrap it all up on Dec. 14.
Country headliners come and go, but Ricky and the Redstreaks party on each NFR week, this year each night at 10 p.m. in the Riviera's Wicked Vicky Tavern.
Contact reporter Mike Weatherford at mweatherford@reviewjournal.com or 702-383-0288.
Preview
Clay Walker
10 p.m. Friday-Saturday
Sands Showroom at The Venetian
$62.50-$160 (702-414-9000)