Dining Guide: Casual American
February 1, 2013 - 2:08 am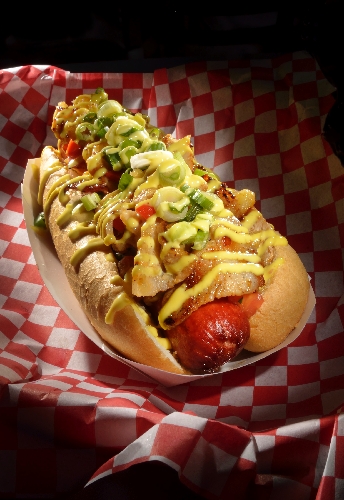 Each week Neon spotlights a different cuisine in the Dining Guide, with casual American restaurants this week. Restaurants are rated on a letter-grade scale, from A to F. Opinions by R-J critic Heidi Knapp Rinella (H.K.R.) are indicated by initials. Price symbols are based on the cost of an average entree: $ = entrees less than $10; $$ = entrees between $10 and $20; $$$ = entrees between $20 and $30; and $$$$ = entrees more than $30.
BABYSTACKS CAFE
2400 N. Buffalo Drive; 541-6708
Red-velvet pancakes with cream-cheese syrup are a specialty of the house at Babystacks Cafe and, sweetness aside, they're pretty good. But we liked even better the Portuguese sausage and eggs, Mexican omelet and buttermilk pancakes. And next time we'll try the lemon-ricotta pancakes. (3/4/11 H.K.R.)
Overall: A-
$
BOULDER PIT STOP
802 Buchanan Blvd., Boulder City; 293-7080
The Boulder Pit Stop isn't fancy – no doubt about that – but its kitchen makes a mean hamburger, filled with beefy flavor. We had the Double Pit Burger with its two-third pound patties and also liked the fries, which are served in mountain-sized portions, and the fish and chips, whose shatteringly golden crust cloaks the moist cod within. (9/2/11 H.K.R.)
Overall: B+
$
BREAD & BUTTER
10940 S. Eastern Ave., Henderson; 675-3300
The simple name of this breakfast-and-lunch spot belies its broad selection of excellent baked goods and such made-to-order delights as the huge waffle sandwich, in which a pile of creamy scrambled eggs plus cheese and ham rest between two delicate waffles, with an addictive bechamel ladled atop. We also like the flatbread of the day, which on our day involved potatoes, asparagus and a creamy sauce, topped with a sunny-side egg. (9/21/12 H.K.R.)
Overall: A
$
BULDOGIS
2291 S. Fort Apache Road; 570-7560
Buldogis specializes in fusion food ­- that would be Korean flavor added to the classic American hot dog – and it works pretty well, as in the Banh Mi Dog, which comes with Vietnamese-inspired slaw and a slice of pork belly. Buldogis is breaking out into burgers, too, and the Bulgogi Burger successfully melded the two cuisines with bulgogi (Korean grilled beef), slaw and mayo. Fried pickle spears were pretty good, but we thought the Classic Buldogis fries needed a bit more seasoning. (11/16/12 H.K.R.)
Overall: B+
$
BURGER BAR
Mandalay Place, 3950 Las Vegas Blvd. South; 632-9364
Upscale-burger spots have been on the increase in this city and country, but Burger Bar is ground zero – where Chef Hubert Keller started it all. It has a casual, sports-bar atmosphere and casual but very serious food, including three types of beef plus lamb, turkey, seafood, veggie burgers and more. We liked our American-style Kobe with blue cheese and zucchini fries, and also the sliders, a trio of buffalo with caramelized onions, Black Angus with bacon and Ridgefield Farms beef with American cheese, with skinny fries on the side. (5/20/11 H.K.R.)
Overall: A-
$$
CARNEGIE DELI
The Mirage, 3400 Las Vegas Blvd. South; 791-7310
The Carnegie Deli's prices are up there – no doubt about that – but so are its portions and the quality of its food. It's been eons since we tasted sauerkraut as wonderfully pungent as that which topped our open-face Reuben with its tender pastrami and blanket of Swiss, or corned beef with as many layers of flavor as that which formed the foundation of our huge platter of hash. And borscht was a bracing, refreshing feast of textures and flavors. (5/11/12 H.K.R.)
Overall: A
$$$
CHOCOLATE & SPICE BAKERY
7293 W. Sahara Ave.; 527-7772
Except for a slightly disappointing cannoli, everything we had at Chocolate & Spice reflected the meticulous attention to detail that owner Megan Romano has always brought to her pastries – and everything else. We loved the wedding soup, a grilled brie sandwich, grilled Kalbi beef ribs and two choco-centric pastries, one with clouds of chocolate mousse, the other infused with coffee. (1/25/12 H.K.R.)
Overall: A-
$
THE CRACKED EGG
Four locations in the valley
The Cracked Egg lives up to its reputation as a great little breakfast place, serving such creations as an amazing banana-topped and macadamia-and-coconut-crusted French toast, a truly well crafted Bacon Cheeseburger Skillet and some amazing housemade corned-beef hash, all of which are much more than the sum of their parts. And the homemade coffeecake is worth the trip alone. (8/1/11 H.K.R.)
Overall: A
$
THE DAILY EGG
5255 S. Decatur Blvd.; 431-4714
Service at The Daily Egg was with a smile but without a sense of urgency, but the food was so good we decided to just relax and go with it. What made it all worthwhile was the Classic Gyro Omelet, the chicken Shawarma Breakfast Pita, crispy home fries, a big fluffy pancake and a cup of well-varied fresh fruit. (1/11/13 H.K.R.)
Overall: A-
$
THE DILLINGER
1224 Arizona St., Boulder City; 293-4001
The Dillinger feels more like a bar than a restaurant but don't let that put you off, because it's warm and welcoming, just like its home community of little Boulder City. And the food transcends any idea of bar fare, with such dishes as a deftly fire-roasted artichoke, the brisket sandwich, the Ortega burger with its split-and-roasted Ortega pepper, and sides of onion rings and slightly sweet cinnamon-dusted sweet-potato fries. (12/14/12 H.K.R.)
Overall: A-
$
EAT
707 Carson Ave.; 534-1515
Eat – one of the latest additions to the burgeoning Fremont East entertainment district ­- has a novel concept: simple food, kicked up a notch or two, served in streamlined but cozy surroundings. We had a few quibbles but really liked everything we had: green chile chicken posole; roast beef on ciabatta with blue cheese, sauteed mushrooms, pickled red onions and arugula; and the DWBLTA, a BLT with avocado and chipotle mayo on toasted sourdough. (11/30/12 H.K.R.)
Overall: A-
$$
EDDIE D'S FAMOUS ITALIAN SANDWICHES
6870 Rainbow Blvd.; 541-8792
Eddie D's has fantastic service – friendly and affable and efficient – for a counter-service place, and it was on an employee's initiative that we tried the excellent meatballs. And so, naturally, we loved the meatball Parmigian sub as well as a Genoa salami sandwich, although we thought the tiny meatballs in the Italian wedding soup were kind of bland and rubbery, especially by comparison. (2/10/12 H.K.R.)
Overall: B+
$
EGG WORKS
9355 W. Flamingo Road, 368-3447; 2490 E. Sunset Road; 6960 S. Rainbow Blvd.
Egg Works works as a breakfast spot because whoever's running the kitchen is creative when it comes to dealing with the basic egg – and lots of other stuff, too. We liked the Works Veggie Benny, the California Crepe, the Cincy Chili Burger and a homemade banana-nut muffin – and the kitschy/farmy/folksy decor of the place. (7/30/11 H.K.R.)
Overall: A-
$
FIVE GUYS BURGERS AND FRIES
10271 S. Eastern Ave., Henderson (and three other valley locations); 405-9555
We've discovered our new favorite burger – Five Guys' bacon cheeseburger with lettuce, tomato, onions, mayonnaise and jalapenos, which is a big, juicy mouthful of flavor (and we try to ignore the nutritionals). Five Guys' fries are justly lauded by its fans, whether they're of the regular or Cajun-seasoned camp, and we also enjoyed a regular ol' hamburger, made much less regular with the addition of complimentary pickles, tomatoes, grilled onions and barbecue sauce. (5/25/12 H.K.R.)
Overall: A-
$
GRILL 55
Renaissance Las Vegas, 3400 Paradise Road; 784-5700
Grill 55 is first and foremost a bar – the laid-back counterpart of the hotel's Envy Steakhouse – so the atmosphere can get a little crazy during busy times at the adjacent Las Vegas Convention Center, but it serves nothing in the way of old-school bar food. We loved the Truffle Reggiano Fries, the Devil's Eyes fried deviled eggs, the Signature 55 Burger and the barbecued chicken flatbread pizza. (11/9/12 H.K.R.)
Overall: A-
$$
THE GRIDDLE
9480 S. Eastern Ave. (and three other locations, one of which is called Mollie's Kountry Kafe); 360-3636
Plate-sized pancakes that are light and fluffy but still substantial enough to hold together, porous enough to absorb the butter and syrup, can be somewhat of a challenge. But not at The Griddle, where they come off the griddle perfectly. We had them as part of a Lumberjack platter that included a couple of eggs and bacon or link sausage. Also worthy of note: the crab cake Benedict, one of a long list of The Griddle's Benedicts and one with a crab-centric base and a well-executed hollandaise. (6/29/12 H.K.R.)
Overall: A-
$
GRITZ
1911 Stella Lake Drive; 255-4748
This tiny spot is in the no-frills category, but that just seems to fit with its simple theme, which is grits, grits and more grits. We liked the signature grits bowl with egg and cheese and an oh-so-fluffy biscuit, the Alabama among the "state plates," which features thick-sliced bacon along with eggs and biscuits and grits, and a spirited and satisfying chicken gumbo soup of the day, although the peach cobbler was only OK. (5/12/11 H.K.R.)
Grade: B
$
HASH HOUSE A GO GO
Four locations across the valley
Signature dishes: griddled French toast, Sage Fried Chicken.
LA CAVE
Wynn Las Vegas, 3131 Las Vegas Blvd. South; 248-3463
La Cave's name is reflected in the wine-themed interior in which it serves its small plates, but the airy open-to-the-outdoors patio is quite pleasant on a balmy evening . We sipped and shared in the small-plates style and were impressed by the bacon-wrapped dates (despite that fact that one was sort of charred), sliced sirloin steak with mushroom fondue and cipollini onions and diver sea scallops with polenta cake and shrimp sauce, although we thought the raclette a little tame, especially for lovers of this characteristically pungent cheese. (4/13/12 H.K.R.)
Overall: A-
$$$
LAYERS BAKERY CAFE
665 S. Green Valley Parkway, Henderson; 221-2253
Pastries and other bakery items are what made Layers Bakery Cafe's reputation – the prevailing scent of butter is evidence of that – but the same quality and care are used in Layers' bistro items. We loved not only the custard-filled and chocolate-topped eclair and lovely raspberry Linzer tart but also the quichelike bacon-and-egg pie and Wingnut chicken-salad sandwich. (8/12/11 H.K.R.)
Overall: A-
$
LOU'S DINER
415 S. Decatur Blvd.; 870-1876
Lou's is the kind of diner you seldom find anymore – which is to say a good one. It's clean and neat, and the service is prompt, and best of all the old-fashioned breakfast favorites are great. We liked the Country Combo, which was eggs, sausage and sausage gravy atop a split biscuit, eggy-edged sourdough French toast with a side of bacon, chicken-fried steak and a green-chili-and-cheese omelet with grits. (9/12/11 H.K.R.)
Overall: A-
$
MAC SHACK
8680 W. Warm Springs Road; 463-2433
One step from fast food, the counter-service Mac Shack offers economical, well-prepared pasta dishes in a sleek, casual atmosphere and seems to be of particular interest to busy families. We designed our own rigatoni dish with marinara, meatball and sun-dried tomatoes, and also liked the Farmhouse Pasta, farfalle with creamy sauce, ham and peas. But we'd advised skipping the oh-so-plain garlic loaves. (8/10/12 H.K.R.)
Overall: A-
$
THE MAPLE TREE
6000 W. Spring Mountain Road; 362-5151
Some of the things we had at The Maple Tree were excellent, like the housemade corned-beef hash with perfectly over-light eggs, a lovely chicken-noodle soup and a steak dip, while others appeared to have been cooked at too high a temperature. Still, we liked The Maple Tree, which has much in the way of neighborhood-breakfast-and-lunch-spot charm. (11/25/11 H.K.R.)
Overall: B+
$
THE MARTINI
1205 S. Fort Apache Road; 227-8464
The Martini replaced the former Martinis and there's still an emphasis on the classic drink, with a menu that includes lots of variations and art prominently featured on the walls. But the food, which is a couple of notches above bar food, measures up quite nicely, especially the Martini Sliders, Margherita flatbread and chicken scallopine, although the risotto served with the latter was on the chalky side. (3/30/12 H.K.R.)
Overall: A-
$$
OMELET HOUSE
Three locations in the valley
The key to whether a breakfast spot is a good one often is revealed by late morning, and so it is at Omelet House, which continues to pack 'em in. They're there for the likes of the six-egg (or four-egg "baby") omelets such as the Green Hornet, with tomato, avocado and cheddar, and the chocolate chip pancakes and fried potatoes, but especially for the superlative signature pumpkin bread. (2/23/11 H.K.R.)
Overall: B+
$
ORIGINAL SUNRISE CAFE
8975 S. Eastern Ave.; 257-8877
The "homemade" corned-beef hash didn't much taste like it, but we liked a lot of other things about the Original Sunrise Cafe, including the speecy-spicy Bueno Beni, a toasted bagel, the fried potatoes and the coffee when it was fresh. And we liked the fact that the Sunrise's name was reflected in its sunny-yellow paint job and the sunny attitude of our server. (1/28/11 H.K.R.)
Overall: B
$
PEPPERMILL RESTAURANT
2985 Las Vegas Blvd. South; 735-4177
If you haven't eaten at the Peppermill you should, because it's nothing if not unique. A very cool throwback whose magnolia-and-neon decor looks like a Southern plantation exploded and rained down on the set of a futuristic '70s TV show, it also happens to serve good (and reliable) food and in copious portions. We loved the Pastrami Burger with creamy potato salad, Walnut Creek Salad with pear-cilantro vinaigrette and rosemary focaccia and fresh fruit salad in a pineapple boat. And don't miss the lounge, complete with fire-breathing fountain. (6/11/11 H.K.R.)
Overall: A-
$$
PINK'S HOT DOGS
Planet Hollywood Resort, 3667 Las Vegas Blvd. South; 405-4711
Although we wouldn't stand in line for an hour and a half like people do at the L.A. original, yeah, Pink's Hot Dogs are pretty good, we have to say. We liked the Planet Hollywood Dog and the Pastrami Reuben Dog, and sides of onion rings and chili-cheese fries were – to grant the highest compliment – county fair worthy. (6/3/11 H.K.R.)
Overall: B
$
SERENDIPITY 3
Caesars Palace, 3570 Las Vegas Blvd. South; 731-7373
Don't let the rumor mill fool you; Serendipity 3 is about a whole lot more than its Frrrozen Hot Chocolate. We were particularly pleased with an entree salad of heirloom tomatoes with burrata, a crab-artichoke dip with lots of crab and great ciabatta dippers, a BBQ and Blue Burger and also the Black and White sundae, even though it was mostly just sweet. (7/29/11 H.K.R.)
Overall: B+
$$
SMASHBURGER
Four locations in the valley
Smashburger is the new burger chain in town, and while its name may seem a little off – who wants smashed food, aside from, maybe, potatoes? – the burgers, which are smashed onto a flat-topped grill as they're cooked, are juicy and addictive. We loved the Sin City Smashburger, with its fried egg, bacon, cheese, grilled onions, haystack onions and signature smash sauce, a create-your-own option with everything but the kitchen sink, the fried pickles and the Smashfries. (8/11/12 H.K.R.)
Overall: A-
$
SPICY PICKLE SANDWICH COMPANY
7271 Amigo St. (also at 9985 S. Eastern Ave.); 263-4350
We weren't enamored of the soups at the Spicy Pickle but the sandwiches were just fine – the Yard Bird, with its strips of chicken with fresh spinach, apple, blue cheese and bacon, smeared with honey mustard and served on honey multigrain, and the Three-Cheesini, with Swiss, cheddar, provolone, tomato and red onion on grilled marble rye. We also liked the pasta salad served as a side and the fact that the sleek counter-service spot is a great place to grab a quick lunch. (3/16/12 H.K.R.)
Overall: B+
$
SUGAR FACTORY AMERICAN BRASSERIE
Paris Las Vegas, 3655 Las Vegas Blvd. South; 331-5100
Sit outside or near the windows at Sugar Factory and you'll have a great view of the Strip and the Bellagio fountains beyond, and the opportunity to try some good dishes, including steak frites and fried macaroni and cheese pops. A Nicoise salad was overdressed and a turkey crepe overly bland, but milk and cookies provided a classic comfort-food finish. (9/16/11 H.K.R.)
Overall: B+
$$$
WILDBURGER
Wildfire Lanes, 4451 E. Sunset Road, Henderson (and three other locations); 685-2100
We weren't crazy about the smoke in Wildfire Lanes that we had to plow through to get to Wildburger, but we were crazy about Wildburger – or at least its food, which would include the Cheeseburger Salad, design-your-own Angus burger and honey-mustard boneless wings. (11/2/12 H.K.R.)
Overall: B+
$
WINDY CITY BEEFS 'N DOGS
7500 W. Lake Mead Blvd.; 410-5016
Two of the best things that ever came out of Chicago – not including pizza, which of course ranks right up there – are hot dogs and Italian beef sandwiches, and both are done quite well at Windy City Beefs 'n Dogs. We liked the authentic-Vienna-beef dog dressed up right. The Italian beef, served wet with cheese and peppers and giardinera, was a soggy mess but an excellent one, and the chili-cheese fries were the best we've had in ages. (4/22/11 H.K.R.)
Overall: A-
$