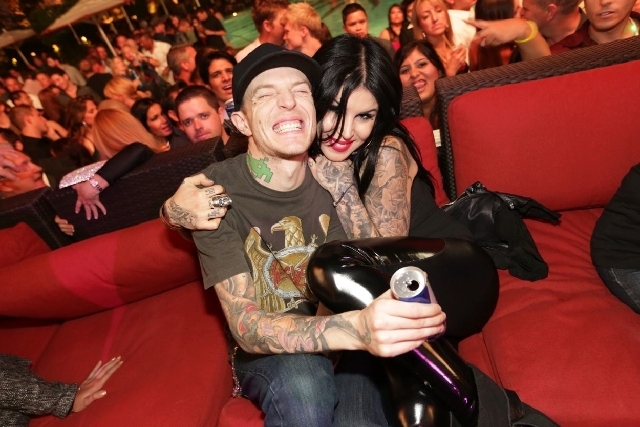 MGM headliner Deadmau5 vows he is "finally free" now that his engagement has ended with TV tattoo lady Kat Von D — in a flurry of social media drama.
The tattoo lady on Wednesday announced Kat and Mau5 are over, in a tweet to 1.45 million followers:
"Man, I'm a fool. Cheating on your loved one is the most hurtful thing one could do. I hate to have to admit, that this relationship is indeed over."
Deadmau5 sent a reply to his 2.3 million Twitter followers and 7.5 million Facebook fans:
He did have "relations with another woman" last winter when he and tattoo lady were temporarily split, but he told her about that tryst in the winter.
"At the end of June, it was clear that the relationship was not working and we mutually ended the engagement. I was not, at any point, unfaithful to Kat during our time together," Deadmau5 said on Thursday on Facebook .
But tattoo lady's tweets and Facebook messages seesawed hope (a photo of a rose) and bitterness:
"There are far too many good examples of kind and honest people in life to waste energy on bad ones. My apologies for losing sight of that."
Midweek, Deadmau5 tweeted: "Well now that I'm finally free … Lets put out some music! Lake mead day to celebrate today, then back to work on Friday :)"
Deadmau5 next performs July 6 and July 26 at MGM's Hakkasan nightclub.
ETHICAL CLOTHES
A great-granddaughter of newspaper magnate William Randolph Hearst came to Vegas for the first time on Thursday to curate a fashion store, Maison de Mode, at CityCenter.
Amanda Hearst is 29, she is Patty Hearst's niece, and although she started as a wealthy Choate graduate, model and New York socialite, she is a journalist. She wrote about "ethical fashion" for three years at Marie Claire, and now writes for Town & Country.
Her take on Vegas fashion?
"It was different than what I thought," she said with a smile. "I thought it was going to be sequins. But you see people wearing clothes all over the board."
This store she is curating is all about ethical fashion, a movement gaining traction after Bangladesh's building collapse.
Ethical fashion could mean clothes come from organic textiles, or have a philanthropic angle, or are locally produced, or support artisans and communities around the world, she said.
But ethical clothes still have to be pretty. "If the clothing doesn't look nice, no one's going to buy it," Hearst said.
I won't lie. I am envious of her wealth. For one thing: Hearst saves dogs' lives with her anti-puppy mill organization Friends of Finn (Finn is her dog). For another: A wine company soon is putting her dog's face on a label.
SIGHTING
Brothers Maksim and Val Chmerkovskiy from "Dancing With the Stars" posed for beefcake photos Thursday at Aria's Liquid pool.
Doug Elfman's column appears Mondays, Tuesdays, Thursdays and Saturdays. He also writes for Neon on Fridays. Email him at delfman@reviewjournal.com. He blogs at reviewjournal.com/elfman.