7-foot clown sensation Puddles Pity Party to headline Caesars Palace
Updated October 18, 2018 - 10:43 pm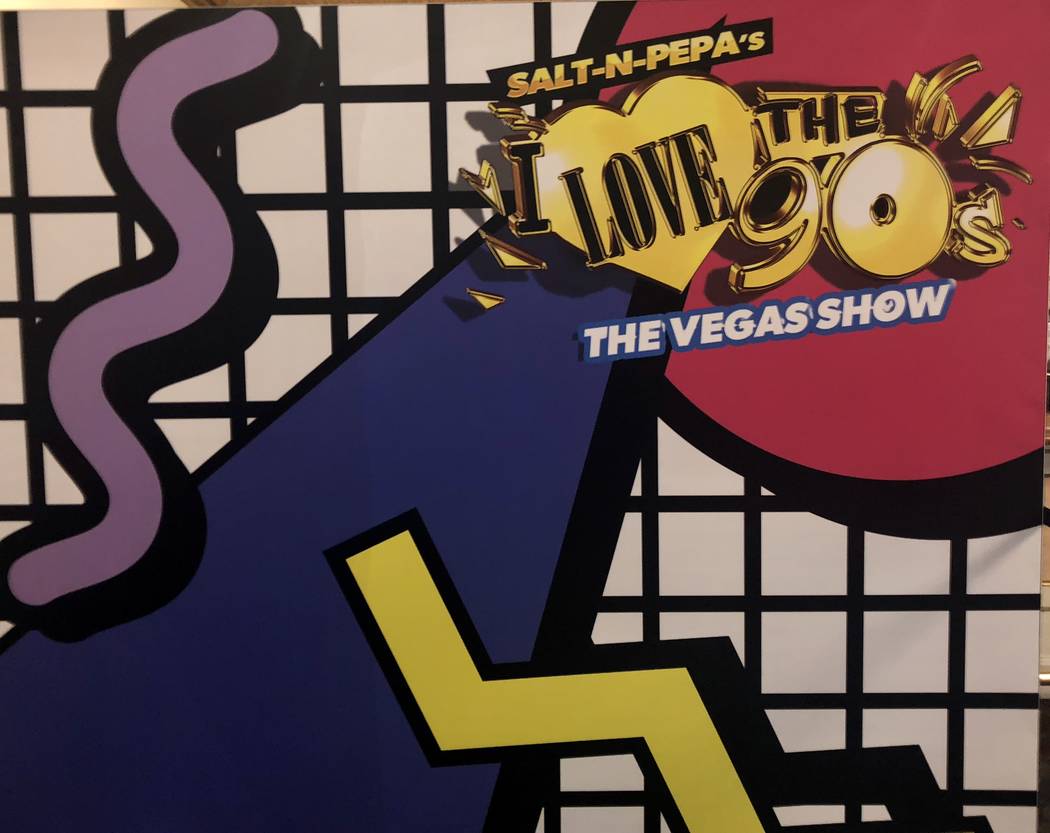 The Kats! Bureau at this writing is Paris Theater, home of "I Love the 90s — The Las Vegas Show." The lighting crew is going through some "creative brainstorming" over the fancy set designed by Andy Walmsley. At the center is a big boom box.
Also worth noting is production co-headliner Salt-N-Pepa is listed in the show's logo. It's "Salt-N-Pepa's I Love the 90s" around the hotel, though the show is rotating its acts with Rob Base and All-4-One in the premiere lineup. The show is in previews now, formally launching Oct. 25, and I am already hearing it is quite the groove-fest.
More from this scene, and elsewhere:
Puddles at the Barge
A couple of years ago I ventured to L.A. to catch an act I'd not known, Puddles Pity Party, at the quasi-secret home and performance venue Brookledge. Puddles had attracted some interest in VegasVille for his quirky YouTube performances, especially when joining Scott Bradlee's Postmodern Jukebox.
He sings operatic versions of popular songs — R.E.M's "Losing My Religion," Queen/David Bowie's "Under Pressure" and Simon & Garfunkel's "The Sound of Silence" among them.
Puddles, whose legal name is Mike Geier, does not speak in his show. He only sings. He stands 7 feet tall in his high-heeled boots. He's an imposing, and also lovable, entity.
Puddles has now been booked for his first residency, at Cleopatra's Barge at Caesars Palace. His nine dates run from Jan. 17 through Feb. 9; tickets are on sale 10 a.m. Friday.
We are promised new material — though this will be primarily an introductory series for Puddles — during this extended engagement.
This booking is a fascinating test of the Vegas entertainment market. I'd been skeptical that Puddles' act could carry an entire show on the Strip, but he has the type of undefinable brilliance that has carried Piff the Magic Dragon and Tape Face to success in Las Vegas. Feel free to sing along, and see where this ride takes us.
Venetian at 'Bat'
Returning to the topic of folks whose names appear prominently in signage, "Bat out of Hell — The Musical" opens on Christmas Day and runs through Jan. 6 at Venetian Theatre. Meat Loaf's collaborator on that album, songwriter/producer Jim Steinman, is also the tour's producer. So it's Jim Steinman's "Bat Out of Hell" on the posters and such.
That is to indicate Steinman's vital input into the original source material, and also the touring musical. The stage show stitches songs from the "Bat out of Hell" trilogy, including the original album and also "Bat Out of Hell II: Back Into Hell" in 1993 and "Bat Out of Hell III: The Monster is Loose" in 2006.
Meat Loaf himself headlined Planet Hollywood in 2013-14, as part of the "Rocktellz & Cocktails" series, but has no apparent formal involvement in the show coming to Venetian. The musical premiered in 2017 at the Manchester Opera House in Manchester, England, and stars Andrew Polec as the protagonist Strat, whom The New York Times described as, "Peter Pan meets Peter Frampton."
This is the first musical production show to play the Venetian since "Priscilla Queen of the Desert" played five weeks of a planned 11-week run in the summer of 2013. The theater has since been host to such headliners as Styx with Don Felder, ZZ Top … and Il Divo.
As someone once said, two out of three ain't bad …
On the topic of bats
Ozzy Osbourne's show at MGM Grand Garden Arena that was postponed Saturday has been rescheduled for July 20. This is the Vegas stop on his "No More Tours 2" U.S. tour. Only Ozzy, and Cher of course, can lead a sequel to a farewell tour.
'X' at 5
Belated shout to "X Rocks" on its fifth anniversary in Las Vegas. The show opened at the Kings Room at the Rio (now home to Comedy Cellar) in 2013, and in October moved to The Back Room at Bally's.
The show is a part of the formidable Stabile Productions' "X" family, with mainstay "X Burlesque" at Bugsy's Cabaret (where the aforementioned Piff, also a Stabile show, headlines) and "X Country" at Harrah's Cabaret.
"X Rocks" is a headed by tight-knit creative group, headed by Matt and Angela Stabile, producer/manager Tiffany Mondell, choreographer/manager Anthony Cardella and choreographer Meeka Onstead.
The "X Rocks" production has a killer soundtrack, too, the only show in town where you hear "World On Fire" by Slash featuring Myles Kennedy & The Conspirators, "Now That We're Dead" by Metallica, and "Fame" by David Bowie in rapid succession.
Lucky dragon (lowercase)
While we're talking of Piff the Magic Dragon (legal name John Van Der Put): When he heard Lucky Dragon is to be sold at auction, he said, "Now's my chance! Are you in?"
Piff wants to buy the place, apparently, and needs an investor. He's likely kidding. But the dragon-costumed magician buying and headlining that property would be all too appropriate.
Light it
The 25th annual Ethel M Holiday Cactus Lighting is set for 5 p.m. Nov. 6 at the chocolate factory at 2 Cactus Garden Drive in Henderson. Penn & Teller, Matt Goss, George Wallace and the Sound Collage vocal ensemble provide the entertainment. The event is free and open to all ages.
If you've never been toured the Cactus Garden, with its 11 decorated patches and half a million little LED lights, get there. It's so distinctively Las Vegas, and just for the holidays.
Newton's drop-in
Paul Shaffer had hoped his friend Richard Belzer would visit Cleopatra's's Barge during his show Saturday night. Belzer fell ill and couldn't make it, but Shaffer was able to find a suitable fill-in — Wayne Newton, who capped the Shaf-Shifters weekend run by turning up to for a stunned audience. Legendary magician David Copperfield was Shaffer's guest Friday. He promises more star drop-ins — Valerie Simpson, accompanied by Felicia Collins from The World's Most Dangerous Band; rock legend Joe Walsh and ex-"Saturday Night Live" Weekend Update anchor Dennis Miller — when he returns Nov. 29-Dec. 1.
I made @D_Copperfield appear on the first try! pic.twitter.com/4X5YPP8bPx

— Paul Shaffer (@paulshaffer) October 14, 2018
Cool Hang Alert
Column fave Rockie Brown fellow faves Jason Tanzer and DJ Optic as part of a "triple original" bill with Glasses and Tray Charles at Bunkhouse Saloon in downtown Las Vegas at 8 p.m. Sunday. The cover is $5, a mere pittance to show support of Vegas artists.
The Review-Journal is owned by the family of Las Vegas Sands Chairman and CEO Sheldon Adelson. Las Vegas Sands operates The Venetian.
John Katsilometes' column runs daily in the A section. Contact him at jkatsilometes@reviewjournal.com. Follow @johnnykats on Twitter, @JohnnyKats1 on Instagram.