A Sweets finish for 'Absinthe's' Green Fairy
October 21, 2017 - 8:58 pm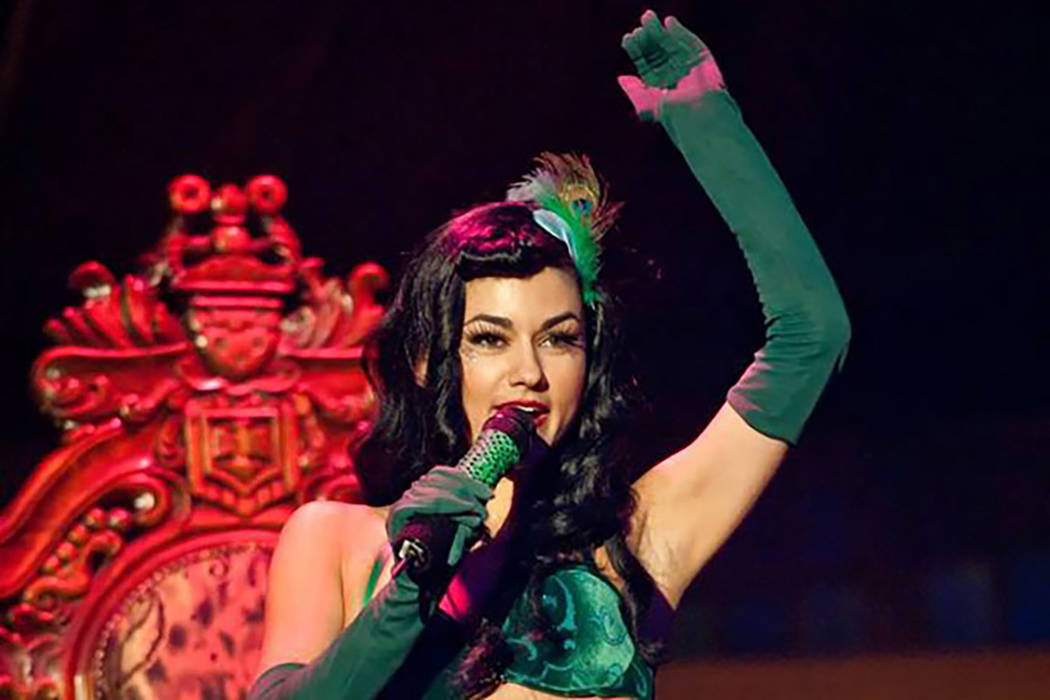 The Kats! Bureau at this writing is the fifth level of T-Mobile Arena There is a chill in the air as the Vegas Golden Knights go game 7 (playing the seventh game in their brief history) against the St. Louis Blues.
An oddity from this perch: Golden Knights defenseman Colin Miller, Blues forward Chris Thorburn and VGK on-ice master of ceremonies Mark Shunock are all from the Canadian city of Sault Ste. Marie, Ontario.
Such obscurata signals that you might know way too much about VegasVille.
More from our scene:
Green Fairy takes flight
Starring in a hit show on the Strip for six straight years is not so easy. Try it sometime.
So it is with a touch of Melody-choly that "Absinthe" bids bye-bye to its original Green Fairy, Melody Sweets, who departs the production after today's 10 p.m. performance. Sweets announced in September she was opting out of the "Absinthe" rather than renew her contract with show producer Spiegelworld. Her sendoff statement was, "I'm so very proud, and grateful, to have been a part of such a phenomenal show."
Sweets performed for about 1.3 million people in 3,350 shows and sang her signature songs, "Slice of Heaven" and "Taboo," about 7,000 times. Ten babies were born in her six-plus years with the show, and seven original cast members remain. Ah, and Sweets has kept a running tab on her pastie changes in six years: 12,000.
Even more pertinent, just seven original cast members remain in "Absinthe" among the 24 who opened the show in April 2011.
Sweets is launching her post-"Absinthe" career at 9:30 p.m. Tuesday with "The Sweets' Spot — Spooktakular" at Myron's Cabaret Jazz. The great comic emcee Murray Hill (a master of the verbal takedown) is the host, with Lon Bronson leading the show's 10-piece band featuring vocalist Jassen Allen. Vegas burlesque faves Kalani Kokonuts, LouLou D'vil, Ms. Redd, Bettina May and "King of Boylesque" Mr. Gorgeous will all cavort at Myron's place.
As for "Absinthe," the darling of the Strip is now filling the role of the chanteuse who so effectively opened and closed every performance. Sweets was also one of Spiegelworld's busiest ambassadors and a rare performer who spoke to the audience — The Gazillionaire and Wanda Widdles are the show's only other spoken characters.
"Absinthe" is filled with many impressive gravity-defying acrobats; finding the next Green Fairy might be Gaz's greatest feat.
Sandler, Apatow step up
Upcoming Cosmopolitan of Las Vegas headliner Adam Sandler and his longtime friend (and onetime roommate) Judd Apatow are hosting a comedy fundraiser at Largo in Los Angeles. "Adam and Judd for Vegas" is set for 7 p.m. Nov. 3. "Very special guests" are promised, and tickets are $250 apiece, with proceeds going to the National Compassion Fund for victims of the Oct. 1 shootings.
Sandler headlines the Chelsea at the Cosmo on Nov. 10, Nov. 17 and Jan. 27. Expect him to perform up to 10 additional shows at the Chelsea in 2018.
Huggy time
Antonio Fargas is a proud Las Vegan.
He's also a proud TV icon.
Back in the 1970s, when TV crime-dramas were the rage, Fargas portrayed crafty street informant Huggy Bear on "Starsky & Hutch."
"You know, when I was doing it, it was just another job," says Fargas, who along with Tricia Kean of KTNV-TV, Channel 13 co-hosts the Dream Awards at 7 p.m. Sunday at Suncoast Showroom. "But I am still being recognized as Huggy Bear. Four years of Huggy Bear in 57 years of acting, but that's what people remember."
The Dream Awards recognize performers who have a long history of contributing to the Vegas entertainment scene. Those being honored tonight include Sonny Turner of the Platters, Sonny Charles of The Checkmates, Earl Turner, Jeneane Marie, Denise Clemente, Loretta Holloway, Freddie Empire, Darcus, Janis Carter, Gregg Austin and Second Wind, Tony Tillman, Copeland Davis, Next Movement. The night's Lifetime Achievement honoree is LaMonte McLemore of the 5th Dimension, and the Visionary Award recipient is veteran Vegas entertainment director Kathie Spehar.
On Tuesday, Fargas is playing off his Huggy Bear character for a charity auction in Brussels, Belgium. He's customizing a toy bear at Build-A-Bear Workshop in Downtown Summerlin, then auctioning the toy as part of a Justine For Kids event to benefit children with disabilities.
"They want a bear from Huggy Bear," Fargas says. "After 42 years, Huggy Bear still has life."
John Katsilometes' column runs daily in the A section. Contact him at jkatsilometes@reviewjournal.com. Follow @johnnykats on Twitter, @JohnnyKats1 on Instagram.