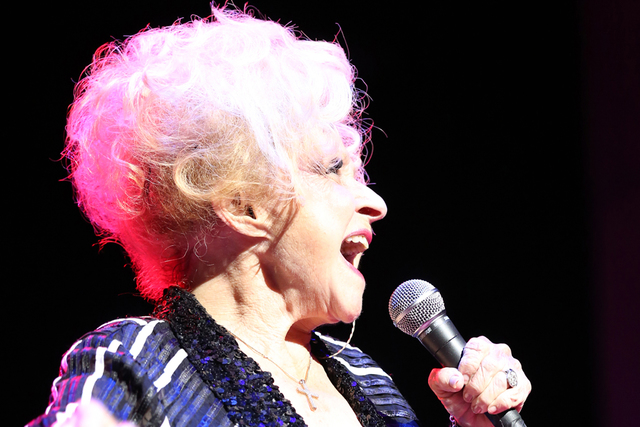 When Brenda Lee first headlined in a Las Vegas hotel-casino, she was already comfortable in a showroom.
But the casino? That was a real mystery.
"It was in 1956, I was at the Flamingo with the Mills Brothers, and I would have been 11 going on 12," Lee recalls in a phone interview Tuesday afternoon from her home in Nashville. "We were performing in the showroom, but minors could not be in the casino at the time. So, I was led into the showroom from a bungalow in the back of the hotel where we were staying, through the kitchen.
"It was me, my police escort, my agent and my mom."
Lee walks wherever she likes these days, and on Wednesday night the woman who was shielded from the casino as a kid is being honored with the Global Gaming Expo's Casino Entertainment Legend of the Year during a ceremony at Vinyl at the Hard Rock Hotel. Past awardees include Wayne Newton (who also headlined in a Vegas hotel-casino, the Fremont, before he was of age) and Jerry Lewis.
Among female solo artists, Lee owned the 1960s. "They say that was my decade," she says. Those unfamiliar with Lee's dominance of that period need know she is listed only behind The Beatles, Elvis and Ray Charles among the top-selling artists from 1960-1970. Her classics include "I'm Sorry," "Break It To Me Gently," "Losing You," "Emotions," and "Rockin' Around the Christmas Tree." She is a member of the Rock and Roll Hall of Fame, Country Music Hall of Fame and Rockabilly Hall of Fame.
The 71-year-old Lee most recently performed at Golden Nugget in Biloxi, Miss., remarkably performing as a headliner for seven decades. She recalls a meeting Judy Garland and Liza Minnelli during a run of shows at the Sahara, also early in her career.
"Liza was just a little girl, and I just idolized her," Lee says. "One thing I remember Judy saying that day was, 'Don't let anyone take your childhood.' "
Lee says she did follow that advice.
"I've had a pretty normal life. I went to public school, I was a cheerleader, I was on the debate squad and I went to the prom," she says. "When I was outta line, I got whacked. I was not spoiled. I was no different from anyone else, except I sang."
John Katsilometes' column runs Saturday, Sunday, Tuesday and Thursday in the A section, and Fridays in Neon. He also hosts "Kats! On The Radio" Wednesdays at 8 p.m. on KUNV 91.5-FM and appears Wednesdays at 11 a.m. with Dayna Roselli on KTNV Channel 13. Contact him at jkatsilometes@reviewjournal.com. Follow @johnnykats on Twitter, @JohnnyKats1 on Instagram.