Bruno Mars, Lady Gaga side-by-side on NYE in Las Vegas
Updated October 6, 2018 - 11:29 pm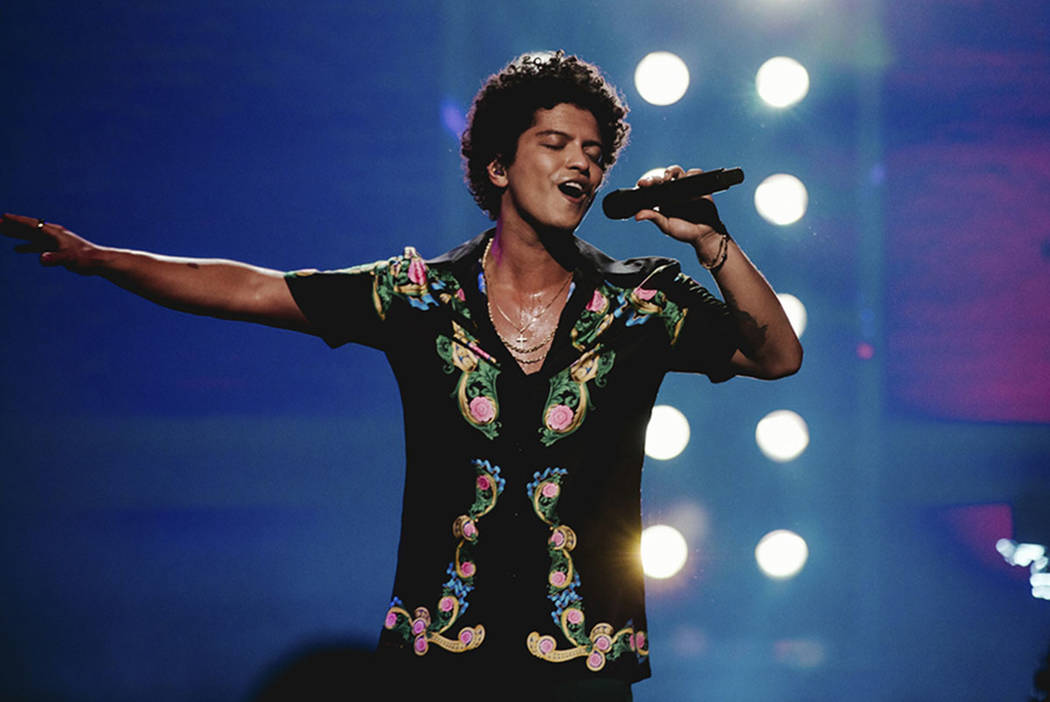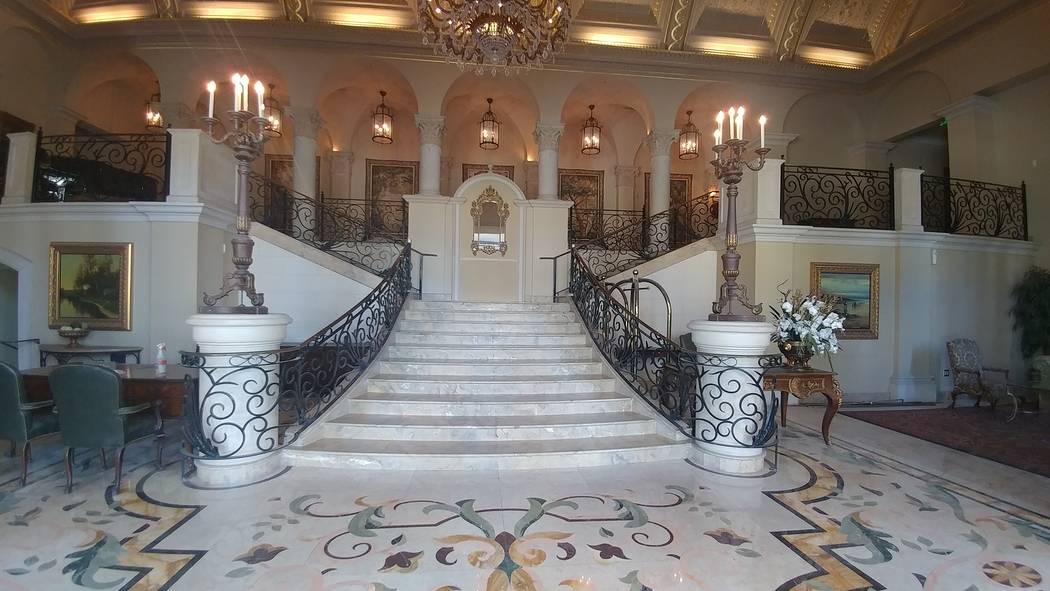 The Kats! Bureau at this writing is South Point Showroom, as Frankie Scinta opens his weekend residency, "The Showman." It's a 3 p.m. show on select weekends as Scinta has found a home after opting out of Plaza Showroom as "A Mob Story" loaded in.
Always able to land somewhere, Scinta is onstage now, singing "Let the Good Times Roll" to open the afternoon shindig.
"Hey, everybody, let's have some fun! You only live but once, and when you're dead you're done!" Righteous. Later we'll be watching Conor McGregor and Khabib Nurmagomedov beat the crud out of each other. For now, "The Showman" is punching 'em out at South Point.
Boyz II Mars
Lady Gaga has some company next door for her New Year's Eve show at The Park Theater. Bruno Mars, with special guests and Mirage stars Boyz II Men, headlines T-Mobile Arena on Dec. 30-31.
That show was just announced. Gaga will have just launched her "Enigma" on Dec. 28; Mars has no dates on the books for Las Vegas other than T-Mobile. Both shows are listed at 8 p.m., so no countdown, but it is another embarrassment of riches on the Strip.
A Stirling return
On the topic of NYE …
As promised, the new owners of Stirling Club at Turnberry Place have set a party for New Year's Eve. Invites are out for the sneak-preview party for the spa-event-entertainment fortress at Turnberry Place.
Club operator Debbie Kelleher, president of DK Entertainment, is hooking in the entertainers for the night (expect Kelly Clinton-Holmes to return to her onetime performance venue) and promises an open bar and "very high-end appetizers." That's the scene for $150-per-person ticket; go to membership@thestirlingclublv.com for tickets and info. This is an extended preview of the space, which is scheduled to open next spring.
Guests — or, prospective members — are invited to tour the facility and check out the improvements since Kelleher and equity partner Richard Ditton paid almost $12.4 million for the property in March. Ditton is an ex- NASA software engineer whose technology was used on the Space Shuttle and is co-founder of the amusement-game corporation Incredible Technologies.
The 80,000-square-foot fortress in 2001 as an exclusive club for Turnberry Place residents. The main Stirling building sits on a 3-acre parcel furnished with tennis courts, a fully outfitted gym, a cigar room, dining room and several conference rooms. The main building is decorated in wood, brass and a staircase layered in red carpet.
The Stirling Club was a prime, regal entertainment destination until then-owners Jeffrey and Jackie Soffer of Turnberry Associates shut the place down in May 2012. Many of those who partied in the club's heyday have since passed or moved on, but for those who remember Stirling Club at its peak know there was nowhere like it. A real Las Vegas hang.
We heart "Nasty"
I stopped in to see bit of lighting setup for the new rock-and-dance show "Little Miss Nasty" at Hooters' Night Owl Showroom on Wednesday afternoon. Singer/groover Gina Katon heads up the four-woman dance team, and from everything I observed and learned, this show is not quite like anything in town.
The soundtrack is super-aggressive, pulling from Marilyn Manson, Korn, the harder edges of Led Zeppelin, Pantera and Rob Zombie. Katon also performs to her own Gina and the Eastern Block alt-rock outfit out of L.A., though all the songs are tracked.
"Little Miss Nasty" has had success in L.A. and touring around the country. It's not topless but has a distinctive adult tenor; the production's Instagram feed shows Katon flipping off the audience in Friday's preview opening.
"LMN" feels something like Cherry Boom Boom, which ran for six weeks at Tropicana Theater in the fall of 2016. But this show is a tighter scale (and Boom Boom itself has drawn down in its shows in L.A. since trying to fill the Trop theater) and has a more sensible business model.
The show's format is a swift-paced, two-act set covering about 90 minutes. There is a brief intermission, too.
"The idea is to feel like you're at a concert where you drop the lights are down and you can feel some loud, kick-ass music," says producer Marc Jordan, who is also a record producer who has worked with the Cult and Slash, among other rock acts. "We're going to play it lean and mean, and not bite off more than we can chew."
But we can't rule out some biting, not from this nasty cast.
More from K.T.
Keith Thompson elaborated on the closing of "The Cocktail Cabaret" in a statement Friday, invoking the business downturn of Oct. 1 as one reason the pre-dinner, 6 p.m. show is shutting down Wednesday at Cleopatra's Barge at Caesars Palace.
"I think it is a miracle that we have run as long as we have at Cleopatra's Barge, especially in the uncertain 'post-October One' economic climate of the entertainment business in Las Vegas that has tourism projections down and casinos increasingly hesitant to take risks on smaller unproven entertainment options," said Thompson.
Thompson also reminded of the show's impressive talent, led by "America's Got Talent" finalist Daniel Emmet, and pianist Philip Fortenberry, who in August headlined a 14-city solo tour of mainland China.
Niki Scalera, Maren Wade and Eric Jordan Young were in that original cast, backed by drummer Don Meoli ("Jersey Boys"), bassist Josh Jones ("Million Dollar Quartet") and saxophonist Eric Tewalt (Celine Dion and Santa Fe & The Fat City Horns).
As Thompson further noted, "The Cocktail Cabaret" brought such guest performers as Broadway star Brent Barrett, Vegas comedian Tony Arias, longtime Broadway and Las Vegas favorite Randal Keith ("Les Miserables," "Baz," and "Steve Wynn's Showstoppers"), Travis Cloer ("Jersey Boys"), Ron Remke ("Baz"), Heidi Webster ("Lady Luck"), Brett Pruneau ("Jubilee"), Nicole Pryor ("Phantom"), Savannah Smith ("The Moonshiners"), Valerie Witherspoon ("Tony n' Tina's Wedding") and rising vocalist James D. Gish.
The show's closing is distressing for anyone who values inventive live entertainment. I've pushed hard for "The Cocktail Cabaret" since it opened in November 2017. It's the sort of presentation that hotel-casinos used to stage as an amenity for guests, but is not feasible today (Those who yearn for the days of Louis Prima and Keely Smith at Casbar Lounge at the Sahara understand this frustration).
Caesars Entertainment has helped subsidize "The Cocktail Cabaret" during much of its run, a great sign of confidence. A new venue, and a review of ticket pricing and show times should give this one a second chance.
Emerick remembered
Renowned Beatles engineer Geoff Emerick, who died Wednesday at age 72 in London, helped fine-tune several legendary albums — including "Revolver," "Sgt. Pepper's Lonely Hearts Club Band" and "Abbey Road."
Emerick also had a brief but fulfilling run on the Strip, as producer of 'Sgt. Pepper Live" at Las Vegas Hilton and Paris Theater several years ago. The production starred Cheap Trick performing the album end-to-end, and capping the show with a few of their own hits. The show ran at the Hilton in September 2009 and at Paris in the summer of 2010.
The show was expensive — Cheap Trick is not that, an orchestra was brought in, and a dozen sitarists were hired just for "Within You, Without You."
But Emerick liked being in a Vegas show. On the final night of the production at Paris, I leaned into the sound booth and shouted at him, "Are you coming back?" and he said, "We want to! We want to! Absolutely!" We never saw him again, but there is a DVD of that show, and it was some kinda great.
John Katsilometes' column runs daily in the A section. Contact him at jkatsilometes@reviewjournal.com. Follow @johnnykats on Twitter, @JohnnyKats1 on Instagram.