'Circus 1903' moving into Paris Las Vegas' theater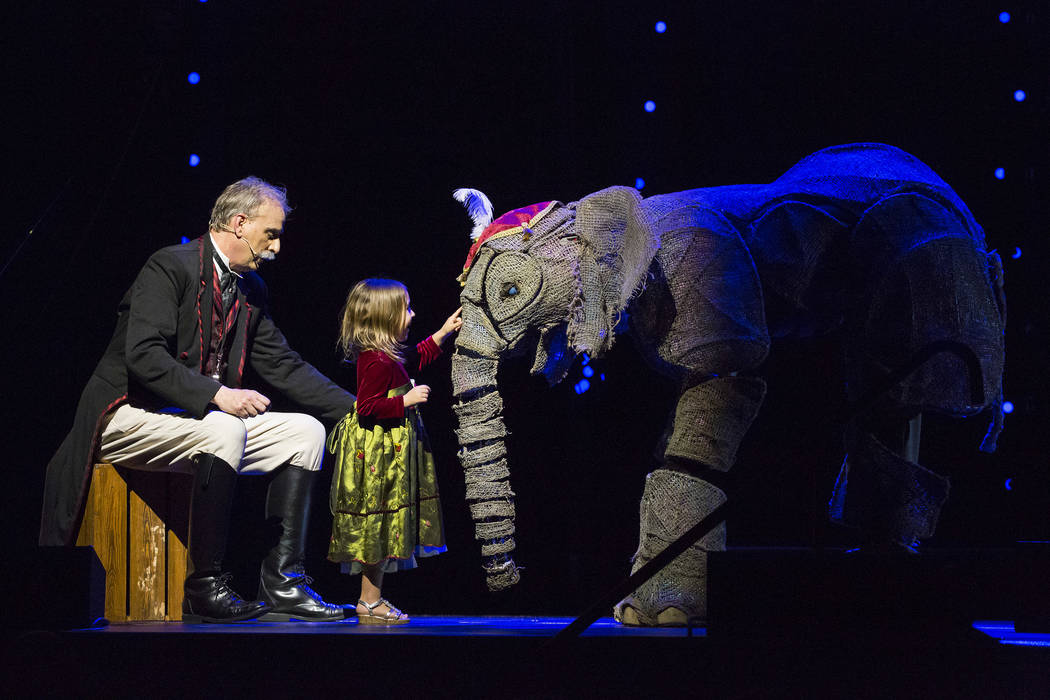 The new/old circus show moving into Paris Theater hearkens to the turn of the century.
Last century.
The title itself time-stamps this show, "Circus 1903 — The Golden Age of Circus," moving into Paris Las Vegas for an open-ended run beginning July 26. The all-ages extravaganza is scheduled to run nine performances per week, from 7 p.m. Tuesdays through Sundays, with added shows at 3 p.m. Wednesdays, Saturdays and Sundays. Tickets are $49 and go on sale 10 a.m. Friday.
"Circus 1903" arrives from Simon Painter and Tim Lawson for The Works Entertainment and MagicSpace Entertainment, the producers of "The Illusionists," with its rotation of six to eight magicians and billed as the largest magic show produced worldwide. Among the company's other titles: "Le Grand Cirque," "Le Noir" and "Cirque Adrenaline," productions covering more than 300 cities and 30 countries.
Painter and Lawson's Australian tour shows include "A Chorus Line," "Chitty Chitty Bang Bang" and "Fiddler on the Roof." Their strongest connection to Strip performers is as producers of Donny and Marie Osmond's holiday show, "A Broadway Christmas."
"Circus 1903" promotes its wide appeal over multiple generations, replete with traditional circus acts, including what is billed as "a cunning ringmaster" (aren't they all?) named Willy Whipsnade. Where Cirque du Soleil has expanded traditional circus themes for its productions on the Strip, and "Absinthe" at Caesars Palace uses the acts to forge a ribald satire of the art form, "Circus 1903" is, simply, a big circus show
The production's lineup of acts features knife throwers, strong men, live musicians, a high-wire act and — most impressively — a giant elephant (Queenie) and her baby (Peanut) created by Mervyn Millar and Tracy Waller of Significant Object, puppeteers of the Broadway show "War Horse." The elephant characters in "Circus 1903" are reportedly so close to lifelike that children invited to pet them during the show brace with real trepidation.
Of course, the era where live animals in a circus or any other production seemed to end with the closing of Ringling Brothers and Barnum & Bailey Circus this spring. The only other living elephant (ahem) employed in a Vegas stage show is Elsie the African Spotted Pygmy Elephant in Penn & Teller's production at the Rio.
In previous performances at Pantages Theatre in Los Angeles, Oriental Theater in Chicago and The Theater at Madison Square Garden in New York, "Circus 1903" has left out other famed circus animals — no lions or horses, even as puppets. And a show that tightly hugs circus tradition also lacks clowns and trapeze artists.
But the show's heart, its emotional connection, has been felt, as Whipsnade (who has been played by actor David Williamson) describes each act in human terms. Also boosting the show, a score played by live musicians and composed by Evan Jolly, who has worked on many of Painter and Lawson's touring productions.
"Circus 1903" has sold out performances in Australia. Painter, serving as creative producer of Works Entertainment, said in a statement today: "We are thrilled to be afforded the opportunity to present our acclaimed, spectacular production in such a perfect theater at Paris Las Vegas. We are grateful to our local partners for their invaluable support and look forward to being part of the entertainment tapestry at Caesars Entertainment for years to come."
Paris Theater has been dark since "Jersey Boys" closed last September. Among the shows staged in that venue: "Notre Dame de Paris," "We Will Rock You," "The Producers" and Barry Manilow's residency production. The venue has a 1,200-seat capacity in a property ripe for a high-quality show — especially one that fits its retro-Parisian theme.
"We and our co-promoters are thrilled to welcome 'Circus 1903' to its new home in the Paris Theater," David Hoenemeyer, regional president of Paris Las Vegas, said in a statement. "Paris Las Vegas has long history of hosting world-class entertainment lineup and we look forward to offering another topnotch, enthralling show to our guests."
Just remember: Don't feed the elephants. That's the producers' job.
John Katsilometes' column runs daily in the A section. Contact him at jkatsilometes@reviewjournal.com. Follow @johnnykats on Twitter,@JohnnyKats1 on Instagram.