Esposito remembered as Elvis' friend, confidant and leader of the 'TCB' crew
November 28, 2016 - 5:03 pm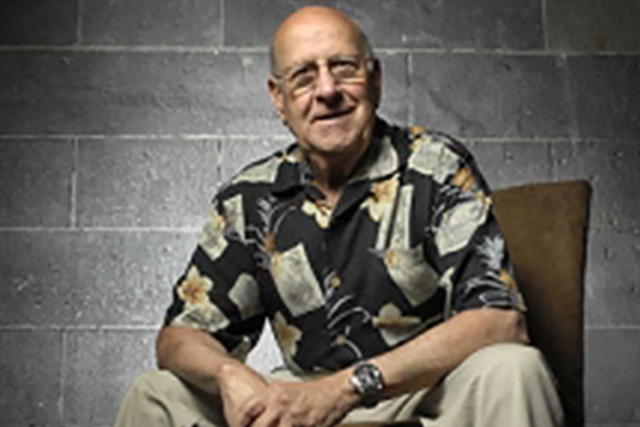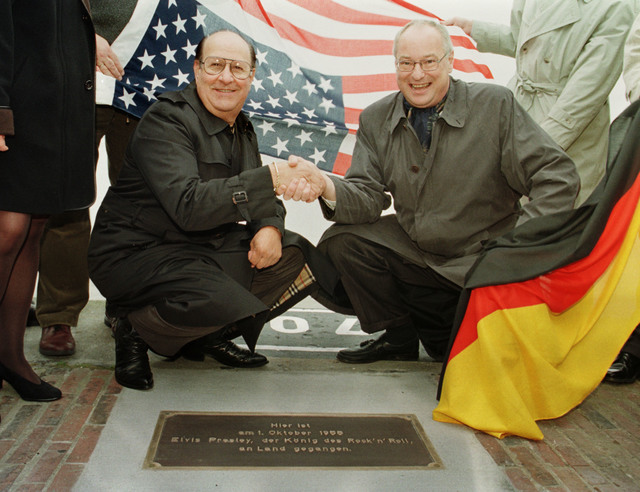 Joe Esposito's friends were forever taken by his humility. As Elvis Presley's right-hand man and chief confidant for nearly 20 years, the man Presley playfully dubbed "Diamond Joe" was always measured and matter-of-fact about his relationship with the King.
"My dad just loved being around Elvis' fans," Esposito's daughter, Cindy Bahr, said Sunday of her father, who died Wednesday at age 78 at his home in Calabasas, California. "He was so appreciative of them. They were his life."
Memorial services for Esposito are pending, Bahr said, but there is no plan for a public event.
Esposito's influence in Las Vegas and impact on Presley's life and career is well remembered by those who knew him.
"Elvis and Joe were together, all the time, and if anyone knew the real stories of Elvis, it was Joe," said Las Vegas resident Loanne Parker, widow of Presley's manager, Colonel Tom Parker, who met Esposito in 1969 when Presley began his run at the International Hotel (now the Westgate Las Vegas).
"He was the go-between for Elvis in his business and career relationships. If Elvis needed to talk to someone, he said, 'Joe, get so-and-so on the phone.' That's how it always was with those two. Joe was always there."
Esposito recently had suffered dementia and moved from Las Vegas to Calabasas, near Los Angeles, in May to be closer to his family. Bahr said he died "peacefully, of natural causes."
Esposito's close connection to Presley was undeniable. The two met in the Army in 1958, having been stationed in Germany shortly after both were drafted. Presley took a shine to the unassuming man from Chicago, inviting him to work as a de facto personal assistant when he was discharged in 1960.
Esposito thus became the only non-Southern member of the so-called "Memphis Mafia," and one of the first to wear the famous, golden lightning bolt "TCB" necklace (which typically stood for "Taking Care of Business," but also "Taking Care of Broads" or "Taking Care of Booze") in Presley's inner circle.
"I always said that Joe's job was to organize Elvis's staff and group," Parker said. "But he also organized Elvis, too. There was not a significant period of time when he was not around and in that role."
In a statement posted on her Facebook page, Elvis' ex-wife Priscilla Presley said: 'I'm so sad to hear my dear friend, Joe Esposito, has passed. Joe has been a true friend of mine since I met him in Germany with Elvis. I will forever have a soft spot for him and will feel a profound emptiness, as we shared stories only he and I could share, as we have lost many, in our very tight group."
Esposito and longtime Elvis aide Marty Lacker were Presley's co-best men at the couple's wedding at the Aladdin in 1967.
Esposito also was present the fateful day of Aug. 16, 1977, when Presley died at age 42 at his Graceland estate in Memphis, Tennessee, and had the somber duty of informing Priscilla and Colonel Parker of the tragic news. The scene, as set by R-J columnist Norm Clarke in a 2011 interview with Esposito:
"About 2:15 p.m. on Aug. 16, 1977, Esposito was downstairs at Graceland, preparing for the trip to Portland, Maine, Elvis' next appearance. A telephone rang. Elvis' fiancee, Ginger Alden, was calling, seeing if "any of the guys" were down there. That's how the nightmare began for Esposito and Elvis' Memphis Mafia.
It sounded like Elvis had fainted. Esposito raced upstairs and found Elvis on the bathroom floor, cold to the touch and his tongue hanging out of his mouth.
'I knew he was dead,' Esposito said.
When Esposito looked up, he was horrified to see Lisa Marie, 9, watching.
Esposito had Alden take Elvis' daughter to another room. An ambulance was on the way.
Less than an hour later, Elvis was officially pronounced dead."
In a separate interview, Esposito simply said, "I had to tell some of the people close to Elvis that he had died. It was naturally, at the time, what I needed to do. You do the things you have to do. I didn't want them to hear it on the news, so I called and told Priscilla about it. Parker, too. It was a tough situation. I will always remember that day as just being very, very tough."
It was left to Esposito to quickly plan the King's memorial service. "The question at the funeral was, how are we going to handle it? Like it was his final performance, that's how."
During Presley's performing career, Esposito usually was the first to reach Presley when the King left the stage, offering him towels and leading him from hoards of fired-up fans.
Esposito assumed unlikely roles, too, credited with bit roles in such Elvis films as "Viva Las Vegas" and "Clambake." He is ubiquitous in old photos of Presley through his days at the International and Las Vegas Hilton, and during Presley's days on the road. During Presley's final performance at Market Square Arena in Indianapolis in June 1977, Esposito was at the King's side just before and right after that show.
In an interview in 2010 marking what would have been Presley's 75th birthday, Esposito said, "I still see Elvis singing onstage today. He loved that more than anything in the world. He'd say, 'The energy makes you feel so damn good.' A lot of people don't realize, it's just addictive. Sad thing is when he talked about getting older, 'When I turn 50, will they love me? What about 60?' But he'd still be singing, strong songs, ballads, gospel."
While living in Las Vegas, Esposito authored five books chronicling his days with Elvis. He was enormously popular at Presley conventions locally and around the world.
"We would tour the theater, the stage, the dressing room and the suite upstairs where Elvis used to live, and it was always enlightening to spend that time with him," said Rick White, former Las Vegas Hilton and LVH entertainment executive, who organized five Elvis conventions with Esposito during his 11-year run at the hotel, ending in 2015. "What he took as commonplace, like showing the booth where Col. Tom Parker would sit or where he and the band would hang out in the dressing room, was important in developing the Elvis lore in Las Vegas."
Example: Esposito once told the story of how his team had buckets of ice water awaiting Presley when he walked offstage. The King would submerge his arms into those buckets to heal the scratches he suffered from fans grabbing at him as he handed out his silk scarves from the stage.
"Joe had lots of great stories," White said, "and he debunked quite a few myths, too."
As Esposito said in that 2010 interview: "Elvis was a very smart person, a very well-read person. He loved to read about religion and science especially. He was no dumb country boy. That's one of the biggest Elvis myths, that he was dumb and being led around by the Colonel. That's one of the great myths about him."
And "Diamond Joe" was always grateful for his time with, and memories of, Elvis.
"We were close. He was my best friend. I'm always reminded of him, whenever I hear a song or his name or the title of a show somewhere," Esposito said. "It amazes me, still. I've had a hell of a life because of him."
John Katsilometes' column runs Saturday, Sunday, Tuesday and Thursday in the A section, and Fridays in Neon. He also hosts "Kats! On The Radio" Wednesdays at 8 p.m. on KUNV 91.5-FM and appears Wednesdays at 11 a.m. with Dayna Roselli on KTNV Channel 13. Contact him at jkatsilometes@reviewjournal.com. Follow @johnnykats on Twitter, @JohnnyKats1 on Instagram.
Note: The participation of Marty Lacker as co-best man at the the wedding of Elvis and Priscilla Presley was added to the original version of this column.