Even in tragedy, a uniquely Las Vegas event to remember
October 4, 2017 - 7:38 pm
Updated October 5, 2017 - 9:31 am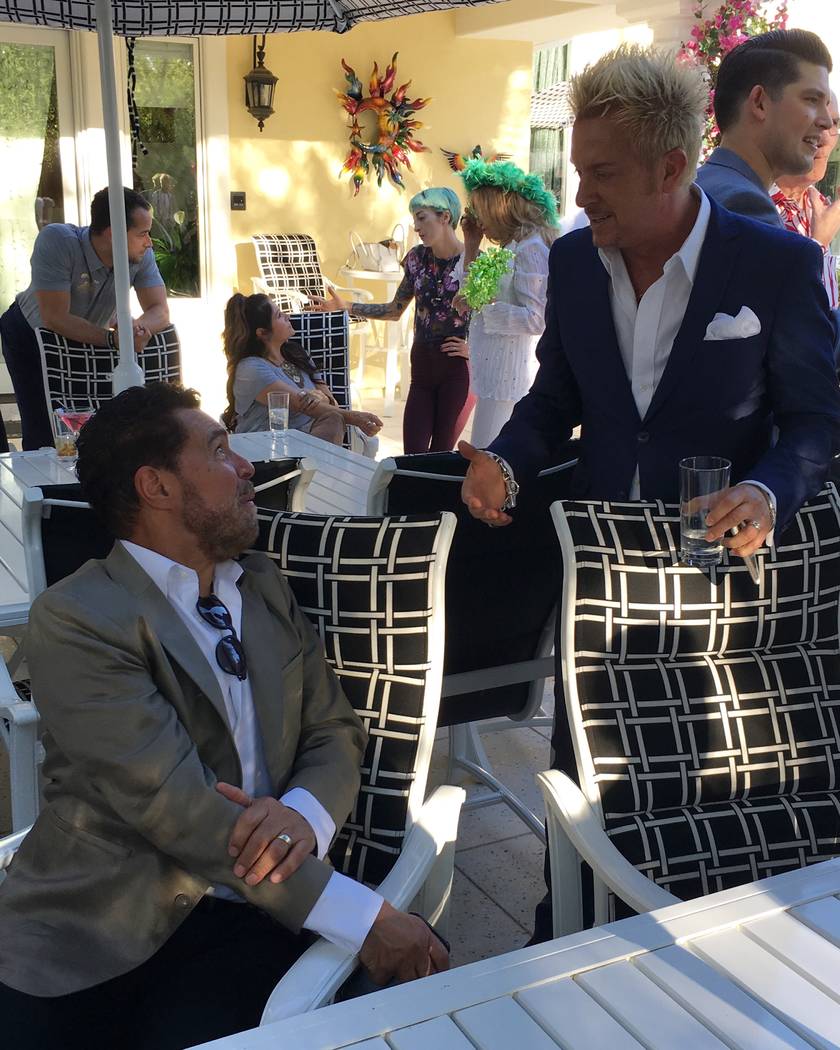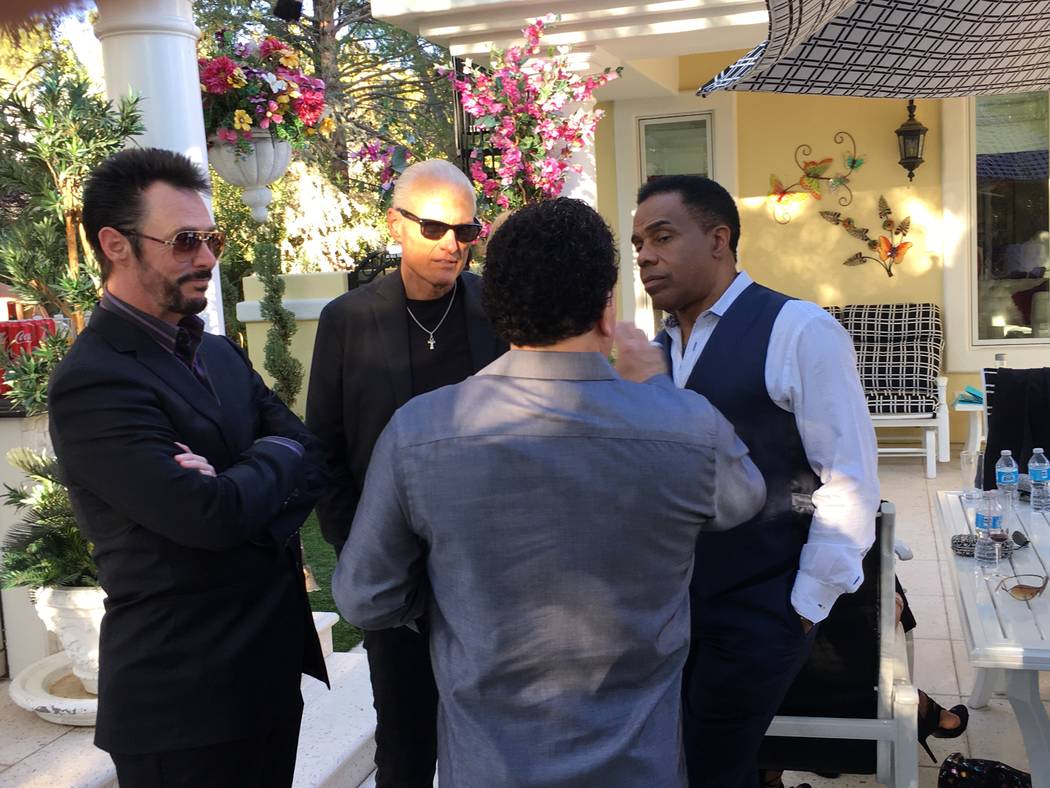 Sunday afternoon was just gorgeous in Las Vegas. Frank Marino's estate was so perfectly bathed in sunlight it felt like a movie set.
It was, sort of.
Marino's home, and his beautiful pool in the back yard, served as the setting for a U.K. TV series titled "Last Laugh in Vegas." Nine British entertainment legends, long in the tooth but even longer in spirit, are preparing for the gig of a lifetime in our city. The five-episode series will air in March on the ITV network, the BBC's chief rival.
The finale will be a live variety show to be performed Saturday night at Orleans Showroom. Acclaimed set designer Andy Walmsley is the U.S. producer of this effort, charged with wrangling the talent from over there and over here.
The entertainers are familiar names to anyone who grew up watching TV — in Britain. Comedy duo Cannon & Ball (Tommy Cannon and Bobby Ball, known as the Abbott & Costello of Britain), piano virtuoso Bobby Crush (Britain's Liberace), comics Bernie Clifton and Mick Miller, singer Kenny Lynch, 1960s pop phenom Jess Conrad (an Officer of the Order of the British Empire), actress/singer Anita Harris, and singer/comic Su Pollard.
The meet-and-greet at Marino's manse was to introduce the Brits to a group of Las Vegas entertainers, who turned out in force. Those on hand included: Vegas entertainment royal couple Clint Holmes and Kelly Clinton-Holmes; super showman Earl Turner; Chris Phillips of Zowie Bowie; Stratosphere headliners Jarrett & Raja; Piero's songstress Pia Zadora; master magician Lance Burton; Anthony Cools of Paris Las Vegas; TV and film star Adrian Zmed ("T.J. Hooker," "Dance Fever," "Grease 2") and popular Vegas singer Lyssa Baker; the singing couple Jasmine Trias and Ben Stone; Jennifer Romas, Gabriella Versace and Sabrina Stotts of "Sexxy" at Westgate; Delecia Dean, Soolin Deitchman and Abigail Sullivan of "Fantasy" at Luxor; Frankie Scinta of "The Scintas" at Plaza; my R-J columnist colleague the Ubiquitous Robin Leach; comic magician Mike Hammer of Four Queens; legendary impressionist Rich Little of the Tropicana; comedy icon Marty Allen and Karon Kate Blackwell; Planet Hollywood magician Murray Sawchuck; "Absinthe" skating sensation Emily England; and former"Absinthe" and "O" artist Cadence Alexia.
All in the same place, at the same time. As former Mayor Oscar Goodman remarked, "Look at this group. We are really at the epicenter of the entertainment community right now."
Marino, front man (er, woman) of "Divas Las Vegas" at the Linq Hotel and a Strip headliner for 32 years, prepped the place for an hour or so before the British contingent arrived. "We are putting our best foot forward," said the man wearing a pair of $3,000 Versace leather sneakers. "It's our only chance to do this."
The crisscrossing conversations included this line from Allen, upon meeting Cannon & Ball: "You're the Abbott & Costello of Britain? I'm the Marty Allen of the United States!" Meeting Scinta, pianist Crush talked of his fondness for Liberace.
"What was impressive about your Liberace is before he wore the capes and all that, he was a great, classical trainer," Crush said. "He played so very well, even with all of those rings on his fingers getting in the way of it."
"Hey, I always dig the bling," said Scinta, himself a fine pianist and Las Vegas spokesman.
Walmsley had talked of running these nine folks around town Friday night, given an open tab on the Strip with many of Britain's most famous entertainers. They hit Top Golf and some of the bars on Fremont East. They got suitably "pissed," British for drunk, as they enjoyed a crash course in Vegas nightlife.
As Pollard said, "This city is very much like our Blackpool, which is the Las Vegas of Great Britain. But here, there is so much more of all of it here, isn't there?" I answered with my favorite line about Las Vegas, from comic Rita Rudner: "Wherever you are from, Las Vegas is the opposite of there."
As the sun set, Sawchuck performed some sleight-of-hand for Cannon & Ball, who also met Jarrett & Raja and were told the duo has been together for 20 years. "You're babies!" Ball shot back. "We've been together 55!"
As the cameras recorded, Marino noticed the fabric band wrapped around my left wrist. "Always, with the wristbands," he laughed. I told him I was wearing a Route 91 Harvest media pass, and that I'd planned to see the final night after his party. I said "I hope I make it there. We're running late here." Marino himself was hurrying to make his 9:30 p.m. showtime.
I never made it to Route 91. Marino did make his show.
The next time I spoke to Marino was Monday. I asked him how he was holding up after the events of Sunday turned from his terrific Las Vegas party to our something tragic and terrible.
"I was driving out of the showroom and I just couldn't believe it. I sped out of my own hotel after my own show on the Strip," he said. "It was just surreal. It's the biggest tragedy I have seen in Las Vegas, ever, and here we are having these visitors from England, excited about this city, and to have this enormous tragedy.
"I just keep thinking, we need to show we are resilient, this is not normal, this never happens in Las Vegas."
At the end of Marino's event, the cameras kept rolling as we gathered for a group photo. With no provocation, the Brits sang the chorus of, "Viva Las Vegas!" They were so happy to be here. That footage needs to be saved. Viva Las Vegas, for all time, and especially for this time.
John Katsilometes' column runs daily in the A section. Contact him at jkatsilometes@reviewjournal.com. Follow @johnnykats on Twitter, @JohnnyKats1 on Instagram.