Floyd Mayweather adds to the circus at 'Absinthe'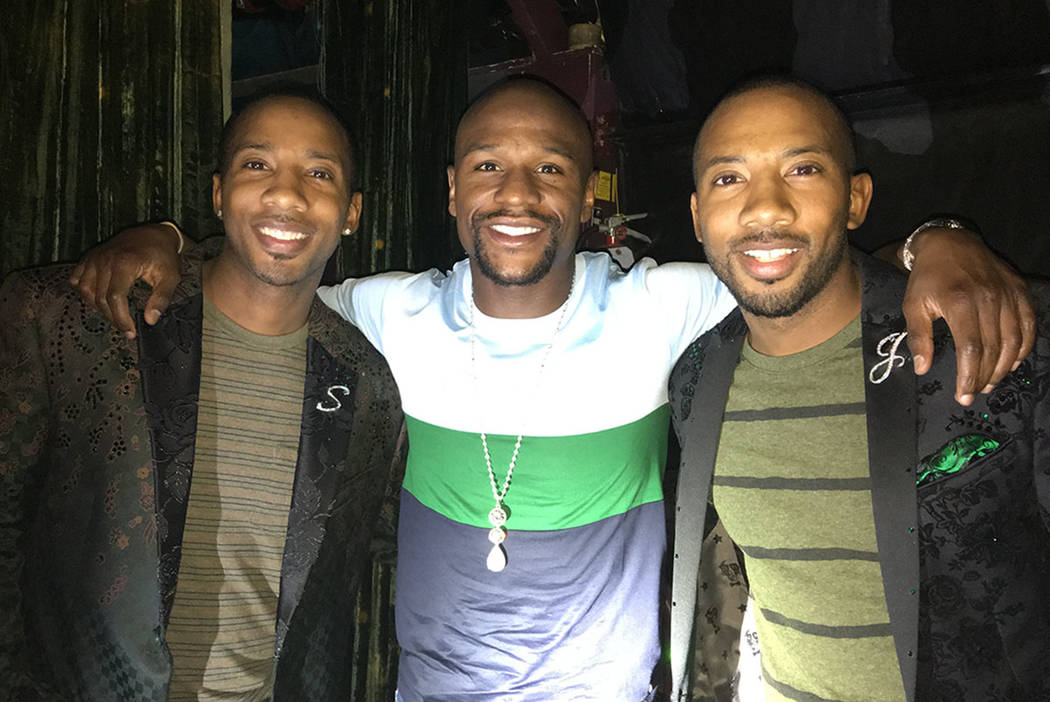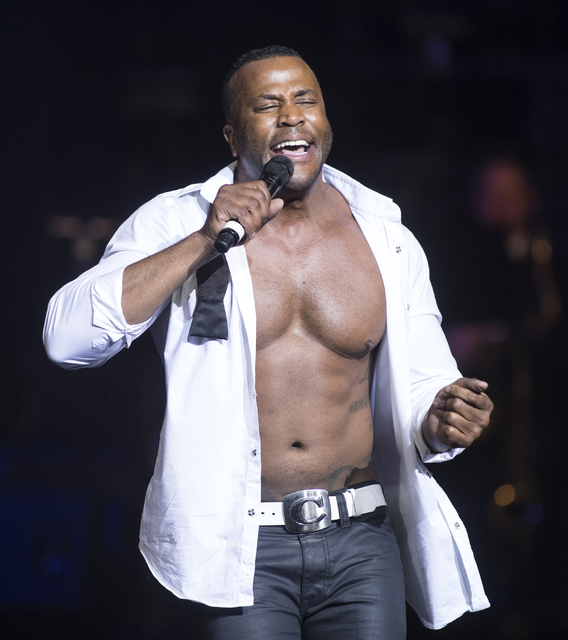 Two of Las Vegas' greatest hits convened Thursday night on the Strip when Floyd Mayweather visited "Absinthe" at Caesars Palace.
Mayweather excels in the squared circle, while "Absinthe" prospers inside a tent, which is … a circled circle, I guess.
This Mayweather had earlier promised the excellent twin tap duo of Sean & John Scott that he would visit the show, which he did Thursday night.
On Friday, Spiegelworld "Impresario" Ross Mollison, whose company conceived and produces the show, said Mayweather stopped by to meet with the show's lead character and host, the reliably affluent Gazillionaire.
"Floyd stopped in to see Gaz for some tax advice," Mollison said, referring to Mayweather's reported troubles with the IRS. "Then he stayed for the show."
When you visit "Absinthe," you have to take a few jabs …
Rock the boat
What do David Perrico, Richard Marx, CeeLo Green, Blues Traveler and Zowie Bowie have in common?
They've all headlined at Cleopatra's Barge at Caesars Palace.
CeeLo is in town tonight and Saturday, and again next weekend. The star of "Loberace" at Planet Hollywood a few years back is stripping it down (musically) for an acoustic-ish set in the historic venue.
CeeLo follows a mini-show by Marx, who was boosted by members of the VegasVille violin outfit Bella Electric Strings in his 30-minute showcase Wednesday night promoting his upcoming extended engagement at Flamingo Las Vegas. Marx's "Satisfied: Simply the Hits" show runs from Aug. 15-Sept. 2.
After the show, Marx said he's eager to venture off the Strip, and even asked about some of the haunts on Fremont East. So downtowners, if you see someone who looks like Richard Marx hanging out at Evel Pie later this summer …
Back at the Barge, Caesars Entertainment has firmed up its plans for the moated, 37-year-old entertainment haven. The hotel is alternating ticketed national acts with free shows by Perrico's Pop Strings Orchestra (10 p.m. Thursdays, Fridays and Saturdays) and Zowie Bowie (10 p.m. Tuesdays and Wednesdays).
A glass wall now separates the club from the walkway outside, but passers-by can still see inside — and many were thrilled to notice Adam Carolla hosting his July 13 podcast from the Barge.
Those of us who love the open-lounge vibe prefer, well, an open lounge. But if Caesars can keep the Barge afloat by securing the atmosphere inside, we'll offer (muted) applause.
Bye-bye Bryan
It's the end of an era at "Chippendales" at the Rio, where front man Bryan Cheatham is leaving Aug. 16 after 15-year run.
Cheatham has served the show in myriad roles over the years, from backing dancer to creative director, which was also his role in "53X" at Chateau at Paris Las Vegas.
As Cheatham wrote on his Facebook page: "When I joined the company back in 2002, I said I'll just do this for a couple of months until I get something else. I had no idea I would have such a wild ride for such a long time."
Cheatham developed as a top-notch vocalist in his run in the show, and has been busy recording an album in Las Vegas.
D-licious update
I happened to run into a man who is big in VegasVille while in Hollywood Wednesday at Bob Anderson's "Frank: The Man, The Music" one-off show at Avalon Hollywood theater. Renowned restaurateur Joe Vicari, an investor in Anderson's production and owner of Andiamo Steakhouse at D Las Vegas, said he's planning a second partnership in Las Vegas with D Las Vegas owner Derek Stevens.
This new venture would most likely be at the under-development 18 Fremont, which is what Stevens is calling the old Las Vegas Club — expected to open in late 2020.
Bennington tribute at HRH
Hard Rock Hotel is honoring the late Chester Bennington of Linkin Park, Stone Temple Pilots and Dead By Sunrise with a memorabilia display unveiled on the casino floor on Friday. Bennington performed at The Joint with STP in January 2014, and with Linkin Park in March 2008 (at the old Joint) and August 2011. He died Thursday of an apparent suicide.
The Bennington case at Hard Rock includes a branded Ve'cel by Chester Bennington, worn onstage, which was given to the hotel by the singer.
John Katsilometes' column runs daily in the A section. Contact him at jkatsilometes@reviewjournal.com. Follow @johnnykats on Twitter, @JohnnyKats1 on Instagram.