George Lopez's career turned the page with 'Playboy'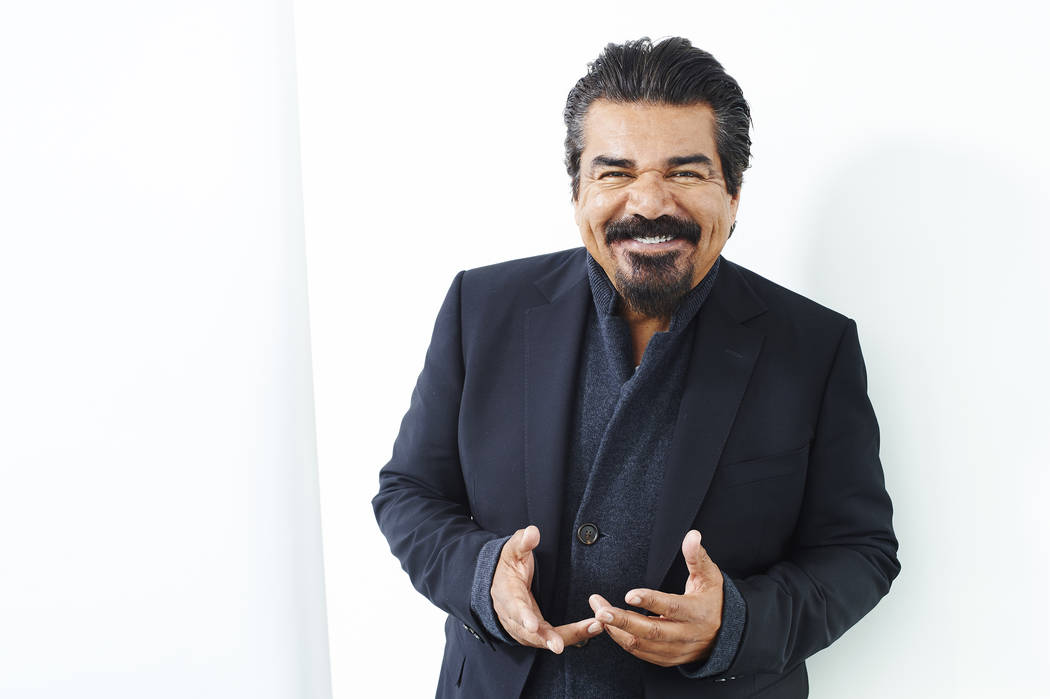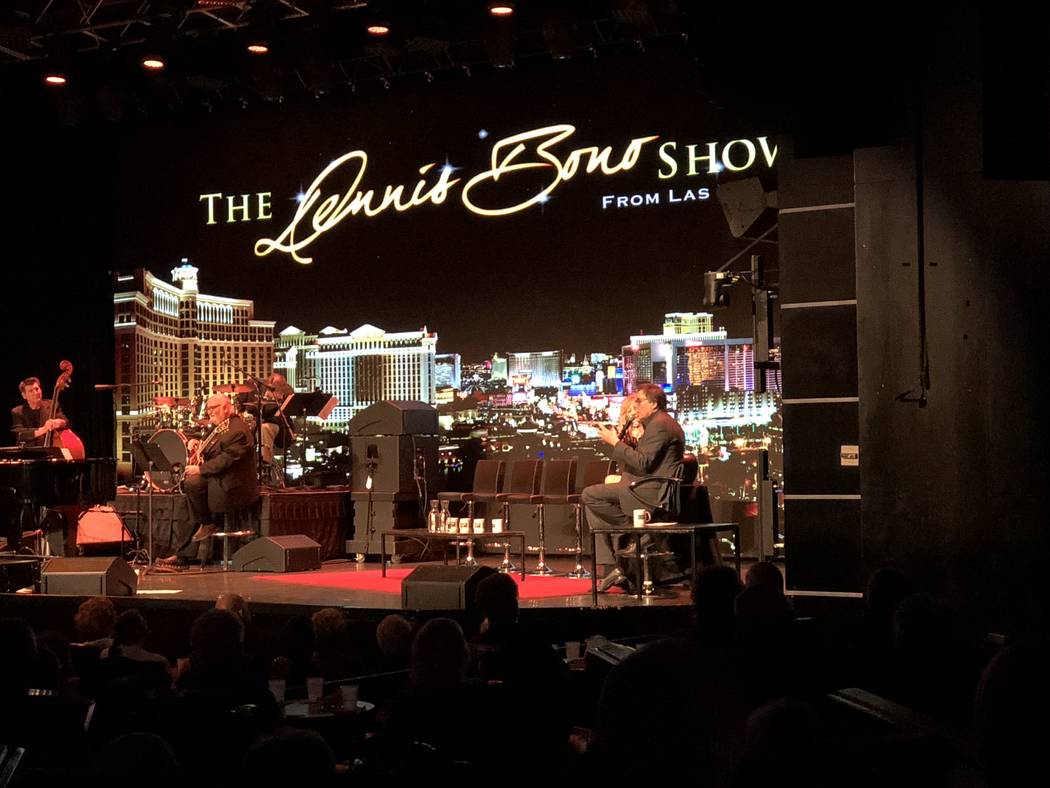 The Kats! Bureau at this writing is South Point Showroom and "The Dennis Bono Show." Laugh Factory and impression legend Rich Little just performed a singing tribute to Anthony Newley (and a lot of folks in this audience remember Mr. Newley), and Elisa Fiorillo masterfully covered Barbra Streisand's "He Touched Me."
Fiorillo is the longtime backing singer for Prince's New Power Generation from 2009-2014. She's at Myron's Cabaret Jazz on Wednesday night in her new show, "The Lady I Am," and again with the Bruce Harper Big Band on April 9.
And Bob Anderson has joined the bunch onstage — he's performing in this showroom at 7:30 p.m. Friday and Saturday.
Also around the stage: Vegas jazz singer Toscha Comeaux, longtime Debbie Reynolds music director Joey Singer, Bono's sidekick Corrie Sachs, and her esteemed bassist husband, Bob Sachs. Variety is again the order of the day at Bono's old-Vegas hang.
More from the scene:
Paging through Playboy
George Lopez, headlining Friday and Saturday in the Mirage "Aces of Comedy" series, began his Vegas stand-up career in an unlikely production — the "Playboy Girls of Rock and Roll" adult revue at Maxim.
This was a sultry show, licensed by Playboy, featuring at least one actual playmate performing a dance number, with a live band and such terrific vocalists as Michelle Rohl, who still performs in town as the swing for the Janis Joplin character in "Legends in Concert" at Flamingo Las Vegas and intermittently at Myron's Cabaret Jazz at the Smith Center.
Lopez joined the production in the holiday season of 1987, at age 26.
"It was crazy, a little bit strange but great experience," Lopez said in a phone interview this week. "I would go down to the stage about five minutes before I'd go on, do my act, and leave. It wasn't until six months later, when I came back, that I realized the show was topless."
"George really kind of kept to himself in those days," Rohl recalled. "We were like professional partiers and he was just starting. Everybody had a good time. One thing about that show is they had great comedians." Along with Lopez, who made several appearances in the show's five-year run at Maxim, popular stand-ups David Gee and Bruce Mickelson were rotated into the production.
The show helped Lopez get his start in feature films. Director Rich Correll had heard the production was a stage for top emerging comics, caught Lopez's act and wound up casting him in the 1990 comedy, "Ski Patrol."
Lopez says he's nearing the end of his stage career. He plans to perform in Las Vegas through 2019 or possibly 2020, then close the show.
"At first I thought I'd end it in June 2019, but maybe continue past 2020," Lopez says. "I performed for my first time, ever, in 1979 and if I make it to 2020 so I'll have done stand-up in seven decades … But who knows? Maybe I'll just keep going and going, like Roberto Duran. I'll be like an old boxer, just coming back to Vegas because I love it."
Shunock & The Tri-Dub
Mark Shunock has been flaying the Wild Wild West from the stage at Mondays Dark since opening the charity show at the Space in January 2017. The Station Casinos hotel at 3330 Tropicana Avenue (just a couple blocks from The Space) has been the mark of such Shunock jokes as, "Tonight's we're giving away an overnight stay at Wild Wild West! A prize package worth $40!"
In the March 5 show, Shunock took after the "Tri-Dub" once again, unwittingly jabbing at the 260-room hotel as Station Casinos PR director Laura Carroll sat in the audience (Stations and Days Inn operate the property in a joint partnership). After listening to Shunock's shtick, Carroll and Station Casinos officials asked Shunock to visit Station's corporate offices at Red Rock Resort on Friday.
Shunock, justifiably, feared he might have run afoul with the Las Vegas-based resort behemoth because of his onstage mocking of the Tri-Dub.
Instead, Carroll handed him an extensively appointed gift bucket, saying, "We love our Wild Wild West." The bucket was filled with Tri-Dub merchandise including a T-shirt, lighters, a shot glass, playing cards and — yes — Wild Wild West lip balm. He also received an envelope containing a gift certificate for an overnight stay at the Wild Wild West.
Shunock recited the story and unveiled the gift haul at this week's Mondays Dark show benefiting Baby's Bounty of Las Vegas.
"They played me SO well!" Shunock said as he displayed his Wild Wild West merch. "I have wanted this free room for so long, and tonight I earned it!"
Impress your friends, or not, by knowing that the Wild Wild West was called King 8 Hotel until Station Casinos bought the property in 1998. About a decade ago, as Station snapped up land around the property, there was intermittent speculation Station Casinos would raze the Tri-Dub for a new, glorious resort. But the economic tailspin hit in 2008-2009, and the Wild Wild West lived to see another day. Or, Days Inn.
Clowns and midnight
Eleven Cirque du Soleil artists performing 13 acts you won't see in Cirque shows. That's "Clowns After Midnight," set for April 4, 6 and 7. Assembled and organized by "Zumanity" artist Shannan Calcutt, the show is staged at the Theatre Hub improv studio at 705 Las Vegas Boulevard North, in the same neighborhood as the Neon Museum. "Clowns After Midnight" is in the theater's "Make 'em Laugh" comedy series.
The Cirque performers created new comedy acts in a seven-day workshop series headed up by Calcutt. The series is best described as "Saturday Night Live With Clowns." It's a format foreign to most Cirque performers, but clowning and physical comedy is one of the hallmarks of the company's productions on the Strip.
John Katsilometes' column runs daily in the A section. Contact him at jkatsilometes@reviewjournal.com. Follow @johnnykats on Twitter, @JohnnyKats1 on Instagram.