Gwen Stefani's 90-percent solution on Las Vegas Strip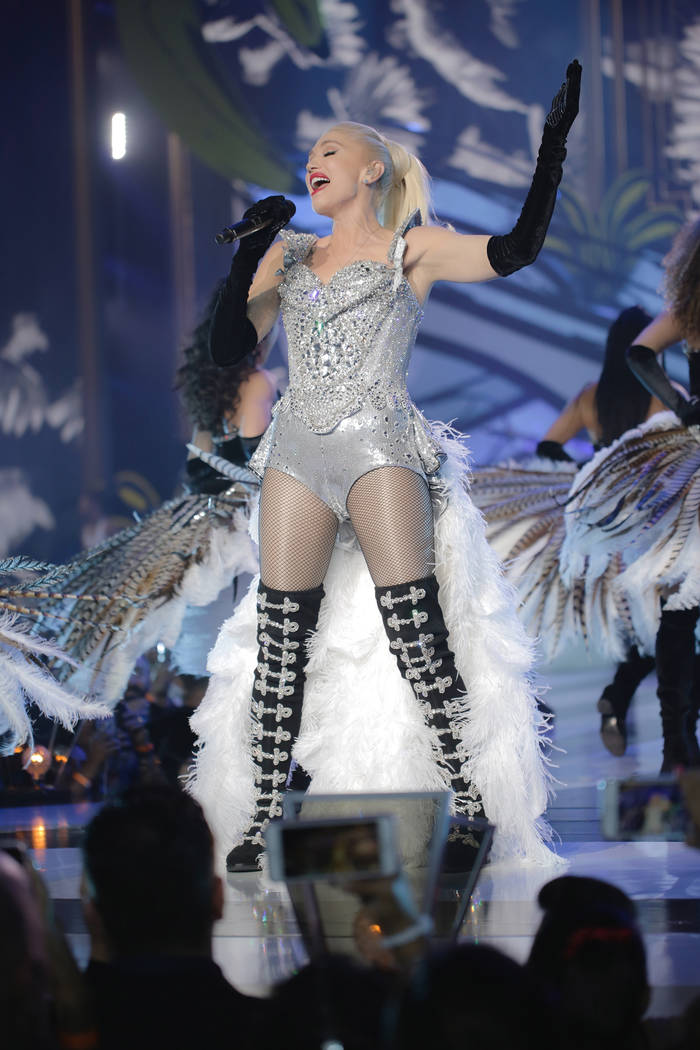 About five years ago, a wise entertainment type told me, "If you're selling out every show, you're not doing enough shows." And, about five hours ago, another wise entertainment type told me, "Sellouts for residency shows in Las Vegas are really rare."
We're pinning those accurate statements to Gwen Stefani's "Just a Girl" show at Zappos Theater at Planet Hollywood. Stefani just launched her 25-show series on June 27. The show's a blast, a great Vegas spectacle of No Doubt hits and Stefani's own solo work.
But how's she doing at the box office? Some social media reports say she's struggling. Not exactly.
Stefani filled her opener. She hasn't been selling out shows since, but box-office indications are the show is doing well enough to make a profit. At the risk of applying mundane statistics to the art of performance, Stefani is selling between 87 and 90 percent of the seats at Zappos Theater at Planet Hollywood.
At this writing, Stefani had sold about 4,100 of 4,600 seats (as reflected on Ticketmaster website) for her most recent show Saturday night. She's about at that level Friday and next Saturday, and at about 87 percent for Wednesday.
There are a few variables, of course. Ticket prices are adjusted for demand — a VIP ticket for Stefani's Wednesday show was $226 on Saturday afternoon (when 75 remained unsold); the price for the same seat jumped to $886 for next Saturday's performance (when just a dozen were unsold).
But the overarching sense is Stefani's show is all right. A fellow entertainment veteran familiar with venue bookings observed Stefani's numbers and said, "That's a winning show. That's a show that makes money."
A spokeswoman for the production at Zappos Theater was unambiguous in her description of Stefani's reception:
"The reaction to Gwen Stefani's "Just A Girl" residency has been nothing short of overwhelming. From the sold-out opening night onward, Gwen, Caesars Entertainment, and Live Nation are all elated. Not only have ticket sales wildly surpassed everyone's expectations, but most importantly the critical acclaim for Gwen's biggest creative undertaking to date has blown everyone away."
OK. I just dug the performance, especially the opening number, "Hollaback Girl," with dancers dressed as showgirls swinging with oversized bananas. That's a real Vegas selling point.
Jackson action
Jackson Browne confessed to the sold-out audience at Reynolds Hall at The Smith Center on Friday night, "I didn't know they had these kinds of auditoriums in Las Vegas! … You sure there aren't any slot machines in the lobby?"
We're sure. But there is a standing dice game in the parking garage …
Forever a hippie, the 69-year-old Browne toyingly mentioned the folks dancing near the front of the stage, saying, "Go for it! There are some places where the ushers won't let you dance!"
But in the first half of the show, the ushers were indeed clamping down on folks standing and grooving. That was halted during intermission (yes, shows at Reynolds Hall break for intermission), when Smith Center officials told the staff to ease up on those who wanted to dance.
This was, by definition, a rock show.
Browne seemed to have a great time and played longer than his usual set, expanding into a second encore with, "The Load-Out" and his cover of "Stay," a hit in 1977. As Browne said at the start, "This is the real Las Vegas? I'm going to give you a real show."
Browne joins David Byrne and Paul Simon as top-level rock headliners at Reynolds Hall this year. James Taylor is reportedly on officials' wish list, too. But he's been a little too expensive for this nongambling auditorium.
Positively despicable
The Las Vegas headquarters of foster-kids charity organization Positively Kids were broken into last weekend. The thief or thieves (still at-large) kicked open the office doors and stole items collected for the charity's auction slated during its Aug. 18 gala at Enclave events center, 5810 S. Eastern Ave.
Christian Tamburr, the great multi-instrumentalist and music director for Clint Holmes' and Earl Turner's "Soundcheck" at Westgate Las Vegas, is a member of the Positively Kids board. Holmes and the show's full band, including Tamburr, are the featured entertainers for the Aug. 18 gala.
But before then, the charity must replace nearly its entire collection of auction items in the form of gift cards for Las Vegas restaurants, attractions and shows (including Cirque du Soleil productions), and escapes such as a cruise on Lake Mead and vouchers for the Richard Petty Driving Experience at Las Vegas Motor Speedway.
"Our needs now our twofold," Positively Kids Chief Executive Officer Fred Schultz says. "We need support in replacing these items, and we need to raise awareness about our event. It's a tough spot." Call 702-493-3880 or email Schultz at FredSchultz@positivelykids.org to donate, book a ticket to the gala or otherwise take action.
Speaking of "The Voice"
Should "The Voice — Neon Dreams" resurface anywhere in VegasVille, Vincent Marini likely won't be involved. Marini was creative director of Base Entertainment during the show's development when it was prepping to open at Hard Rock Hotel.
But Base yanked the show from that hotel last month, and the production reamians in limbo. Marini has since left the company but is still working in a consultant role; his current project is the Channing Tatum "Magic Mike Live" male revue opening Nov. 10 in London.
"The Voice" future remains unresolved. The Venetian continues to surface as a possible future for the production ("Baz" is leaving Palazzo Theater on July 28), but we're still waiting word on where "The Voice" might be heard.
Cool Hang Alert
Vegas trombone master and noted Arthur Fonzarelli lookalike Neil Maxa hosts a free jazz night at 7 p.m. Mondays at Eclipse Theaters at 814 S. Third St. in downtown Las Vegas. This is a three-hour jazz experience starring Maxa, a member of the Lon Bronson Band, with keyboardist David Marinelli.
Maxa's description of the show on Instagram is, "NO COVER CHARGE, NO PARKING FEE AND ESPECIALLY NO 'HEALING.' JUST GOOD MUSIC & GOOD TIMES." Fans, and also members, of Santa Fe & The Fat City Horns will understand that "healing" reference. We'll just let it stand on its own, but Maxa is a terrific player, and a playful personality.
John Katsilometes' column runs daily in the A section. Contact him at jkatsilometes@reviewjournal.com. Follow @johnnykats on Twitter, @JohnnyKats1 on Instagram.