In four years, 'Mondays Dark' has lit up Las Vegas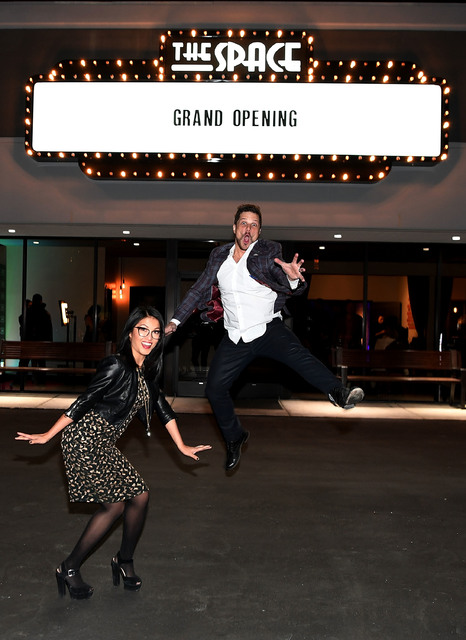 I well remember meeting Mark Shunock in December 2012, after the first preview performance of "Rock of Ages" at The Venetian.
The man who played the addled theater manager Lonny showed he was impressive off-script, with an ambitious mind concealed under his character's mullet.
"I want to start a charity show, a hangout, for entertainers in Las Vegas," said Shunock, whom I knew only as an experienced stage performer from "The Lion King" who had moved to the city six weeks earlier. "Pick a charity, and have everyone just come in and perform and have a great time for a good cause."
The concept became "Mondays Dark," which has evolved into a twice-monthly showcase at The Space on Cavaretta Court, just west of the Strip. Shunock's philanthropic production celebrates its fourth anniversary on Monday at The Joint at the Hard Rock Hotel.
The event should sell out, with 1,700 tickets purchased on the way to an expected 2,000, easily a record attendance for the show. Shunock has corralled 58 charities in four years and, by his count, raised upwards of $600,000 over the four years of Mondays Dark performances.
He'll announce the 21 for 2018 on Monday night.
Along envisioning the event, Shunock is always the ringleader of Mondays Dark's stage show, employing his slaphappy comedy skills ("How do you get to The Space? Just find the Wild Wild West, and keep going. It's there, trust me!") as he freely imbibes from the stage. He makes no apologies, but does offer a warning, about his generous use of profanity.
Importantly, as Mondays Dark has expanded from one show per week to two, Shunock has smartly enlisted a pair of vital artistic partners. Music director Kenny Davidsen directs the band from behind the keyboards, shepherding the show's rotating music styles. This year, the terrific vocalist Jassen Allen has become the show's producer, establishing each week's theme (an Aretha Franklin tribute; Prince and "Girl Groups" among them).
Shunock has also adapted, reshaping the show from the talk-show format from its opening night at Vinyl in December 2013. He still jokes, in self-deprecating fashion, about his decision to read from "The Giving Tree" that night.
"I don't know what I was thinking that night," Shunock said from the stage during a recent Mondays Dark show.
Shunock's next advancement is to rebrand the Mondays Dark logo and redesign the event's website.
The fourth-anniversary show at The Joint will be peppered with Vegas stalwarts including ex-"Jersey Boys" cast member Travis Cloer (who has made nearly all of the Mondays Dark shows from the beginning); Skye Dee Miles; Rockie Brown; Noybel Gorgoy; Christina Shaw; members of the Vegas Golden Knights Drumbots percussion squad (Shunock and Big D of "The Bull," KWNR-FM (95.5) are the team's on-ice masters of ceremonies at T-Mobile Arena); Ruslan Khusinov of "Absinthe,"; the cast of "Baz"; comic Geechy Guy; graffiti artist and dancer Ricardo Arts; the Bronx Wanderers; members of "Dizzy With a Dame" burlesque show; Jaime Lynch; Savanna Smith; Christina Shaw; the cast of "Magic Mike Live," Daniel Emmet; and Shunock's wife, Cheryl Daro.
The opening number is an all-female performance by Lynch, Smith, Brown, Gorgoy, Shaw and Daro. And it was Daro who suggested moving the show from its early talk-show to its current music format.
"She called me out on this," Shunock said. "We were trying to be too artsy. We changed the focus then, to go with the themes, and made it an exciting thing to announce to the charities what the theme will be. It's become cool for the charities and for the people coming in."
Of toys and tots
The ninth annual "Toys for Tots Celebrity Benefit Show" for the U.S. Marine Corps toy donation program Saturday night drew 1,200 to the Westgate's International Theater, a figure that exceeded by about 500 the turnout a year ago at Orleans Showroom.
About 5,000 toys were collected for the Marines' program. A final monetary tally is expected this week.
David Perrico was the music director in a show sponsored by Findlay Cadillac and co-produced by the drumming Findlay exec L.J. Harness and his fiancée, Tiffany Foote.
The show drew myriad celebrities, including Rock and Roll Hall of Famer and ex-Heart guitarist Howard Leese of "Raiding the Rock Vault" at Hard Rock Hotel; Chris Phillips of Zowie Bowie; "Magic Murray" Sawchuck of Sin City Theater at Planet Hollywood Resort; longtime radio host Dennis Bono and Lorraine Hunt-Bono of Bootlegger Bistro fame; Lorena Peril of "Fantasy" at Luxor; Lily Arce of Pop Strings "The World's Greatest Rock Show" at Stratosphere and "O" at Bellagio; the Lon Bronson Band horn section; comic Lenny Windsor, late of the "Benny Hill Show"; Neil Diamond tribute artist Rob Garrett; "Sexxy" at Westgate creator and star Jennifer Romas; and show co-star Alexandra Halbauer; Paul Shortino of Quiet Riot and "Raiding the Rock Vault'; Robin MacAuley of Survivor and, also, "Raiding the Rock Vault"; vocalist Serena Henry of the Smokey Robinson band; Vegas jazz great Michelle Johnson of Sonny Turner's Platters and solo shows at Myron's Cabaret Jazz; Kenny Fletch of Pop Strings; Adrian Zmed (from "Grease 2," "Dance Fever," and "T.J. Hooker") and his wife, Vegas singer Lyssa Baker (of Mr. & Mrs. Smith); Vegas comic Kathleen Dunbar; Kiss tribute performers from "The World's Greatest Rock Show"; Vegas country artist Sam Riddle; and vocal ensemble Mo5aic.
Jon Lindquist, known as "Jon the Announcer" was the voice from above.
Viva Shaff Vegas
On the topic of Perrico, I'm expecting some big-name visitors to Paul Shaffer and The Shaff-Shifters' shows at Cleopatra's Barge beginning Thursday and running through Jan. 4. Over the decades, Shaffer has made many famous friends. Many of them would love to see him groove it up at Caesars Palace's rejuvenated, but still moated, performance venue.
Contact John Katsilometes at jkatsilometes@reviewjournal.com. Follow @johnnykats on Twitter, @JohnnyKats1 on Instagram.