Joe Vento, pianist to Sinatra, marks birthday No. 100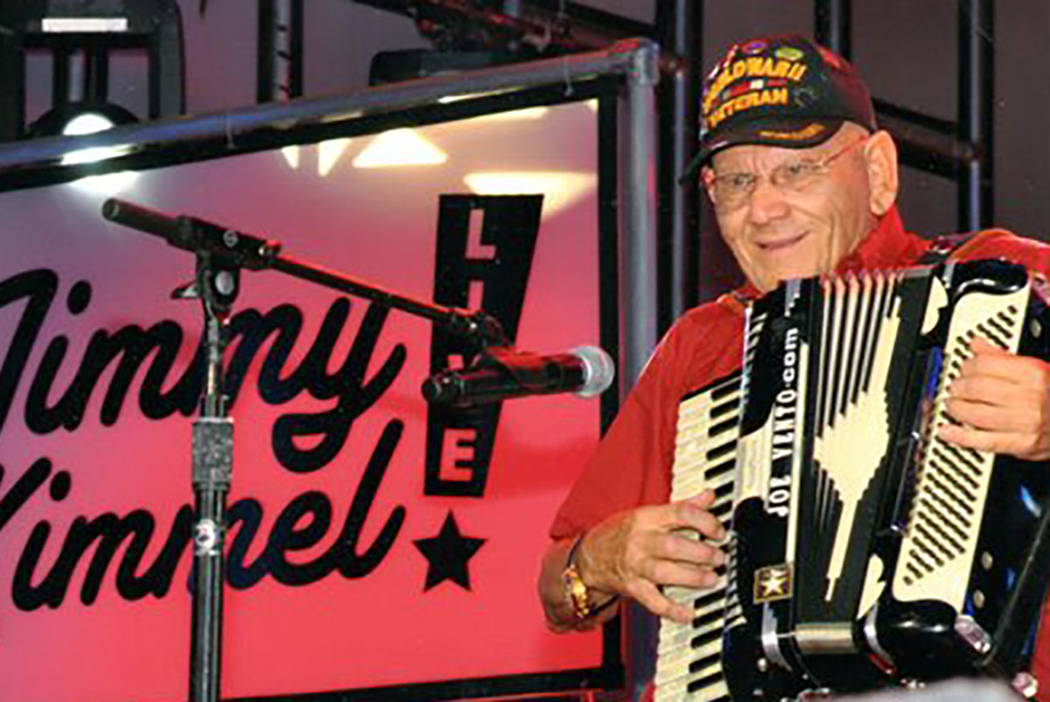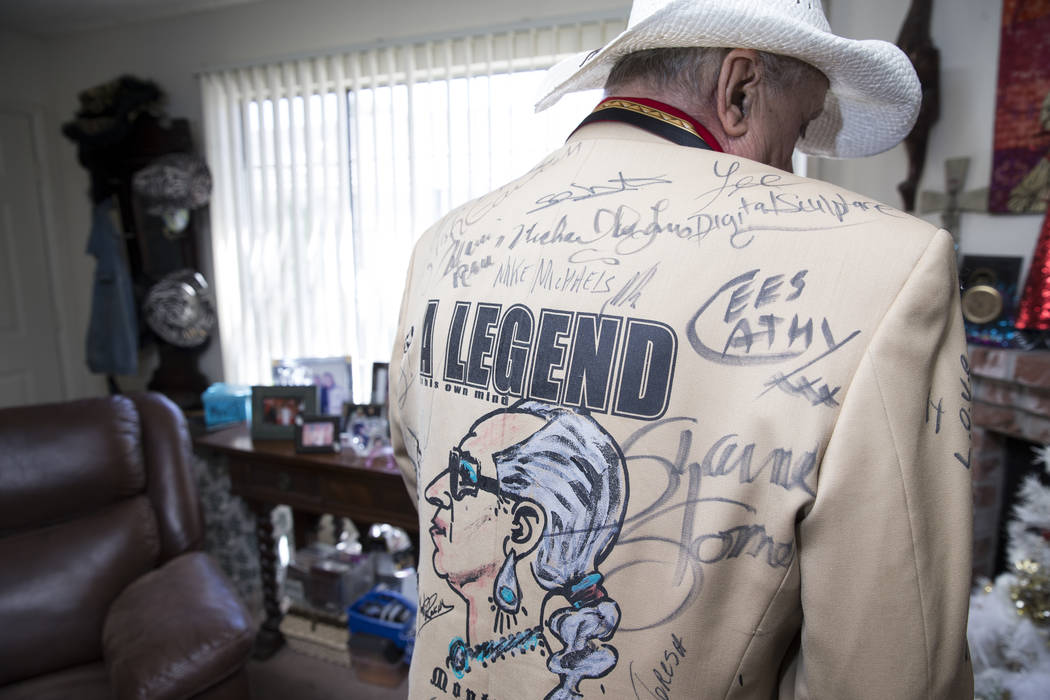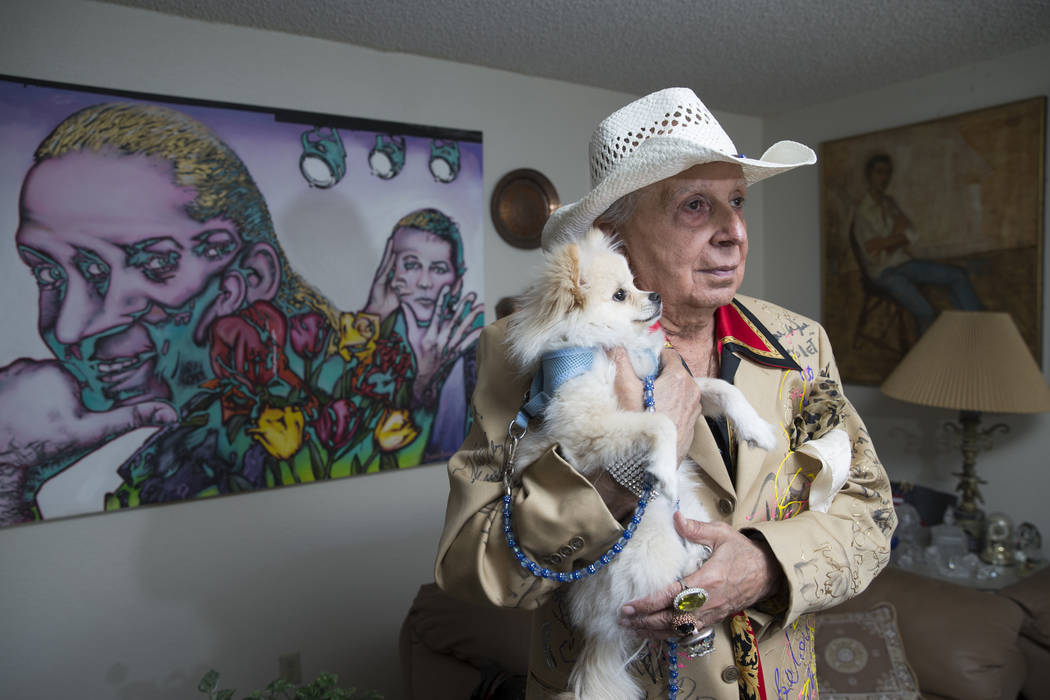 The birthday of a "Jersey Boy" led our crew to the Barrymore at Royal House Resort one night in April 2013.
Deven May, who played Tommy DeVito in the Strip stage show, was celebrating No. 42.
But the man at the piano had long passed that mark, and was age 95.
He was, and is, Joe Vento. He's 100 now, having celebrated his birthday Saturday. He performed at the Barrymore just two weeks and hopes to return by Dec. 27.
There's something of an obstacle, though. Vento is fighting pancreatic cancer.
"I'm in Sunrise Hospital," he said Saturday while taking a break from well-wishers. "Nice way to celebrate my birthday, eh?"
We talked a bit about that night with "Jersey Boys" cast, with Jeff Leibow, Rob Marnell, Graham Fenton, Jason Martinez and Chris Fore joining Vento in a rousing medley of Sinatra classics. With May at his side on the piano bench, Vento shared, "If you were not in perfect time with Frank, he fired you. On the spot. He'd say, 'Thanks, Kid, now go home."
Vento spoke from artistic experience, having performed with Old Blue Eyes and his fellow Rat Packers, and also such storied entertainers as Count Basie, Charlie Barnett, Nelson Riddle, The Mills Brothers, Harry James, Jimmy Dorsey, Steve Allen and Bob Hope. An Army veteran of three wars — World War II, Korean War and Vietnam — Vento has always been fast with his fingering on piano and accordion, quick with a quip, and always optimistic.
Asked the secret to his longevity, Vento said, "My genes. My mother, Rosario, died prematurely — at 107. She walked everywhere, back and forth to the grocery store, all the time. She refused to use a cane. I owe it to her."
Vento is still being evaluated at Sunrise, but is prepping for his return to the stage. As he says, "Let's bank on a successful recovery."
Monti in N.Y.
On the topic of ageless wonders …
On Wednesday, Vegas bon vivant Monti Rock III returned to the site of the nightclub that inspired "Saturday Night Fever" for a party celebrating the film's 40th anniversary. The shindig was hosted by (alliteration alert) fervent "Fever" fan Gianluca Mech, a wellness expert and celebrity known as the Richard Simmons of Italy. He booked a Chinese restaurant at the location of the 2001 Odyssey Disco, the club that sparked the movie's storyline.
John Travolta, who portrayed the ever-grooving Tony Manero, was not on hand, but a Travolta look-alike stood in. Rock, who played himself as the club's DJ, was there, too.
"I'm the Butterfly McQueen of 'Saturday Night Fever,' " says Rock, invoking the actress who played the maid Prissy in "Gone with the Wind." "I'm a bit character in a major film, and the character lives as long as the film does."
Before moving to Las Vegas in the late-1990s, Rock was known for the "Fever" role, his 36 appearances on "The Tonight Show" and for singing the 1974 top-10 disco hit "Get Dancin'," by Disco Tex (Rock) and the Sex-O-Lettes. He continues to chisel his way into the entertainment scene with his "Monti Minute" online video reports.
'Fantasy' — the next generation
Stephanie Sanchez spent nine years as principal singer, lead spokeswoman and moral compass of the cast of "Fantasy" at Luxor. She left the show in 2009, and today is entertainment manager of New York-New York, booking all live entertainment aside from "Zumanity," including acts at Coyote Ugly, Tom's Urban, Brooklyn Bridge, Nine Fine Irishmen and the Bar at Times Square.
But Sanchez has long held an affection for "Fantasy," and has many friends in the Anita Mann-produced show. The Sanchez bond is further strengthened as Stephanie's 22-year-old daughter, Shelby Jordan, joined the cast as a swing dancer. Her first night was Tuesday. It's the first mother-daughter tandem ever to perform in the show, which opened in 1999.
"I won't see her in it for a while," Sanchez said. "I promised to give her a few shows. Let her get her bearings. I'll see her on Christmas night — it'll be my Christmas present."
John Katsilometes' column runs daily in the A section. Follow @johnnykats on Twitter, @JohnnyKats1 on Instagram.