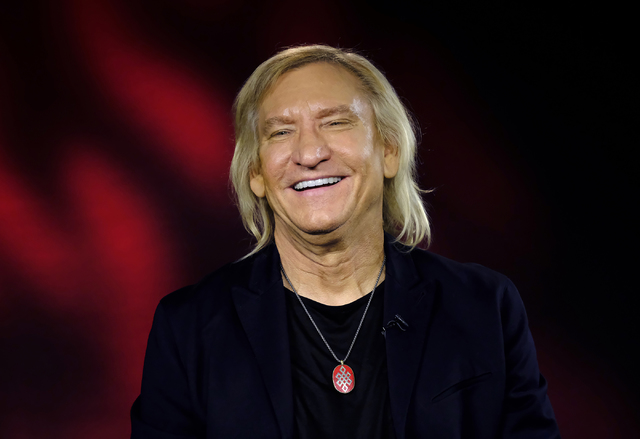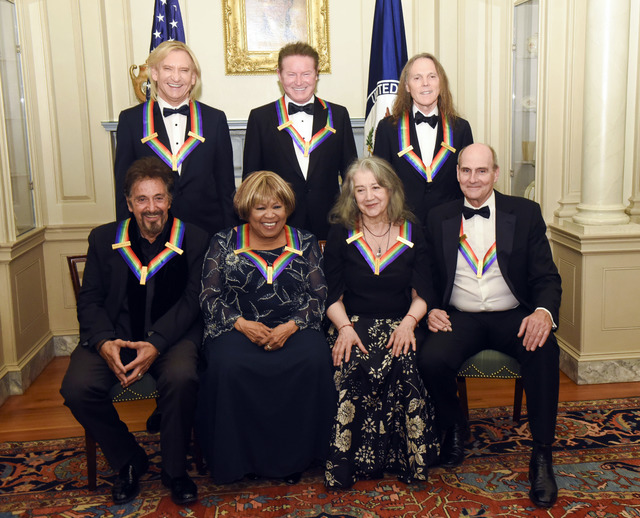 Joe Walsh has recently been the recipient two lofty honors.
One you probably heard about: his being saluted at last month's Kennedy Center Honors as a member of the Eagles.
The other honor is less formal but impressive in its own right: a verbal skewering delivered by one of the all-time masters of insult comedy in an impromptu "ceremony" at a Los Angeles restaurant.
"We went to eat at this restaurant Il Piccolino, this was about eight months ago, and I saw Don Rickles sitting there. I walked over to his table to say hello, and he just destroyed me," Walsh said. "He shattered me in about three minutes, on the spot. He had enough knowledge about me to take me apart, and he did."
As Walsh reasoned, "To have Don Rickles take you apart is an honor. You've achieved something. It's not like the Kennedy Center Honor, of course, but I'll take it."
The honorees saluted along with Walsh and fellow Eagles Don Henley, Timothy B. Schmit and the late Glenn Frey in the Kennedy Center ceremony ran the gamut of American arts culture: Oscar winner Al Pacino, folk-rock star James Taylor, gospel and blues great Mavis Staples and Argentine pianist Martha Argerich.
And that ceremony, too, was marked by a short roast of Walsh, by President Barack Obama.
"We had three days of events and functions, and one of them was meeting the president and Michelle at the White House," Walsh said. "He said, 'It's good to see Joe all cleaned up here.' And then he said, 'Joe, I've heard about your reputation with hotel rooms. This is the White House, and you have to wait until Michelle and I get our security deposit back before you start on this place.'
"He's a fan, but what do I say to that? I don't know. I just smiled."
Walsh termed the experience "totally humbling," saying, "I was just in awe of Mavis Staples and James Taylor. I knew why they were there. I wasn't sure why I was there."
The Eagles were actually announced as honorees in 2015 but deferred accepting the award because of Frey's poor health. Frey, 67, died Jan. 18 from complications related to rheumatoid arthritis and colitis.
The Eagles most certainly were put to rest along with Frey, and Walsh said he is still assessing his future, beginning with a run of six solo shows at the House of Blues at Mandalay Bay that kicks off Wednesday.
"It's 'An Evening With' show with Joe Walsh. You'll hear the hits and it's 'whoopee!' " the 69-year-old Walsh said. "We have a responsibility to play what people are coming to hear. I recognize that. I helped write 'Life in the Fast Lane,' and I'll do that. 'Take It To the Limit,' I'll sing as a tribute to Glenn, and those are songs I'll do, as far as the Eagles catalog goes."
Walsh might slip in a five- or six-song acoustic set, he added.
"I'm not comfortable doing just Eagles songs, so there might be some songs that are not hits, but fans will go, 'Whoa, that's a great song,' " Walsh said. "I'll be doing songs, some Eagles songs, and a sprinkling of some different stuff that I find relevant."
Walsh's list of hits is impressive: "Rocky Mountain Way," "Life's Been Good," "All Night Long," "A Life of Illusion," "The Confessor" and "Ordinary Average Guy" have been fan favorites for decades.
With the Eagles, Walsh most recently appeared in Las Vegas at the MGM Grand on the band's "History of the Eagles" tour in October 2014.
"At first, Las Vegas just overwhelmed me," said Walsh, who was a part of "Love's" opening night in 2006 and subsequent anniversary shows as a guest of his friend Ringo Starr. "On any given night, what you can go see, is incredible — the Cirque shows, Celine Dion is amazing. I have thought, 'Someday, someday maybe I'll have enough momentum to play there.' "
Walsh reiterated that the House of Blues run is a "test of the waters" and that he has been impressed with Carlos Santana's long run at the venue.
"This is a good place to figure out how to navigate life after Glenn, to figure that out," he said. "I know a lot of performers have come through Las Vegas and done well. We could do something of a retrospective, and I've thought of doing that with Don, actually. It wouldn't be the Eagles, but maybe we can go out and he can play his stuff and I can play my stuff."
Walsh points to a similar concept, starring legendary comedic actors rather than rock stars: the Eric Idle-John Cleese tour (which stopped by The Venetian in November), with Monty Python as the famous band and the two members sampling work from that troupe and their own solo careers.
"I could see us doing something like that, sure," Walsh said. "It might not be time yet, but down the line I could see that."
Walsh emphasizes that he is not finished exploring his songwriting or live performance. The Kennedy Center Honor might have marked an end point for his famous band, but not for him.
"I'm not sure what else I would do," he said. "It's wonderful to be able to affect as many people in the world as I have. It's just a matter of, 'What the hell do I do now?' I'm 69, I'm like a kid but in a body that's slowing down."
John Katsilometes' column runs daily in the A section and Friday in Neon. He also hosts "Kats! On The Radio" at 8 p.m. Wednesdays on KUNV-FM, 91.5, and appears at 11 a.m. Wednesday with Dayna Roselli on KTNV-TV, Channel 13. Contact him at jkatsilometes@reviewjournal.com. Follow @johnnykats on Twitter and @JohnnyKats1 on Instagram.
Preview
Who: Joe Walsh
When: 8:30 p.m. Wednesday, with additional shows through Jan. 21
Where: House of Blues at Mandalay Bay, 3950 Las Vegas Blvd. South
Tickets: $99.50-$435.78 (702-632-7600)