Kendra Wilkinson remembers her 21st: Hef's jet, $8,000 in champagne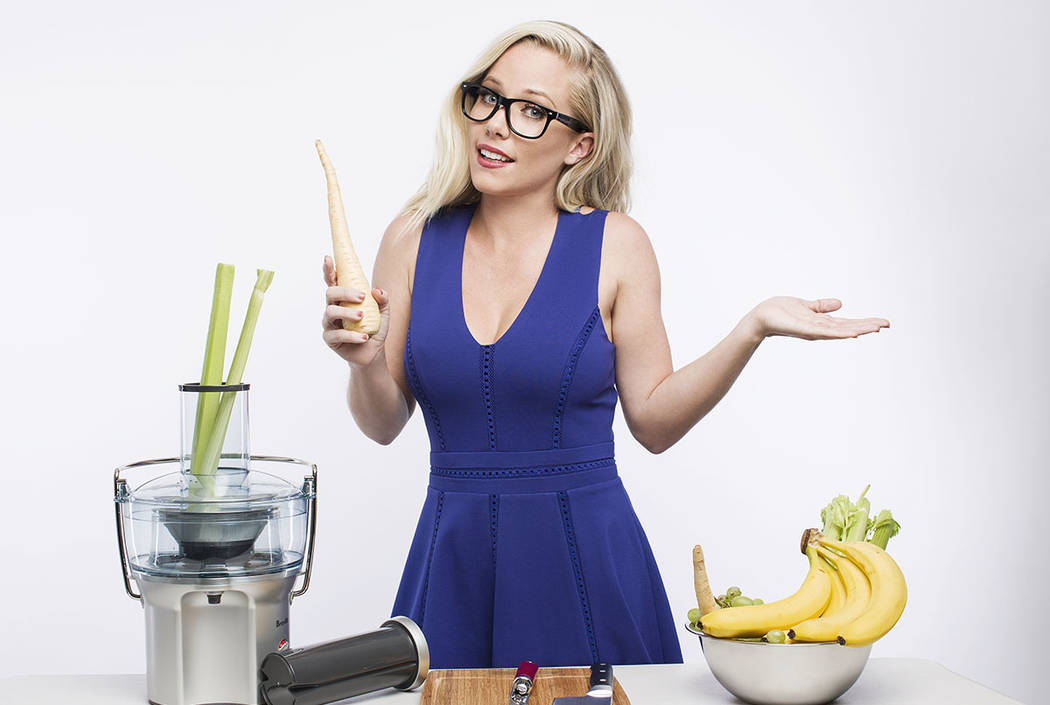 Seven minutes into a 15-minute chat inside a lounge at Paris Las Vegas, Kendra Wilkinson made a confession.
"The first time I visited Vegas was my 21st birthday — I'll have to say that, legally, it was my 21st birthday — and Hugh Hefner gave me the private jet, and we came here for my birthday and we went crazy," said Wilkinson, wearing a pair of librarian-style specs that belied this flight of fancy. "We got back to the (Playboy) Mansion, Hef looked at his bill and he goes, 'Kendra! Really, an $8,000 bottle of champagne?' And I'm like, 'I'm soooorrrry!' "
Some learn the hard way that what happens here does not always stay here, as Wilkinson did during the days of the E! reality series "The Girls Next Door." Her return to the city is far more business-like, co-starring with Jai Rodriguez (from the Bravo series "Queer Eye") in the exhaustively titled, "Sex Tips For a Straight Woman From a Gay Man."
The stage show opens for previews Saturday night at the 214-seat Anthony Cools room at Paris. Wilkinson and Rodriguez co-star in this tawdry presentation for at least three months. She plays the bookish character Robyn, who is hosting a university authors' forum and is interviewing author Dan Anderson, played by Rodriguez.
The author, who is relentlessly flamboyant, explains sexual techniques to the panel's host, who is unshakably frigid. Both Wilkinson and Rodriguez say what is displayed onstage — even the stuff that makes you wince — can and should be tested in real relationships.
"I'm using it, yes, 100 percent," said Wilkinson, who has been trying out the tips on her husband, ex-NFL star Hank Baskett. "We've been married for nine years. Why not? It's all been tested and is completely successful."
We'll toast that sentiment, and follow the lead on the "testing."
Space in the schedule
It turns out the Bellagio Fountains are not the most newsworthy aquatic attraction of the week …
More impactful is the sprinkler system being installed at The Space. The $75,000 project, required by Clark County to allow live entertainment in the venue, has wiped out at least four shows on the calendar. Jonathan Cain of Journey moved his performance last Monday to the Copa Room at Bootlegger Bistro.
Also knocked out are Sunday's show starring The Moonshiners, the next Monday's Dark event benefiting Social Cirkish, Randal Keith's show on June 8, and The Phat Pack on June 14. (All of these performers are worth a trip, trust me.) The next Monday's Dark show is to be moved, but a site hasn't been secured.
"It's a buzz kill, but we're rolling with it and making sure we're doing what we're supposed to," venue proprietor Mark Shunock says. "It's safety first at The Space."
Santana's bass line
Carlos Santana says he never plans what he says in his extensive rants from the stage during his shows at House of Blues at Mandalay Bay. An example from last week: "We are the ones who can expand the consciousness of America. … Every channel is selling fear, deceit, and (expletive). CNN — every channel — is selling a collective illusion." Later would be a plea for universal legalization of marijuana.
"It's not scripted, ever," the guitar great said during a chat at the Foundation Room on Wednesday afternoon. "But sometimes, the next morning, I feel the octopus arms of guilt, wrapping me up, 'Should I have said that?' But I am not just a performer. I stand for something."
Santana did say he plots some seemingly impromptu moments, such as the circuitous solo from veteran bassist Benny Rietveld. "Every once in a while I tell him to play some of 'Imagine,' from John Lennon, in his solo," Santana said. "Man, I love that song."
All this? And a keg?
Producer and actor Jonathan Bennett, from the 2004 comedy "Mean Girls," is the first "camp counselor" at Hooters' Summer Camp weekend party. The summer-long event runs 1-6 p.m. Fridays through Sundays at the hotel's renovated Porch n' Backyard pool deck and adult playground. What to play: Skee-Ball, Beer Pong, Connect Four, Cornhole and an assortment of board games. The hotel offers what is billed as the only poolside keg service of any resort pool party in VegasVille. This is a keg of beer. The next frontier: A keg of fizzy water.
A couple hot dates
These might not be the most famous productions in town, but they are winners at the box office that are celebrating milestones this weekend:
The Australian Bee Gees at Excalibur, a groovy disco dancefest, hit No. 2,000 on Friday night.
And at South Point Showroom, "The Dirty at 12:30" Friday night comedy show celebrated its fourth anniversary this weekend. These shows are free (as is the parking, we remind) at Michael Gaughan's South Point.
John Katsilometes' column runs daily in the A section. Contact him at jkatsilometes@reviewjournal.com. Follow @johnnykats on Twitter, @JohnnyKats1 on Instagram.