Knights' Lamborghini lends more gold to Palms overhaul
Updated May 18, 2018 - 4:11 pm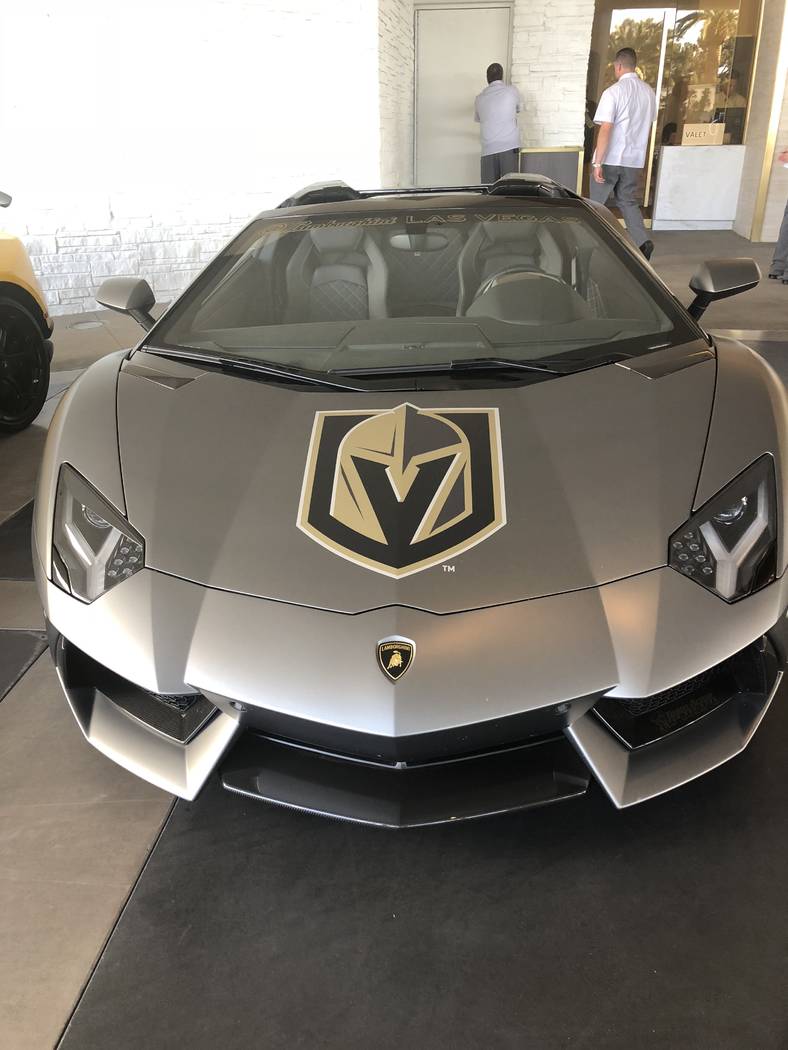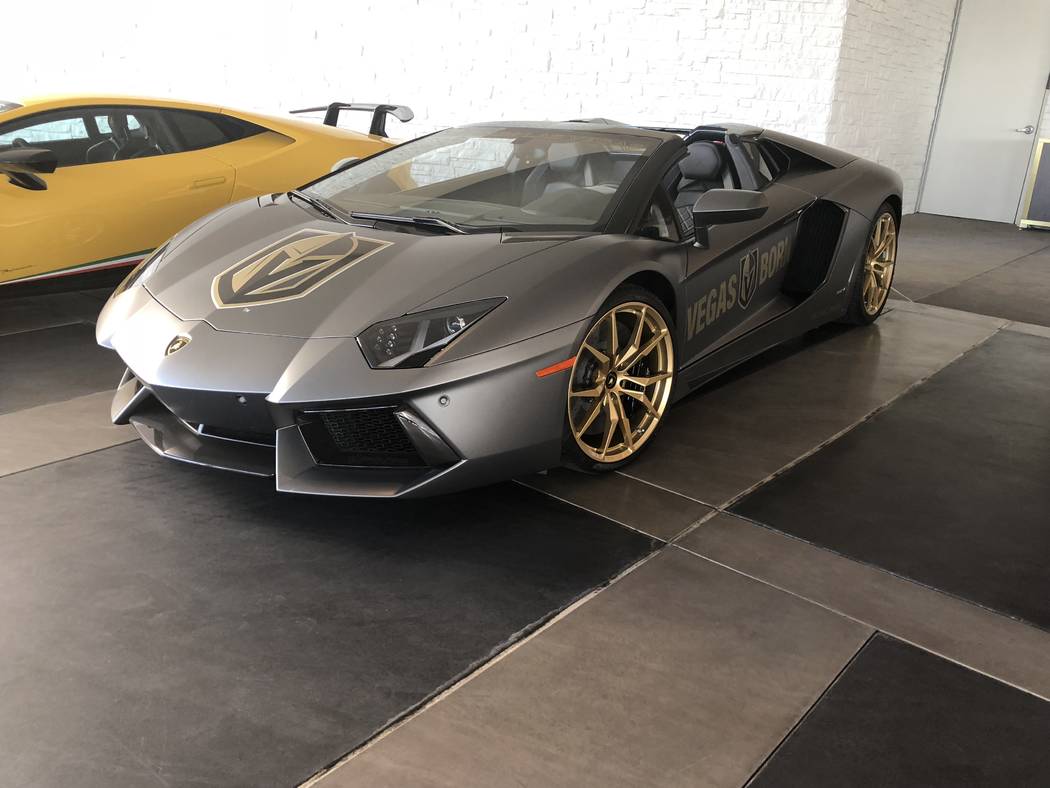 The Kats! Bureau at this writing is the Palms, where they seem to have turned dust to gold. It's a phrase from which you could build a marketing campaign, and they have! "From Dust to Gold" was rolled out Wednesday night on Instagram and YouTube. Pretty slick, too.
Soon we will check out some of the advances in the resort's $620 million overhaul. I'm especially interested in the Camden nightclub just off the main entrance, where the Lounge long stood as a beacon of live entertainment.
And, for the first time, Station Casino owners Frank Fertitta III and Lorenzo Fertitta will display pieces from their personal art collection. Works from such artists as Damien Hirst, Jean-Michel Basquiat, Andy Warhol and Dustin Yellin hang around the hotel. Already, works by contemporary artists Adam Parker Smith, Jason Revok, Eric Haze, Felipe Pantone, James Jean and Timothy Curtis have been placed in the resort.
Another work of art is parked in the refurbished porte cochere, the Lamborghini Aventador Roadster Convertible customized with a Vegas Golden Knights logo and gold-and-silver color scheme. The vehicle has been donated to the team for special events by Lamborghini Las Vegas of the Findlay Automotive Group. The car was hauled to the hotel on a flatbed.
I'd originally thought Jonathan Marchessault owned the VGK Lambo, but he just likes cruising it around VegasVille. Marchessault has twice driven the VGK Lambo to Stanley Cup playoff games at T-Mobile Arena: Game 5 of the Western Conference Semifinals against the San Jose Sharks (a 5-3 VGK victory) and Game 3 of the Western Conference Final against the Winnipeg Jets (a 4-2 Golden Knights triumph).
Jonathan Marchessault arrives in a Vegas Golden Knights Lamborghini. https://t.co/zm5LkiGLMB

— Arash Markazi (@ArashMarkazi) May 17, 2018
And on the topic of the Golden Knights, the Las Vegas-Clark County Library District and Winnipeg Public Library are cross-checking each other on social media. Yes, the libraries are now getting chippy, with Winnipeg dropping the gloves (how 'bout these hockey metaphors) on May 11, opening with, "Hey @LVCCLD! Looking forward to facing the @GoldenKnights in Round 3 of the #NHLplayoffs. Are you up for some library Twitter face-offs? Get ready for a blast of our #WPGWhiteout! @Mayor_Bowman @EDWinnipeg @downtownbiz @cityofwinnipeg
The @LVCCLD page shot back with a faux book cover, "Hockey: How It Works," and a photo of ex-Anaheim Ducks star Scott Niedermayer in action. The post: "We're ready for you, @wpglibrary! In fact, we've placed a book on hold for your @NHLJets."
We're ready for you, @wpglibrary! In fact, we've placed a book on hold for your @NHLJets ☺️#VegasBorn #BoldInGold @GoldenKnights https://t.co/7WmUyeO3OD pic.twitter.com/tts35ReSzO

— LVCCLD (@LVCCLD) May 11, 2018
Salt-N-Pepa spice it up
Cheryl "Salt" James and Sandra "Pepa" Denton of Salt-N-Pepa announced a Strip residency. The hip-hop trailblazers told Wednesday's audience on the syndicated talk show "The Real" they would open around Labor Day.
"We have a residency in Vegas!" Denton said. "It will take place on the Strip." She added that it would indeed start in September, though the duo did not specify a venue. I've written of the Tropicana as the likely home for that residency, but no ink has been put to paper on this one. Yet.
Salt-N-Pepa will be in town Sunday at the Billboard Music Awards show at the MGM Grand Garden Arena, performing with En Vogue. Keep you ears open. They might make news.
Prediction …
Carnell "Golden Pipes" Johnson, singing both anthems for Game 4 on Friday at T-Mobile Arena.
By the Numbers
The VGK Lamborghini model lists for about $475,000.
Cool hang alert
For Neil Diamond fans, veteran Diamond tribute artist Rob Garrett is at Myron's Cabaret Jazz at 6 p.m. and 8:30 p.m. Saturday. Garrett is back at Green Valley Ranch Resort's Grand Events Center at 8 p.m. May 25. Garrett says he's become busier since Diamond announced in January he's no longer performing live shows after being diagnosed with Parkinson's disease.
Who was where
All from Wednesday: Miley Cyrus and Liam Hemsworth at Elton John's penultimate performance of "The Million Dollar Piano" at The Colosseum at Caesars Palace … Steve Garvey and his wife, Candace, at Wayne Newton's show at the Windows Showroom at Bally's … Dolores Huerta — yes, the legendary, 88-year-old labor leader and civil rights activist — smiling it up at Carlos Santana's show at the House of Blues (and more from these two in an upcoming column).
Contact John Katsilometes at jkatsilometes@reviewjournal.com. Follow @johnnykats on Twitter, @JohnnyKats1 on Instagram.
(Note: The identity of the player on the ficticious "Hockey: How It Works" book cover was corrected in this version of the column.)