Las Vegas singer survives Oct. 1 to record 'Upside Down'
Updated October 1, 2018 - 5:34 pm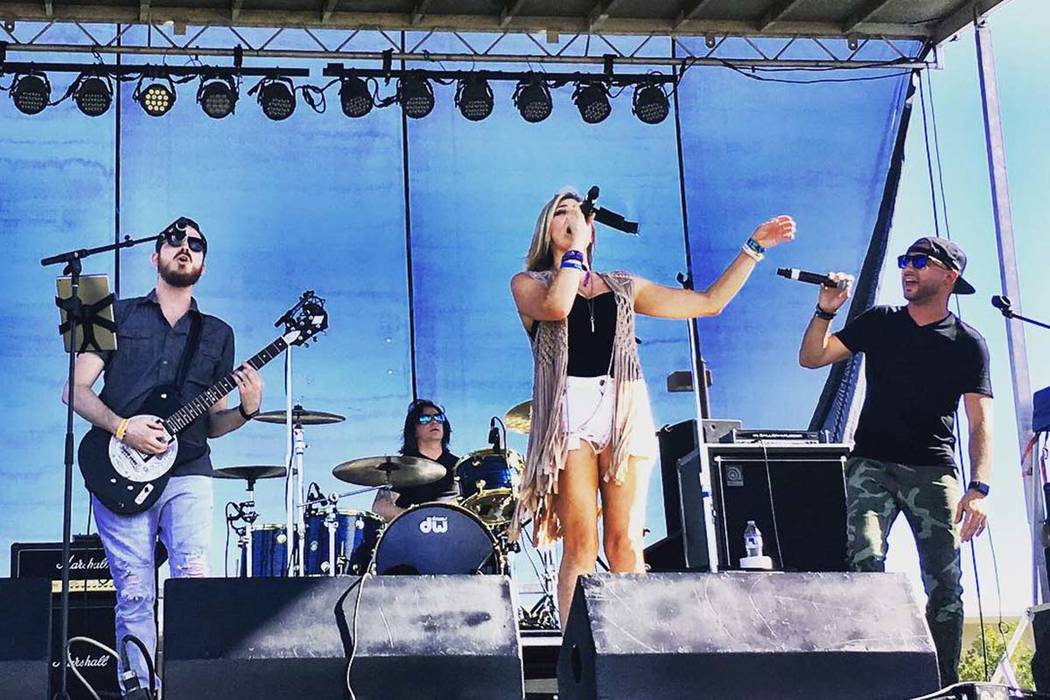 Las Vegas singer Krystal Goddard has never met the man who took a bullet for her and her friend Amy McCaslin. He was shot in the back and swiftly taken away by EMTs on Oct. 1. But Goddard absolutely believes he is still alive.
His face is not recognizable among the images of the 58 who were killed that night.
Nor has Goddard ever again encountered the woman who was hiding under a wooden table with her and McCaslin during the mass shooting at Route 91 Harvest. That person, a total stranger, was grazed in the neck by a bullet. She, too, is also believed to have survived the shooting.
Oct. 1 is at once a blur and an unforgettable tragedy for Goddard, a popular country artist across the city's entertainment scene. We've seen her in full country flourish with the Rustyn Vaughn Lee band at Sand Dollar Lounge, and up and down the Strip with the Shaun DeGraff Band. She often fronts the cover band Rock This Town at Rush Lounge at Golden Nugget and also was an opening performer at the now-closed Redneck Riviera at Grand Bazaar Shops at Bally's.
Today, Goddard is finishing the song "Upside Down." She's writing the tune with Vegas keyboardist and singer/songwriter Joe Spraker, her buddy from Rock This Town who has backed Sheena Easton, among other hit-makers.
The new song was inspired by the Oct. 1 shooting and its lingering after-effects.
"A tragic time here in this town," is one line. "This whole damn world turned upside down."
Goddard and Spraker hope to have the tune recorded and released this month. They've been noodling on the tune since the weekend following Oct. 1.
"We want it finished as soon as humanly possible," Goddard says with a laugh.
Goddard is a true country-music devotee.
"Anyone who knows me, knows that I live for country music," she says. "I grew up in Kansas and used to sing Patsy Cline on my karaoke machine while my dad two-stepped with his girlfriend in his shop."
Goddard's father built storage facilities, and his workshop was her first performance stage.
But even as an avid fan and artist, Goddard was fortunate to make it to Route 91. She's usually singing somewhere in town during the festival, but had Route 91's final night open.
Goddard and McCaslin, a senior manager at The Venetian/Palazzo in Las Vegas, were set up on stage right, closest to the Strip and Mandalay Bay, as Jason Aldean started his set. To Goddard, the burst of gunfire, that "popping noise," seemed like fireworks or a sound issues. After 10 or 15 seconds, the scene turned dark, Aldean scrambled from the stage and the crowd began fleeing.
Goddard and McCaslin, along with dozens of other fans, dove under a row of tables next to a row of tents housing the festival's sound equipment.
Goddard wrapped an arm around a young girl who was in hysterics. She draped the other around McCaslin.
A male fan covered Goddard and McCaslin. A woman, still unidentified, ducked under that table, too.
"We laid there for what seemed like forever," Goddard says. "We huddled together and listened to the gunfire for 10 minutes, not knowing where the shooter was or if he would find us."
The man took a bullet in the back but was still conscious the last time Goddard saw him. The woman was grazed, bleeding but seemingly not in grave danger.
"I honestly don't really know what happened to them," Goddard says. "Everything happened so fast at that point. I know the guy was taken away by medics right away."
As officers said the shooting had ceased, Goddard and McCaslin ran, barefoot, to Topgolf at MGM Grand, about two miles away. They were picked up and taken home by friends, severely shaken but avoiding the overnight lock down many of the fans endured after the shooting. Goddard called several friends while she raced from the scene. She does not remember many of those calls.
Goddard did perform within the week of the shooting at The Venetian pool. "I actually had a bit of an anxiety attack between sets," she says. She has continued her busy performance schedule, popping in for Kenny Davidsen's shows at Tuscany Suites and at Monday's Dark at the Space. She also appeared at Saturday's Route 91 Reunion show for 3,500 fans — 3,200 of them Oct. 1 survivors — at Centennial Hills Park.
Friends ask Goddard, frequently and simply, "Are you OK?" She usually is. But not on this anniversary.
"Most of the time I feel OK, I feel like I'm living my life the best I can," she says. "But today I'm not OK. I'm not OK for for those who were lost. For their families and friends that are grieving. For those whose injuries have permanently affected their life. For the absolute terror I feel when I hear actual fireworks go off. None of it is OK."
Inspired, Goddard says, "Let's be kind to one another. Let's love a little harder. Let's communicate a little better. Let's ask questions and dig deep instead of thinking it's not our problem. It is our problem."
In her new song, Goddard asks, "Times are different, what can I say?" But you can expect, this survivor can say a lot.
The Review-Journal is owned by the family of Las Vegas Sands Chairman and CEO Sheldon Adelson. Las Vegas Sands operates The Venetian and Palazzo.
John Katsilometes' column runs daily in the A section. Contact him at jkatsilometes@reviewjournal.com. Follow @johnnykats on Twitter, @JohnnyKats1 on Instagram.