Myron Martin has a 'Hamilton' ticket strategy — and you should, too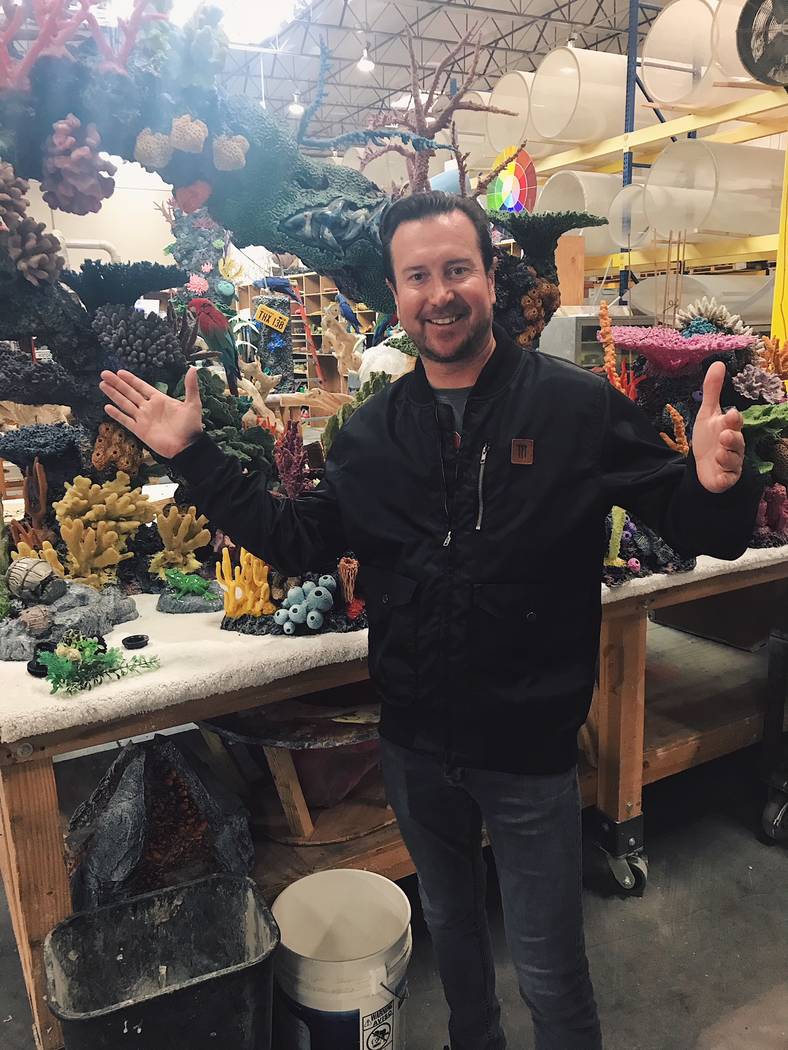 Myron Martin has seen "Hamilton" a half-dozen times. He's been hit up, every day, by those who want to see it just once.
"It's unbelievable, unlike anything we've ever seen before," said Martin, the president and chief executive officer of The Smith Center for the Performing Arts, during this week's episode of Kats! On the Radio on KUNV 91.5-FM. "This show is a phenomenon. If every other city where 'Hamilton' has played is any indication, it will sell out in its first day."
Martin says he's not seen ticket demand for any Vegas production like he's seen for "Hamilton." It's no small statement. The city's lone Tony Award voter has been part of our arts community since moving to town nearly 25 years ago as executive director of the Liberace Museum.
"Hamilton" runs from May 29-June 24. The on-sale date has not yet been announced, a strategy to fend off ticket brokers from gobbling up blocks of seats and reselling them at exorbitant prices.
"We want to put tickets in the hands of people in Las Vegas who want to see the show," said Martin, whose only hint is that the tickets will become available sometime in late April. "For all of you calling me to ask for tickets to 'Hamilton,' keep your ear open for the announcement of the on-sale date, come down in person go online use our phone bank, and do it on the first day. If you do that early in the day, you almost certainly will have access to tickets.
"If you wait until for the second or third day, you'll probably be shut out."
For Martin, an avid Broadway fan, seeing a single show six times is not that uncommon. He says he has seen "Waitress" five or six times — including twice in one day last August.
"I took my daughter, Molly, to see it in New York. She's 14 years old and is a huge fan of Sara Bareilles, who wrote the music," Martin says. "We saw the matinee show and were standing outside the theater, and I asked her what she wanted to do that night. We could go to dinner, go shopping, do whatever she wanted, and she immediately smiled and said, 'I want to see "Waitress" again.' So, we saw it twice in one day — and I want to see it again."
By happy coincidence, "Waitress" stops at the Smith Center on Oct. 9-14.
Green's day
Tom Green closed out his run at The Back Room at Bally's on Wednesday night, hinting at a new gig at a larger Strip venue this year. I think I've figured this one out: Harrah's Showroom, still seeking a 10 p.m. show after the tragic death of headliner Ralphie May.
Seth Yudof of UD Factory, which produces Green's show, is not yet disclosing the details of Green's next residency, but Harrah's looks like Green's next haven. Expect a weekday schedule, similar to Green's rotation at Bally's, freeing him up for weekend road dates.
Summer run for Stefani
We're also hearing that Gwen Stefani's extended engagement at Zappos Theater at Planet Hollywood opens this summer.
Busch's garden
Racing sensation Kurt Busch is getting "Tanked."
Busch, who rose from a teenage phenom at the short track at Las Vegas Speedway Park Bullring at Las Vegas Motor Speedway to stardom on the NASCAR Monster Energy Cup Series, has ordered a giant aquarium from "Tanked" co-stars Brett Raymer and Wayde King. On Wednesday, Busch took a look at the under-development tank at Acrylic Tank Manufacturing.
Busch ordered a design patterned after Eden Rock Resort in St. Barths Caribbean, where he and his wife, Ashley were married Jan. 7, 2017. The tank is to measure between 10 and 15 feet long, five feet wide and eight feet tall. The aquatic masterpiece is to appear on an episode of the Animal Planet series this summer.
Cool Hang Alerts
Tyriq Johnson of Santa Fe & The Fat City Horns leads Serpentine Fire, a tribute to Earth Wind & Fire, to Myron's Cabaret Jazz at 8 p.m. Tuesday. Johnson can hit the notes delivered by EWF frontman Philip Bailey, the band burns and they play all the hits. Johnson's fellow Santa Fe vocalist Lannie Counts, who can sing anything, is also in the lineup.
At another favored haunt, Italian American Club, Henry Prego headlines at 8 p.m. Friday with his Frank Sinatra tribute, "Prego Sings Sinatra." In 1999, Prego joined the cast of "The Rat Pack Is Back" at the Sahara. He also co-starred in "The Tribute To Frank, Sammy, Joey and Dean," at Greek Isles Hotel.
Hairy Howie
The St. Baldrick's Day shave-a-thon Saturday at New York-New York is set, and we're forced (I mean, proud) to announce Harry M. Howie is performing the shaving of my head this years. The high-strung, and fictional, producer of "Opium" at The Cosmopolitan of Las Vegas is performing this task at 5:30 p.m. This is the sixth year I've been seated for shaving in the daylong event at the Brooklyn Bridge at Nine Fine Irishman.
Howie is taking a break from rehearsals at "Opium," scheduled to open Tuesday night at the newly named Opium Theatre at Rose. Rabbit. Lie.
Last Saturday, $485,000 was raised at McMullan's Irish Pub's shave-a-thon, which lasted past 1 a.m. McMullan's is where Brian and Lynn McMullan launched the St. Baldrick's Las Vegas campaign in 2007.
John Katsilometes' column runs daily in the A section. Contact him at jkatsilometes@reviewjournal.com. Follow @johnnykats on Twitter, @JohnnyKats1 on Instagram.