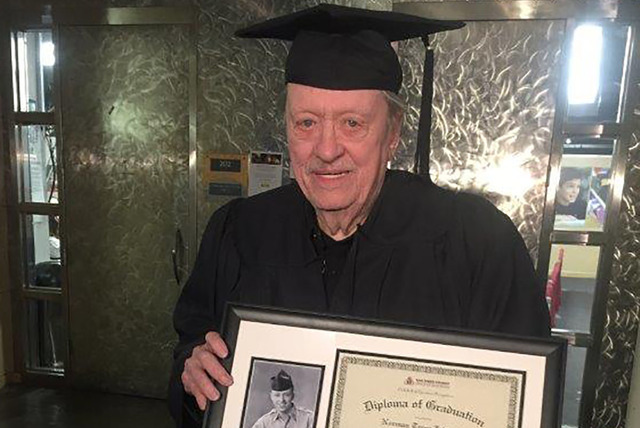 I swear, I thought the man had earned his diploma.
Many of Norm Johnson's friends thought that was the case for the venerable Las Vegas publicist and journalist, who turned 84 on Valentine's Day. And why not? Johnson arrived in the city in 1965, just after his coverage of the Watts riots that year earned him a Pulitzer Prize nomination.
Johnson is a co-founder of the Mint 400 off-road race (even issuing Hunter S. Thompson his press credential to cover the event for Sports Illustrated, an assignment that bloomed into the book "Fear and Loathing in Las Vegas"). His life in the entertainment industry included dancing behind Elvis in "Jailhouse Rock" and roaring around the desert in race cars with James Dean.
The guy's just been around a lot of very cool, historic stuff in Vegas.
But on Feb. 8, Johnson earned one of his highest honors: Receiving his high school diploma. His graduation "ceremony" was at the San Diego County Office of Education. The document was presented on behalf of the Operation Recognition Veterans Diploma Project, which recognizes students who left high school prior to graduation to enlist in the armed forces.
Johnson did that, only after the option of military service was presented as a way to avoid adetention center stint for repeatedly cutting class at his alma mater, San Diego High School. A juvenile court judge gave Johnson 30 days to find a branch of the service in which to enlist. He joined the U.S. Air Force in 1950 at age 17, eventually serving in the Korean War as a special security detail for Gen. Douglas MacArthur (Johnson had earned a black belt in jujitsu in his early teens).
While serving in Korea, Johnson earned his General Equivalency Diploma and later studied journalism at San Diego City College. The decades melted away and he never revisited his academic past.
Johnson learned of the Veterans Diploma Project last year, when he took an Honor Flight to Washington with a few other surviving Korean War Air Force servicemen.
"I hadn't expected to become so emotional about it," says Johnson, who wore a cap and gown for the event in San Diego. "But when I held it, my eyes welled up. It is a very powerful feeling."
NEVADA'S DOUBLES PARTNERS
Gov. Brian Sandoval has bonded with tennis legend and Las Vegas native Andre Agassi, over Agassi's dedication to education and development of his namesake College Preparatory Academy. Sandoval appeared with Agassi to announce the partnership between charter school operator Democracy Prep and Agassi Prep.
"He is an absolute inspiration to me, and to so many others," Sandoval said. "The fact is, he doesn't do it for himself. He does it for these kids … He has devoted his life to improving the lives of children and is a game-changer in this state."
TROP HAPS
We're finally seeing a break for Tropicana's entertainment lineup. I am hearing that Jeff Timmons' "Men of the Strip" male revue (once targeted for the Stratosphere) and a live version of the "Masters of Illusion" production are both zeroing in on deals at the Trop.
VIVA RAITT VEGAS
During her warm, unvarnished performance at Pearl Concert Theater on Friday night, Bonnie Raitt gave a shout out to "Love" at the Mirage. "I saw 'Love' last night, and you should see that show," she said from the stage. "It's so great. Get there. Run."
Raitt also took a moment to apply a coat of red lipstick before moving from center stage to the piano. "Hey, this is Vegas," she said as the crowd laughed. "Ya gotta make an effort."
Midway through the show, a fan shouted, accurately "You're a badass!" Raitt smiled and said, "It's great to be a badass and be 67. Thank you!"
LARGE AND IN CHARGE
Harrah's Showroom headlining comic Ralphie May was surrounded by the ladies on Friday night. The cast of "X Country," which also performed at Harrah's Cabaret, delivered a birthday cake onstage to applaud May's 45th. The cake was a sugary replica of the comedian's '67 GTO convertible, which, like its owner, is a formidable vehicle.
John Katsilometes' column runs daily in the A section, and Fridays in Neon. He also hosts "Kats! On The Radio" Wednesdays at 8 p.m. on KUNV 91.5-FM and appears Wednesdays at 11 a.m. with Dayna Roselli on KTNV Channel 13. Contact him at jkatsilometes@reviewjournal.com. Follow @johnnykats on Twitter, @JohnnyKats1 on Instagram.