Olivia Newton-John, Jeff Leibow give back on a charitable Sunday on the Strip
October 21, 2016 - 6:12 pm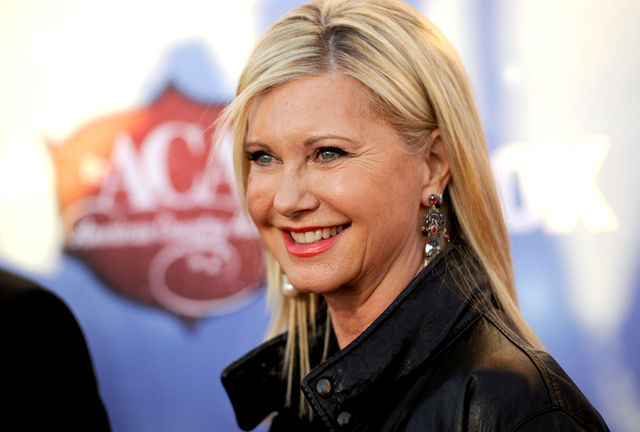 Surviving and thriving are the operative words for Olivia Newton-John and Jeff Leibow as they host a pair of charity events Sunday afternoon on the Strip.
Newton-John, headlining at Flamingo Las Vegas through the first week of December, is hosting a "Turn Up The Pink" breast cancer awareness event at noon Sunday at Hard Rock Cafe on the Strip. The special performance and bottomless champagne brunch features Newton-John performing with singer/songwriter Steve Real, the music director of her production at Flamingo. Newton-John is set to sing two of Real's originals during the event.
Joining the performance is Melody Sweets of "Absinthe" and Vegas singer Chadwick Johnson. Members of " Chippendales" at the Rio will be on hand (likely breaking the club's dress code) to take donations on behalf of the Making Strides Las Vegas charity run Oct. 30 at Red Rock Resort.
Newton-John was diagnosed with breast cancer in 1992. "I have had a long time to brighten up as time has gone on, but it was very frighting, very scary," the pop superstar said Friday . "I knew it was serious when my doctor left a message for me to come in to see him. He did not want to tell me something this serious over the phone, and when he told me my first response was to laugh, actually. That was my first way of coping."
Newton-John, whose father had died from cancer the weekend before she was diagnosed, underwent a partial mastectomy, followed by chemotherapy combined with more organic treatments. "I had to get my mind around chemo, which can be a very scary word to hear, but I also did meditation, homeopathic care, herbs, yoga, transcendental meditation," said Newton-John, who today remains cancer-free. "Wellness became imperative to me." (Information about her wellness center is at www.olivaapeal.com)
Leibow's annual NF Hope Concert will also take place Sunday, beginning with a silent auction at at 11:30 a.m. at Palazzo Theater. For the past six years, the longtime "Jersey Boys" cast member has raised funds for the Neurofibromatosis Network, which supports families suffering from the genetic disorder that causes tumors to grow on any nerve in the body without warning. Emma Leibow, the 7-year-old daughter of Jeff and his wife, Melody, suffers from the disease.
"She had some birthmarks that were a concern, and her birthmarks started to multiply, and she was diagnosed with NF at 9 months old," said Leibow, who makes annual trips to Congress to lobby lawmakers to continue funding for NF research. "The very first time we heard it, we knew nothing about it, so we went online and that was very scary," Leibow said during a recent episode of my show "Kats! On the Radio" on KUNV 91.5-FM. "You're reading about what this condition can be, not what it's going to be. It was frightening, but fortunately we wound up talking to parents who told us this could be manageable, and that quelled our fears."
Sunday's performances at Palazzo Theater, the original home of "Jersey Boys" when it opened in 2008, begin at 1 p.m. Set to appear are Gordie Brown, Susan Anton, Reckless in Vegas, These Guys, Jasmine Trias with Ben Stone, the cast of "Baz," and a reunion of "Jersey Boys" cast members. Tickets are $59; for information, go to Palazzo.com or call 702-414-9000 or 866-641-7964.
REVA LAS VEGAS
Fun facts about: Reva Rice: She starred in Starlight Express at the Las Vegas Hilton, which was the first Andrew Lloyd Webber show in Las Vegas, and led to the redesign of the showroom headlined by greats including Elvis, Liberace and Wayne Newton.
"I had moved to Las Vegas in 1994 and immediately walked into this theater where Elvis had played, and we were taken up the elevator to his suite, and it was like, 'Wow, we are in this legend's dwellings,' " said Rice, headlining at 2:30 p.m. and 7 p.m. Saturday at Cabaret Jazz at the Smith Center in her production "Song Bird." "I could feel his presence, his history, in that theater."
Rice spent hree years skating around the refurbished Hilton Theater, where the booths were pulled out in favor of proper theater seating for "Starlight." She has toured and performed on Broadway in such titles as "Smokey Joe's Cafe," "Fosse," "Chicago," Monty Python's Spamalot," "Signed, Sealed, Delivered" and "The Color Purple." She has been a principal cast member in "Vegas! The Show" since that production opened six years ago at Saxe Theater at Miracle Mile Shops at Planet Hollywood. "Song Bird" is a series of famous Broadway and pop/R&B hits dating to the 1950s. Rice plans to grow the show to a full-scale production, its title inspired by a famous Elvis movie (return to the bold-faced headline of this for what that is).
John Katsilometes' column runs Saturday, Sunday, Tuesday and Thursday in the A section, and Fridays in Neon. He also hosts "Kats! On The Radio" Wednesdays at 8 p.m. on KUNV 91.5-FM and appears Wednesdays at 11 a.m. with Dayna Roselli on KTNV Channel 13. Contact him at jkatsilometes@reviewjournal.com. Follow @johnnykats on Twitter, @JohnnyKats1 on Instagram.